January 30, 2012 10.42 am
This story is over 141 months old
Lincoln busker makes his own quirky instruments
Making music: A city gardener and busker tells The Lincolnite how he creates all his musical instruments.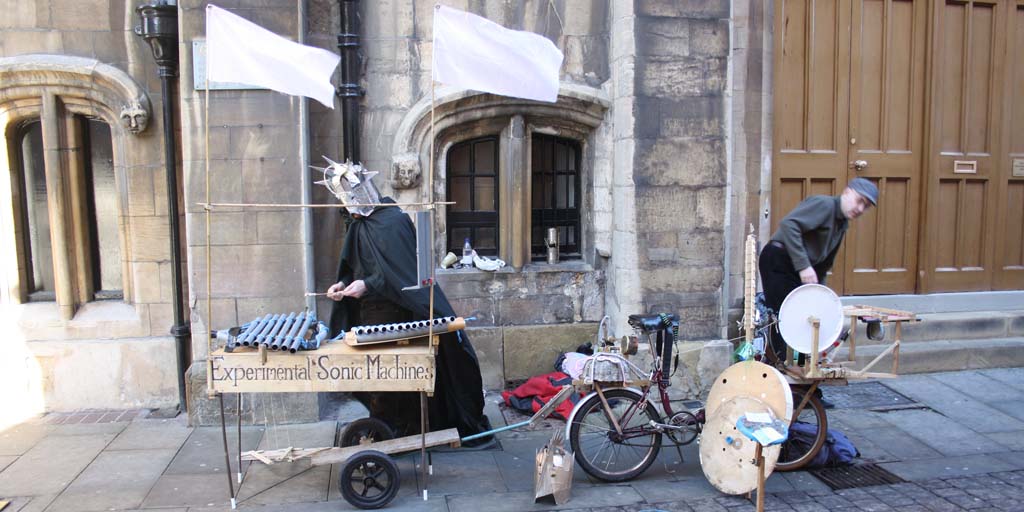 A Lincoln busker is showing off his homemade musical creations in the city centre and gives passers-by the chance to join in.
Part time gardener Peter Rollings created his own musical instruments using just scrap materials such as cocktail sticks, mop handles and pipes.
"I make homemade instruments, and just mess around and see if I can come up with any new ideas. It goes down well with busking and open mic nights.
"I'm also allowing anyone to join in if they'd like to."
He added: "I used to play in conventional bands like rock bands and found some people lack enthusiasm and I like playing live."
Rollings also mentioned that he wanted more freedom to play live, so he created the music "machines" to play wherever he goes.
The above picture from a recent busking session demonstrates some of his homemade machines he takes out to entertain the public with.
He said: "With me I have the Brightimer which is like a dulcimer but I mucked around with the name and made it brighter. It's a big box with a giant string which is made from little cocktail sticks.
"I also have the Flanjo, which is like a banjo but just flows around.
"Plus I have the xylophone which is made out of mop handles and is hit by small hammers; people can also join in with that one if they want to."
While Rollings believes he's an amateur, his schedule is already starting to fill up, with a number of gigs and sets around the city.
Rollings practices with Lincoln Gamelan at the Croft Street Community Centre on Sundays, between 6pm and 8pm. To get involved, contact the centre on 07989 160602 or by email.