May 30, 2012 10.39 am
This story is over 138 months old
Solar power for Lincoln's Collection
Solar savings: Lincoln museum installs solar panels as part of a county-wide effort to make Lincolnshire public buildings more green.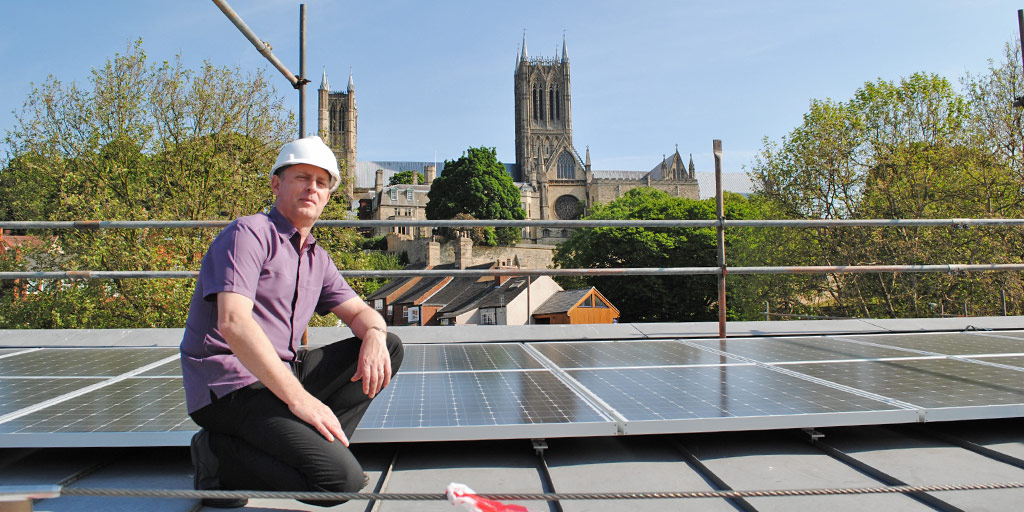 Steve Golightly, senior sustainability and climate change officer at Lincolnshire County Council, shows off the solar panels installation on The Collection's roof
Solar panels have been fitted on the roof of The Collection, as part of a £1.1 million project that should save the museum money on electricity bills and reduce CO2 emissions.
Fourteen other buildings throughout Lincolnshire, including two schools and several office buildings, have had solar panels installed recently.
This is part of a Lincolnshire County Council project, working with five district authorities: Boston Borough, West and East Lindsey, South Holland and City of Lincoln.
The initiative is expected to save £180,000 per year in electricity bills, including Feed-in Tariffs, and avoid 260 tonnes of CO2 being generated each year.
The project will generate 480 kWp of electricity at peak times of strong sunshine.
Steve Golightly, senior sustainability and climate change officer at the County Council, said: "Through installing these solar panels across the county, we will be reducing carbon emissions, becoming more energy efficient, and ensuring an income stream for the local authorities concerned for the next 25 years.
"I'm delighted that we were able to award this substantial contract to local electrical contractor, Seymour and Castle, who joined up with Jetion, a worldwide distributor of solar panels. They won the contract through an open tender process, which included many large national companies."
All the panels and installation were purchased through a single tender process, led by Procurement Lincolnshire, Lincolnshire County Council and South Kesteven District Council, leading to a cost saving of £290,000.
Because the majority of the panels were installed and registered before March 3, they qualified for the maximum Feed-in Tariff from the government.
From August 1, 2012 solar panel installations will only be eligible for a Feed-in Tariff of between 7.1-13.5p/kWh.
At the time of the tender process, the market price was £2,800 – £3,000 per kWp, yet the tender produced an average price of £22,00 per kWp.
Steve Golightly explained: "This is a great example of how savings can be made when local authorities join together to award contracts involving large sums of money."
The team helped to develop a renewable energy framework to be used nationally by other local authorities.
As well as solar photovoltaics (PV), the framework covers solar, thermal, biomass, wind, and ground and air source heat pumps.