July 5, 2012 3.56 pm
This story is over 136 months old
Council leader visits council home repair teams
Maintenance check: Leader of the City of Lincoln Council visited the teams behind maintaining council homes today.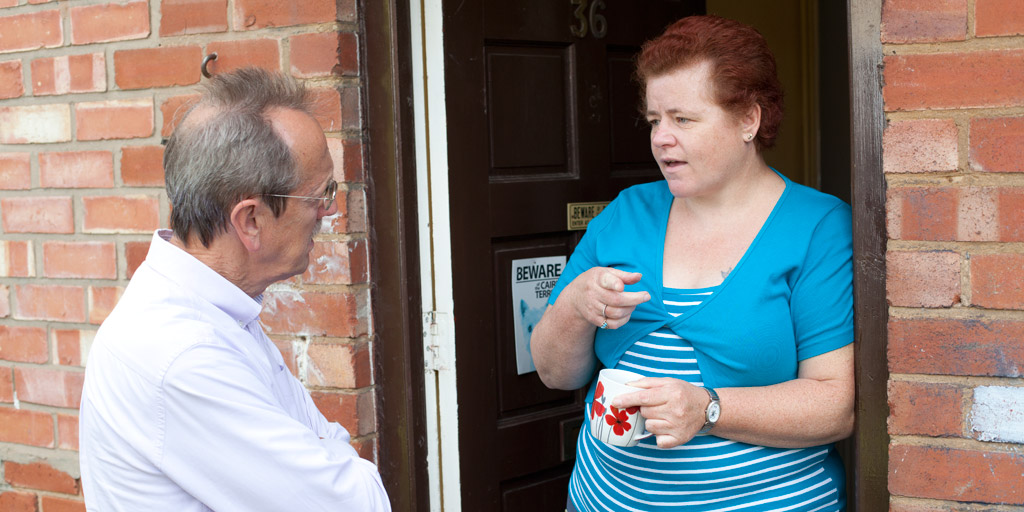 Councillor Ric Metcalfe speaks to council tenant Michelle Powers about her experience with the repairs team
The Leader of the City of Lincoln Council visited the council's various housing maintenance teams to see how homes are managed.
Councillor Ric Metcalfe spent time with four different teams, seeing how they work each day in Lincoln.
There are around 8,000 houses on the city council's books, which all need managing and maintaining.
Each year, about 26,000 repairs are made to council houses and 740 re-let.
Ric Metcalfe and Tony Gaughan from the council's maintenance team, who was repairing Michelle Powers' tiling
The City Maintenance Services team underwent a "lean" review recently, creating savings of £130,000.
This means the service now only books repairs when the tenant is home and are provided with all the told they will need on the first visit, so they do not need to make returns.
In turn, this has made the service more efficient as well as saving money.
Ric Mecalfe, Michelle Powers, Tony Gaughan and Stuart Godfrey, the council's City Maintenance Service Team Leader
Councillor Metcalfe said: "I've been taking time out for the last 12 months to meet all staff in the council and I think it's important we have a good grasp on all the services we provide.
"Today is the final leg of meeting staff who ran our city maintenance and repair service for all our tenants.
"It a labour intensive operation: 26,000 day to day repair jobs are carried out every year. We've made progress in providing a more efficient tenant-friendly service, and we go through a lot of trouble to make sure we are a good landlord.
"Today has been largely about how we look after our current stock of 8,000 properties. We've got the aspiration to build at least 50 more council houses.
"The five we started as a trial project in Wellington Street are well underway and will be completed by the end of the year.
"We're currently putting together a package of land under council ownership (to keep costs down) where we hope to develop further properties."