Cathedral's Flower Festival raises £100k for repairs
Great fundraising: A flower festival in Lincoln raised a record amount of money and visitors over the weekend.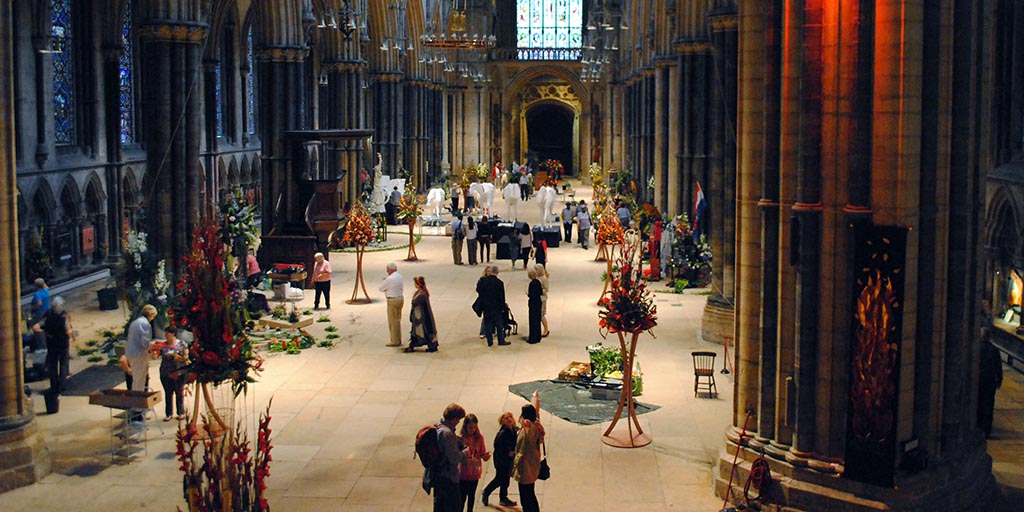 A five-day flower festival managed to raise over £100,000 for Lincoln Cathedral's Fabric Repair Fund.
The Olympic-inspried Flower Festival hosted at Lincoln Cathedral attracted 13,000 visitors, many of whom were tourists.
Around 3,500 of the visitors were from coach parties, with many sampling Lincoln for the first time.
The flowers decorated the historic building in 48 hours, with 130 different arrangements from 26 flower arranging clubs, all designed to reflect the spirit, history and internationality of the Olympics.
Paper sculptor Richard Sweeney also created four full size horses out of A4 paper in the cathedral. His work has been detailed across the world.
Once the event finished, the flowers were donated to a number of nursing homes around the county.
Cathedral Chief Executive Phil Hamlyn-Williams said: "I am absolutely thrilled by the results of the festival. The buzz in the Cathedral and out in Bailgate area really brought a sense of summer excitement to the city.
"The flower exhibits were inspirational and complimented the gothic splendour of the building wonderfully.
"To have welcomed over 13,000 visitors and reached our target of £100,000 for the Fabric Fund simply adds icing to the cake.
"We are deeply grateful to the many people who worked so hard and to Brewin Dolphin for their support."
The next Flower Festival will be staged in 2018, as the event happens only once every six years.
Don't miss: