August 15, 2012 11.58 am
This story is over 116 months old
Lincoln Gamesmaker: My Olympic experience
Experience: A Lincolnite who got a chance to volunteer at the London 2012 Games details his highlights from the Olympics.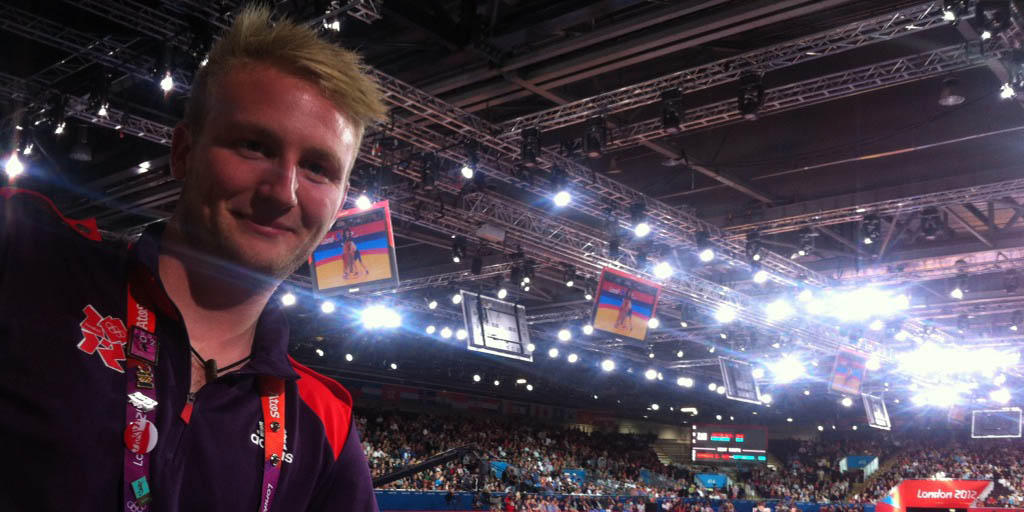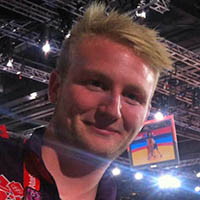 Carl Houlden in the Excel Centre, where sports such as boxing and table tennis were held.
— Carl Houlden (24), an accountant from the Lincoln branch of Wright Vigar, was lucky enough to be part of the Olympic 2012 Games as a Gamesmaker. Here, he retells his experience of volunteering at the once in a lifetime event.
---
I applied in November 2010 to become a Gamesmaker, and after an interview I was finally accepted in March this year. I've always enjoyed watching the Olympics and knew that it was probably the only time in my lifetime that it will ever be in my country, and where I will get the opportunity to volunteer.
I work in Lincoln at Wright Vigar Accountants assisting accounts and audits, so this was an opportunity to do something totally different to my day job and be part of something much bigger. When I first spoke to my manager, he told me to go for it and it'll be a great experience — I think he was just impressed that I had been accepted.
I'm so pleased I was accepted as over 240,000 people applied and only 70,000 go through. There was a bit of mickey-taking in the office when they saw my uniform, but I think they secretly were quite jealous.
I stayed in the flat above our London office so that helped with costs. The first day was manic, my shift started at Excel at 5.45am, so I caught the first tube most mornings. It was really daunting not knowing anyone but the day went so quickly. I was outside the Excel building generally welcoming anyone that came by, answering their questions. I even did a bit of Spanish translation helping a woman get her tickets. I expected to take lots of photos of people posing outside Excel, but they wanted me to be in the photo as well, and the London A-Z came out the bag a lot that day!
I met so many interesting people but the one that sticks out the most was a Japanese guy I was asked by my supervisor to escort him to his seat. He didn't speak any English but as we were walking through Excel every Japanese person recognised him and stopped to have his photo taken with him. He thanked me; we got a photo of us together and he handed me a photocopy of him with Margaret Thatcher from 1996 for me to keep but I still didn't know who he was. I was really intrigued and after many hours on the internet later, I found out he was a Japanese Olympic celebrity, fondly known as "Uncle Olympic". Naotoshi Yamada has been to every games since 1964.
I saw loads of athletes walking around the Olympic park with their medals and I saw Princess Anne, but I think I was most chuffed to get a photo with Torvill and Dean.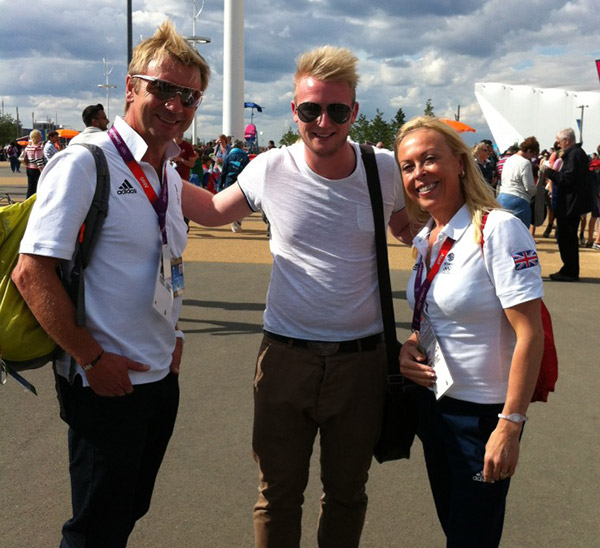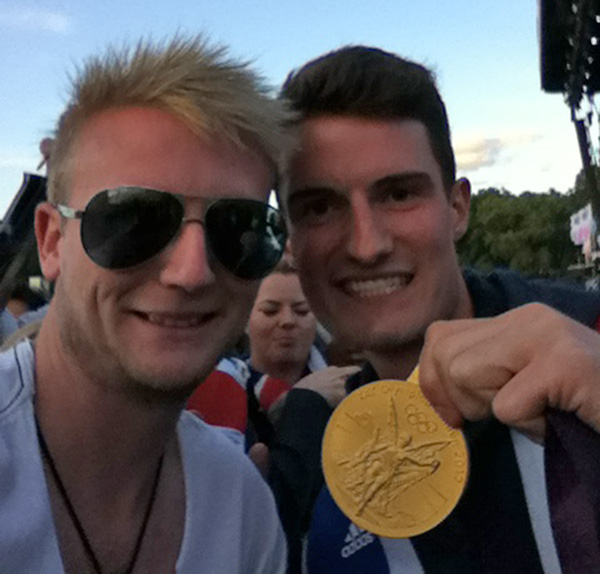 Carl stops for a photo with shooting gold medalist Peter Wilson
I got to watch the boxing, judo, table tennis, weight lifting, fencing, wrestling and Tae Kwon Do. Soon after it was announced that there were loads of extra seats in most of the venues (which really wasn't their fault) organisers did try and sort out pretty quickly. However, we were allowed to sit in plain clothes to fill the empty seats, so I did sit down once to watch the boxing quarter finals.
It felt like being in a bit of a dream world at times and it's such a shame that it all ended. The general public were always so pleased to see you and it made the early mornings worthwhile. Although I was so tired by the end of it all — I was asleep during the closing ceremony!
I've still got my limited edition baton that was given to every Gamesmaker plus all my uniform, and there's no way I'm going to sell them — what price would you put on that anyway? It's a shame it's ended, it's been a crazy two weeks which has brought the country together and I've already applied to volunteer at the Commonwealth games in 2014.
It was amazing being a Gamesmaker and having re-watched the Closing Ceremony with all the cheers for the volunteers I felt so proud to be part of something much bigger than myself.