Lincolnshire hospitals trust CEO resigns
Leaving in November: United Lincolnshire Hospitals Trust Chief Executive announced his resignation for personal reasons.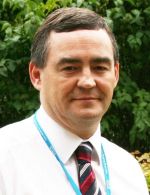 Andrew North, the United Lincolnshire Hospitals Trust Chief Executive, on Friday announced his resignation from the top job from November 2012.
He explained in a letter to staff that his wife, who suffers from multiple sclerosis, is experiencing increasing difficulty and disability as a consequence of this illness:
"As those difficulties have increased, I have found it increasingly difficult to balance the demands of a challenging job with my commitments and obligations at home.
"As a consequence I now intend to pursue a different work-life balance that gives me much greater flexibility over the hours and pattern of work."
Andrew North started work as Chief Executive in August 2010.
He joined the Trust from Northern Lincolnshire and Goole Hospitals NHS Foundation Trust, where he was Chief Executive for almost 13 years.
During his career in the NHS Andrew has also worked at Pilgrim Hospital, Boston, Rotherham District and General Hospital and at hospitals in London and Suffolk.
Andrew North wrote to ULHT staff: "It is with regret that I am taking this decision as I have enjoyed working with you all over the last two years.
"It has been a challenging time, but one in which many achievements have been made.
"These achievements are down to the hard work and dedication of staff at the Trust and I am proud to have worked with you all and to have been a part of the organisation."
ULHT confirmed it will now begin work to put interim arrangements in place and to recruit a new chief executive for the future.