August 6, 2012 8.00 am
This story is over 118 months old
New £1.8m Lincoln R&D centre creates 40 jobs
Engineering future: Dynex open new £1.8 million research and development centre in Lincoln, creating 40 skilled jobs.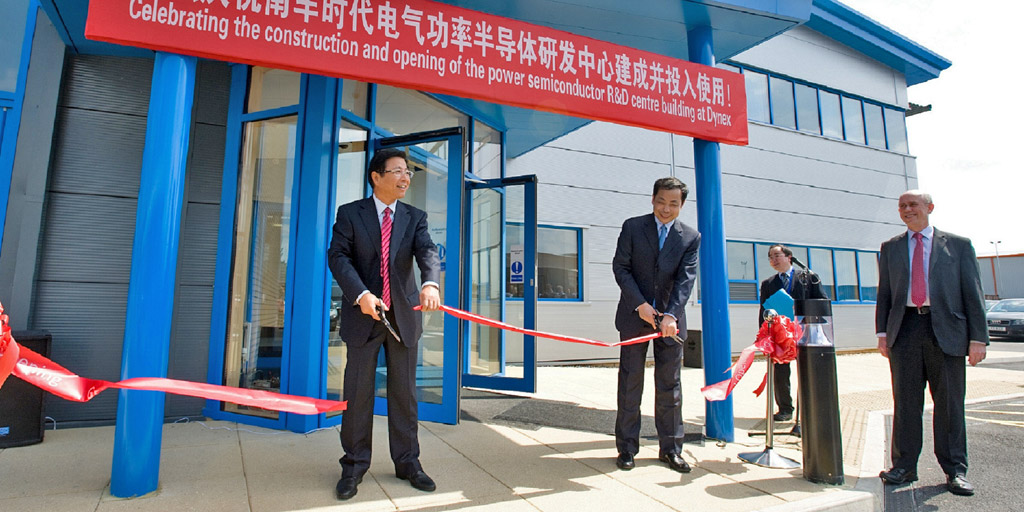 Celebrating the launch of the centre: (L-R) CSR President Zheng Changhong, CSR Zhuzhou Institute General Manager Ding Rongjun, Dynex Principal Engineer (event interpreter) Ke Maolong and Dynex President and Chief Executive Officer Dr Paul Taylor
— This story first appeared in the Lincolnshire Business Week email newsletter, delivered to your inbox every Monday morning. Subscribe free here.
---
Lincoln-based Dynex Semiconductor opened a new £1.8 million research and development centre, part of a three-year programme which is creating up to 40 new skilled engineering jobs in the city.
The energy-efficient centre on Doddington Road was built by Lincoln-based John Martin-Hoyes, in a move which has created work for about 20 local sub-contractors.
The new R&D centre is already allowing Dynex to develop new technologies and new semiconductor products that are then assembled in its neighbouring factory.
The project was developed by Dynex, which employs 315 people in the city, in partnership with Zhuzhou CSR Times Electric, the majority shareholder of its parent Dynex Power Inc., Canada.
Dynex's President and Chief Executive Officer Dr Paul Taylor said: "Our major investment programme started in May 2010, when we announced the start of the R&D project to expand that team, by forming a joint operation with CSR.
"At that time there were 12 R&D people at Lincoln. Since then we have expanded to employ 32. We are still recruiting, with the aim of having 50 engineers working in the new building."
The new centre also houses Dynex's main reception, senior executive offices and a suite of conference rooms.
Dynex designs and makes high power bipolar semiconductors, insulated gate bipolar transistor (IGBT) modules and electronic assemblies.
"The power semiconductor device is at the very heart of all modern power electronic systems. Whether wind, solar, tidal, wave, coal, gas or nuclear energy, we need safe, smart and reliable interconnection to the electric grid and safe, smart and reliable power transmission and power quality," said Dr Taylor.
"Whether for driving motors and power equipment for cars, locomotives, metros and manufacturing, for powering our communications, aircraft, keeping the lights on or for keeping us warm in winter and cool in the summer, the power device is the workhorse that enables the control of electric energy to drive these sectors and more."
Dynex's R&D team is working on several applications needed to meet the demands of tomorrow's key energy, transport and industrial sectors, serving a low-carbon society.
The RDC has already produced trial samples for CSR Times Electric for its Chinese locomotive and metro applications. The same product is expected to later become a key component in power conversion applications for electric grid use.
Building Lincoln's engineering future
Dynex's R&D teams work closely with university groups, such as Nottingham, Loughborough, Warwick and others, on advanced research topics and knowledge transfer projects.
"We are now building relationships with the new Engineering School at the University of Lincoln and we have benefited for many years from educational links with Lincoln College," added Dr Taylor.
The City of Lincoln Council's Assistant Director of Planning & Regeneration Kate Ellis said: "The new R&D Centre is really important news because it highlights the strength of engineering and high-tech services in Lincoln.
"There are a lot of very positive developments going on across the range of engineering and high technology companies. What Dynex is doing is another feature of that.
"Given Lincoln's history, it is brilliant to see these signs of a revival and new quality employment opportunities, particularly as we also have the new School of Engineering at the University of Lincoln," she added.
This spring, it was announced that Lincoln is to get a new University Technical College. The site, which could open next year, will be run by the University of Lincoln, Lincoln College and Siemens, and will provide skills for 14 to 19-years-old.
"It will give young people the option of getting a good grounding in engineering disciplines and the opportunity to work towards good future careers in this sector. These are the things needed to really develop the UK's economy," Kate Ellis added.