September 27, 2012 8.30 am
This story is over 133 months old
Special postcard celebrates Steep Hill's history
Steeped in history: A quirky colourful postcard celebrates Steep Hill's title as Best Street in Britain 2012, as well as its rich history.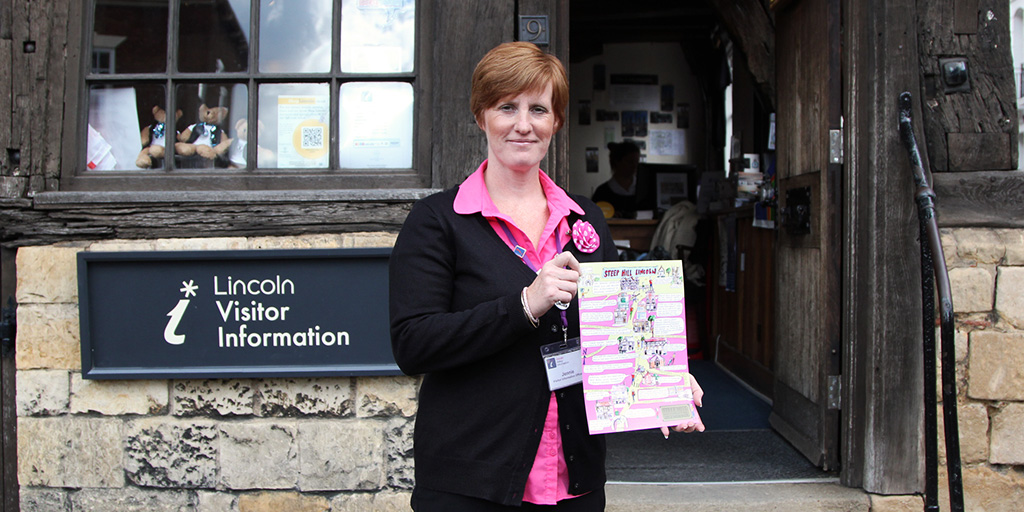 Lincoln BIG has commissioned a quirky postcard that tells the story of Steep Hill, a 2,000 year-old-route which links the city centre with the Bailgate area.
Earlier this year, Steep Hill beat off two Scottish destinations, Cockburn Street in Edinburgh and Byers Road in Glasgow, to be crowned Britain's Greatest Street 2012 by the Academy of Urbanism.
The new postcard was created for Lincoln BIG by Wellingore-based illustrator and graphic novelist Nicola Streeten, and it is packed with interesting facts.
For example, people may not know that the timber-frame Harlequin halfway up the hill was once a pub.
The design for the Mayor's Chair, near the famous leaning lamp-post on the hill, is based on the arm of an 18th Century chair in the Guildhall and the Jew's House (dating back to 1158), could be the oldest domestic building in Britain.
Businesses based on Steep Hill have been supplied with stocks of the postcards and posters to put in their windows. Local residents and tourists can also buy the postcards from the city's Visitor Information Centre in Castle Hill.
Click to zoom and check out the special postcard in full: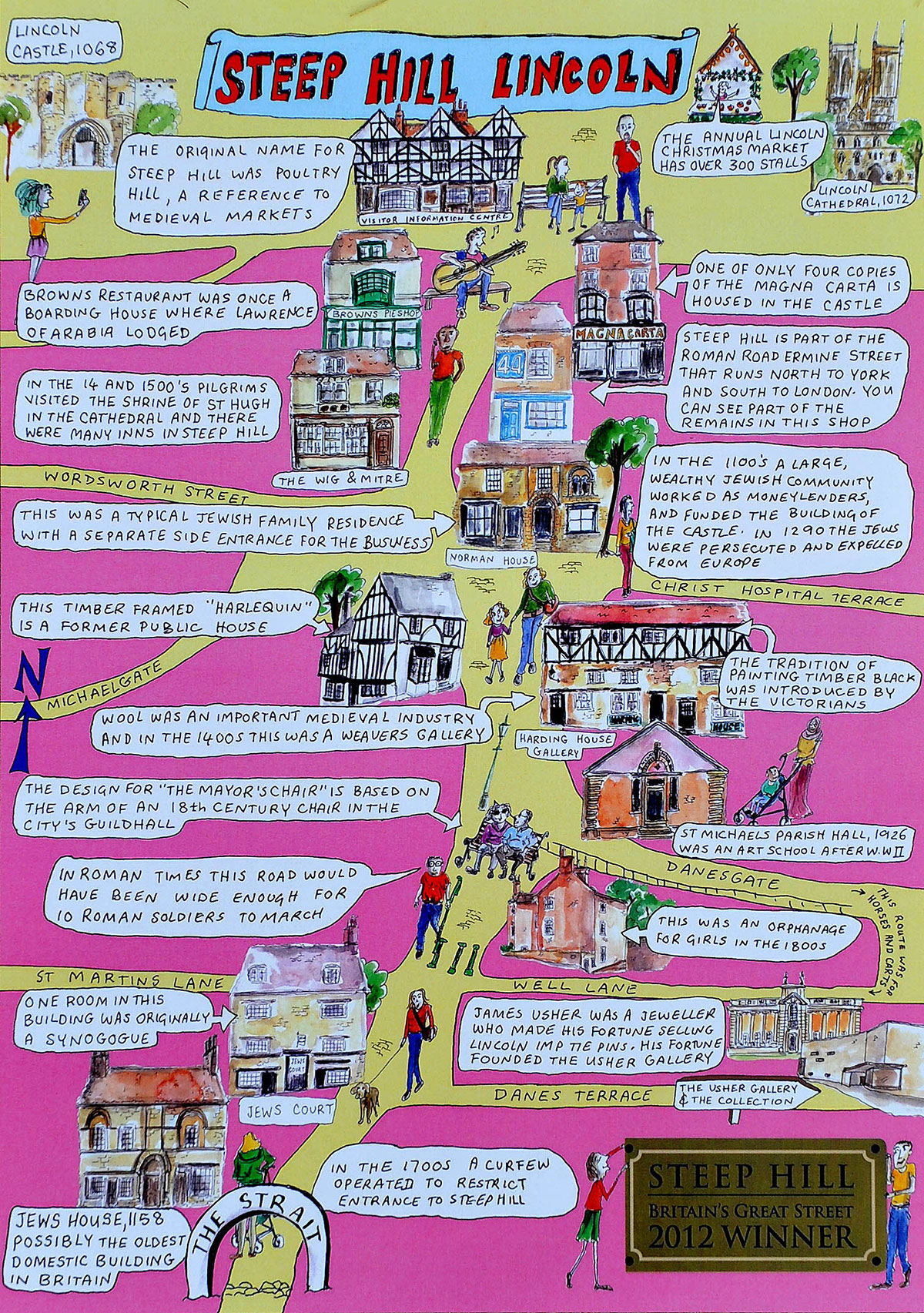 Lincoln BIG Chief Executive Matt Corrigan said: "The fact that Lincoln is officially home to Britain's Greatest Street is something which we proudly continue to celebrate.
"It is one of the historical areas which helps to make Lincoln unique and so attractive and we want as many people as possible to visit, take a closer look at the historic buildings, pop into the niche shops and simply enjoy its special ambience.
Illustrator Nicola Streeten said: "The postcard is typical of my work, in that it uses images and text in a comic style in order to communicate. I worked closely with one of the Visit Lincoln guides in researching this project.
"I apply my cartoon style to drawing buildings and maps. I have just been commissioned to do a series of maps for Lincolnshire walks alongside the River Trent," she added.
The Steep Hill Postcard and Poster can be bought from the Visitor Information Centre in Castle Square as a postcard for 60p or as an A4 Poster for £1.
There is also a limited stock of the postcards that can be picked up free from various shops on Steep Hill and Bailgate, including Mono Boutique, Modern Classics, Goodies Traditional Sweet Shop, Olivers Cafe, Ian Peate Jeweller, Woodenstock Toys, Ego Vintage Boutique, The Antique Shop, Ruby Red Boutique and Jews House Restaurant.
Main photo: Maya Arsenovic for The Lincolnite