February 13, 2013 3.16 pm
This story is over 129 months old
Leaked letters show staff worries over patient care and targets balance at Lincolnshire hospitals
High mortality rates: Leaked letters from doctors and clinical directors detail how staff were concerned over the balance of good patient care and targets at Lincolnshire hospitals.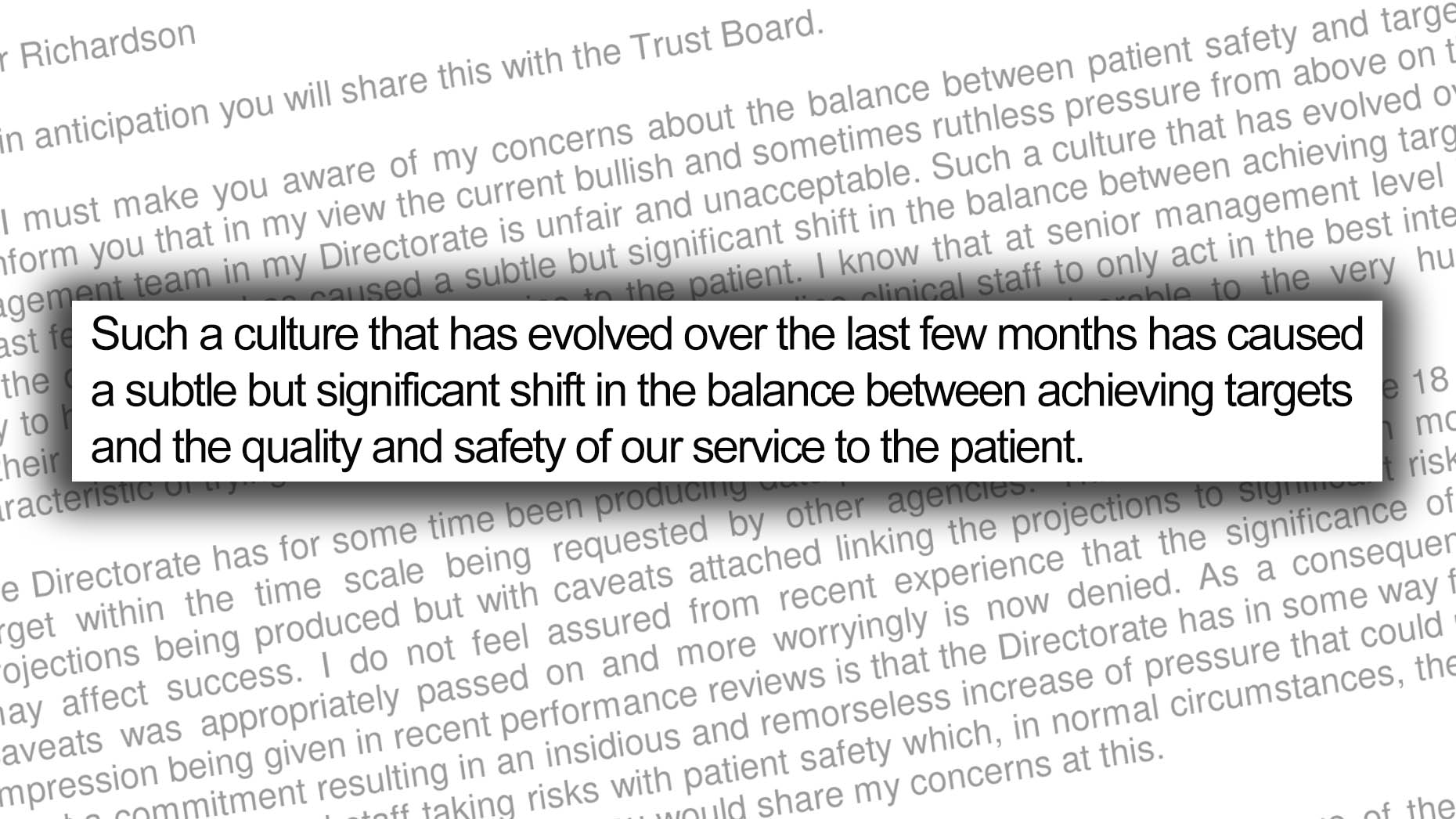 Leaked letters from Lincolnshire doctors and clinical directors detail how staff were concerned over the balance of good patient care and targets at hospitals in the county, and Lincoln County Hospital in particular.
The letters from 2010, leaked this week by Lincolnshire Independents, describe one consultant's concern over a patient's 10-hour operation being cancelled due to lack of intensive care beds.
Another letter from a consultant describes how the death of an "otherwise healthy" patient could have been avoided if already stretched staff did not have to meet targets over proper patient care, and that colleagues were refusing to put targets before patients to avoid such incidents in future.
A clinical director also wrote to then ULHT Chairman Paul Richardson to describe the difficulties in making sure patients received proper care and also making sure their team hit the right targets.
Read the leaked letters: 1, 2, 3
These letters come after earlier this week United Lincolnshire Hospitals Trust, which runs hospitals across the county, was named as one of nine hospital trusts to be investigated for above average mortality rates after the Stafford Hospital scandal.
Figures by Professor Sir Brian Jarman of the independent Dr Foster Intelligence Unit, which monitors hospital performance, found that between 2009 to 2012, ULHT experienced 677 more deaths "than expected" — the second highest rate in the UK. It is yet unclear what "higher than expected" means, and also what the current investigations will entail.
The Care Quality Commission (CQC) gave Lincoln County Hospital good marks in a report published last week based on an inspection in October 2012. The CQC report follows three negative reviews for the hospital in 2012.
'Improved mortality figures'
A statement from ULHT said: "Our mortality figures have improved in the last year. Our SHMI continues to fall from a peak of 133 in quarter 3 2009/10.
"In the last available quarter (to June 2012), the Trust was no longer an outlier, with a quarterly SHMI of 106.28. Our HSMR figure has also shown recent improvement.
"Additionally, we have made significant improvements in all areas of patient safety, demonstrated by recent inspections carried out by the Care Quality Commission that have shown two minor concerns, compared to 14 major, moderate and minor concerns raised in 2011."
It added: "Patient safety remains the top priority for United Lincolnshire Hospitals NHS Trust, and this means that our focus is to provide safe, high quality care at the same time as meeting our patients' expectations."
'Shocking letters'
Lincoln MP Karl McCartney said: "Whilst the release of these three letters seems to fit a regrettable political agenda by the small number of ineffective independents at Lincolnshire County Council, their content is shocking and does not make pleasant reading for the senior management team at ULHT.
"I have in my time as the Member of Parliament for Lincoln, since May 2010, continually questioned the senior management team at ULHT on a plethora of issues and will continue to do so on the behalf of my constituents and all patients.
"I continue to make visits to particular wards and to discuss areas of concern with those responsible at the trust and have most recently raised some particularly detailed clinical aspects of the Lincoln hospital's service with the new chief executive."
'Worst funded trust in the country'
Chris Brewis, an independent politician on the Health Scrutiny Committee at Lincolnshire County Council, said: "It is well-known that Lincolnshire's NHS is virtually the worst funded in the entire country and our hospitals have been and continue to be under huge pressure. We cannot allow the disgraceful culture highlighted in the Mid-Staffordshire report to put Lincolnshire patients at risk.
"I am appalled that we have looked at safety before as a committee but these letters which were not made available to us at the time, suggest that we have been misled. What else is being covered up? The national mortality data shows Lincolnshire's hospitals at the wrong end of the league table."
Gagging order for former chief exec?
Phil Scarlet is standing as an independent in South Holland, and previously resigned from ULHT over concerns about how the current chairman runs the trust. He said: "It is shocking that ULHT spent £0.5m on gagging its former chief executive who raised concerns about safety.
"He said if you put more pressure on the system it will be dangerous for patients. This money was intended for patient care but instead it is being used to suppress around 3,000 pages of documents. How many others are there like these we have released today?
"These letters are some nine months after Walker was forced out and show the new regime at the trust putting targets before safety — just what Walker tried to stop.
"The announcement this week that ULHT are to be the subject of a mortality review demonstrates the implications for that; high death rates which are shocking. We will have to look at this very carefully; it raises seriously questions about the governance of ULHT.
"Let's be absolutely clear the use of taxpayers' funds to conceal wrongdoings should be regarded very seriously and could even be misconduct in public office by misuse of public funds for a cover up. When a trust spends such money on a cover up, how can we trust what they say?"