July 11, 2013 5.54 pm
This story is over 101 months old
Transport minister visits Lincoln's Newark Road improvements
Special visit: The Secretary of State for Transport visited Lincoln to look at the Pinch Point scheme on Newark Road.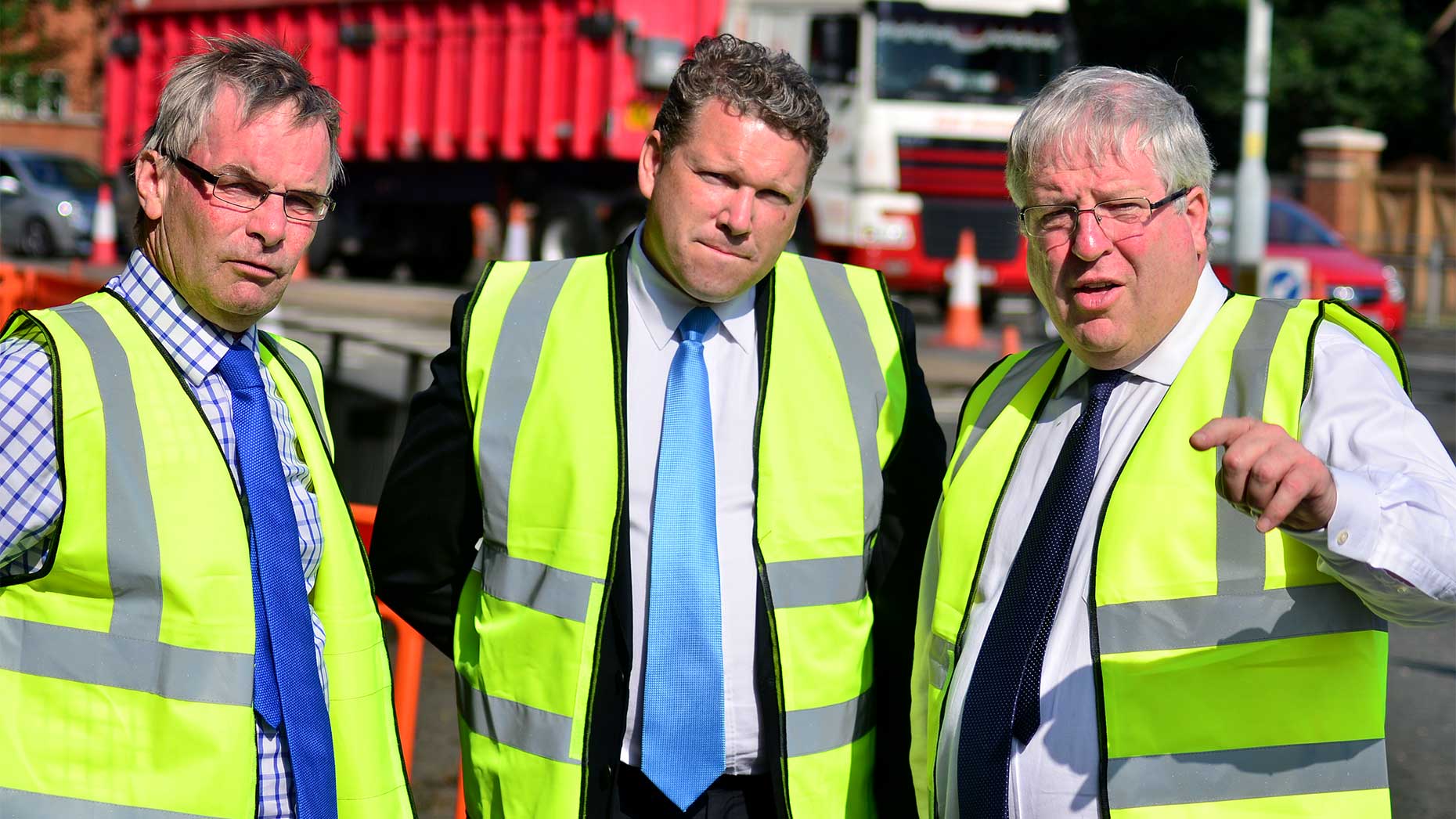 Secretary of State for Transport Patrick McLoughlin MP visited Lincoln on Thursday, July 11, to see the £1.9 million road works starting on Newark Road.
The Transport Minister made a stop in Lincoln so he could see how Lincoln would benefit from the government's Local Pinch Point Fund.
The fund aims to remove traffic 'bottlenecks' across England and Wales, and Lincoln is the country's first place to have a project approved.
The scheme is funded by a £1.3 million contribution from the Department for Transport and £700,000 from Lincolnshire County Council.
The work on the Newark Road junctions with Rookery Lane and Brant Road aims to speed-up travel times by two minutes, as well as provide better facilities for pedestrians and cyclists.
The junctions will be widened and improved, and a dedicated 'turn left' lane will be created on Newark Road to enable motorists to turn into Brant Road.
Brace Bridge and Newark Road will also be given a bit of general maintenance during the project.
Mr McLoughlin said: "The Chancellor made £170 million available for the Local Pinch Point Fund, and we went out to local authorities. It was then judged by a set criteria.
"Lincoln was one of the schemes that was ready to go, could be delivered quickly and have an impact."
"I wanted to be here and see what it was like now, and I will come back when it's completed in 20 weeks' time."
A number of local residents have expressed their frustration that the road works are causing delays to traffic in the city – most notably congestion around Newark Road and Tritton Road.
He added: "Any new scheme that starts off for improvement does bring big problems, partly because people aren't used to it. This is a 20 week scheme — it's quick, short and will have a big impact on easing congestion in the area.
"I think the County Council should be congratulated in doing it between two fairly big events [the Lincolnshire Show and Lincoln Christmas Market] and having it ready in time for the Christmas Market.
"It's inevitable while work's being done that everything gets slower. In 20 weeks time though residents will have an improved junction, a newly refurbished bridge (which needed work anyway) and road improvements as well."
Mr McLoughlin also saw the Western Bypass, the East West Link Road plans, Lincoln's level crossings and proposed footbridges, the Lindongate proposals and the potential A15/Eastern Bypass route around the city.
Prior to his visit, Lincoln MP Karl McCartney said: "The Secretary of State for Transport will be able to see for himself the various projects our Conservative-led Government are helping to fund such as the Lincoln Eastern Bypass, the 'Pinch Point' Scheme and the positive effect the much needed extra £2 million secured for potholes in Lincoln and across Lincolnshire will have.
"Mr McLoughlin's visit will also provide me, local representatives of businesses and organisations, and my Conservative colleagues with another opportunity to impress upon him the need to continue, and enhance, the measures we have already taken to improve the transport infrastructure in and around our City and County."