December 31, 2013 11.57 am
This story is over 119 months old
Rewind: Top 13 stories of 2013
Rewind 2013: We look back at the most read stories and topics of the year covered by The Lincolnite.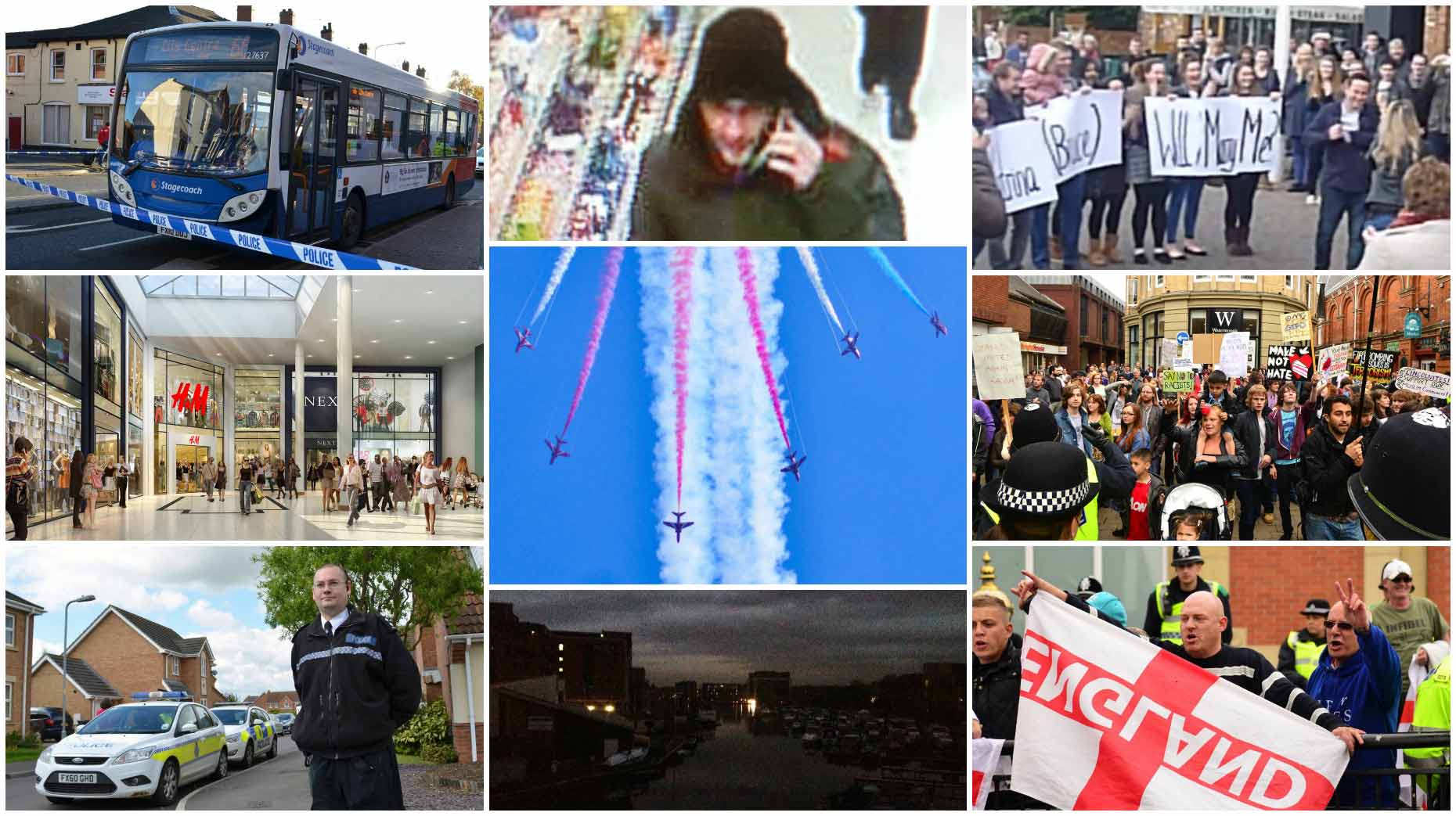 This year has been a busy one for The Lincolnite, covering more stories for the people of Lincoln than ever. We look back at the most read stories and topics of the year:
---
Woman dies after being hit by bus
On November 22, the High Street near The Ritz was cordoned off after a 36-year-old woman was in a collision with a bus. She was taken to Lincoln County Hospital with head injuries, but died from her trauma later in the day. The incident is still under investigation.
---
Power cut leaves Lincoln in the dark
Lincoln was plunged into darkness twice on December 6 as power was cut across the entire city, affecting not only buildings, but also traffic lights, street lights, phone lines and even mobile networks. The blackout affected villages around the city as well as the Lincoln Christmas Market.
The power cut was due to to problems with the super grid at the West Burton Power Station. Western Power Distribution investigated the situation in order to restore the power, but even after that, some areas took longer to get their electricity back.
---
Postman dies while delivering mail
During the summer heatwave, a Lincoln postman collapsed and died while delivering post in the Ermine area. The main cause for the man's death, who worked for Royal Mail for 29 years, is still unclear.
---
Police recover body from river
Lincolnshire Police recovered a 93-year-old man's body from River Witham in Lincoln on November 27, near Boultham Avenue. Divers recovered the body from the water, but there are no suspicious circumstances around the man's death.
---
Man found hanging in Lincoln field
On September 24, a man was discovered hanging in a Lincoln field off Wragby Road. The man was named locally as 40-year-old Mark Watling, but the incident was not treated as suspicious.
---
Lincolnshire storm watch
The storm that never was: from October 27, The Lincolnite prepared a live blog after amber and yellow warnings from the Met Office about a storm. A storm with winds of up to 70mph was expected across Lincolnshire, with the multi-agency Lincolnshire Resilience Forum (LRF) prepared for the impact that could be caused by the strongest winds to be forecast since 1987. Fortunately, the storm never affected the Lincoln area.
---
Man proposes with flashmob on Brayford Pool
One lucky lady and her partner became YouTube sensations in November when their flashmob engagement along Brayford Pool became the most talked about Lincoln proposal of the year.
Ian Burton proposed to Katrina Coupland with a flashmob that started near Chimichanga restaurant, with the help of dancers from Bishop Grosseteste University.
The group gathered crowds as they danced to popular tunes, the act ending with "Mary You" by Bruno Marz. Of course, she said yes. See the full video story here.
---
Armed police stand-off on Shannon Avenue
On June 26, police were called to the Moorland Avenue area of Lincoln after a police-installed alarm was triggered. On attending the scene at a block of flats on Shannon Avenue, they were met by a man in possession of what appeared to be a handgun. In conclusion, there were no shots fired and nobody was injured. The Lincolnite's live coverage included police statements, tweets and images.
---
Man charged over malicious Facebook comments
In May, a man from Lincoln was arrested on suspicion of inciting racial hatred on Facebook after police were notified of comments following the Woolwich attack, in which a soldier was killed. Benjamin Flatters (22) was charged with an offence of malicious communications.
After receiving a number of reports from local members of the community, Lincolnshire Police also issued a verbal warning to another Lincoln man. In addition, police increased presence in Saxilby in connection to the Woolwich murder as they raided the old family house of one of the men found guilty of the murder of Lee Rigby.
---
H&M and Next to open in revamped Waterside centre
Shoppers in Lincoln were met with the news in April that the owners of the Waterside Shopping Centre in Lincoln had submitted plans for a £9 million redevelopment project. In addition to the introduction of fashion retailers H&M and Next to the city centre, the plans also included the reconfiguring of the centre's main two trading levels.
To date, visitors to the shopping centre have seen a grand project launch, iconic displays and New Look revamped.
---
Anti-mosque protest and counter demo
When an anti-mosque protest march was organised by a group called the East Anglian Patriots in June, Lincolnshire Police warned against incited religious and racial hatred or violence. The event was planned following plans revealed in 2012 for a mosque and supermarket at the site of the former Boultham Dairy.
In response, Lincoln residents organised a counter demonstration calling for "unity against racism," organised by Lincoln & District TUC. Robust policing plans ahead of the event were highlighted in a series on interviews conducted by The Lincolnite.
On June 8, our live coverage of the event featured photographs and video updates from both camps. You can review the full coverage here. A further protest is planned in January, as well as a counter demo.
---
Police raid Saxilby home connected to Woolwich murder
Police investigating a terror-linked murder of a soldier in Woolwich, London, raided a house in Saxilby, near Lincoln, on May 23.
The house in the Lincoln village was thought to have belonged to the father of one of the killers. Inspector Simon Outen of Lincolnshire Police thanked residents in Saxilby for their cooperation in a video that can be viewed here.
---
Double stabbing on Monson Street
At around 5:30pm, on December 11, police were called to an incident whereby two men aged 20 and 33 were attacked by a man with a large kitchen knife. The two men's injuries were not thought to be life threatening.
Lincolnshire Police released a CCTV image of the suspect who was said to have escaped down Monson Street. This case is still ongoing and the suspect is yet to be found.