February 24, 2014 2.24 pm
This story is over 100 months old
Which Lincolnshire councillors voted for a raise in their allowances?
Allowance hike: Find out which Lincolnshire councillors voted for a 23.4% rise in their allowances.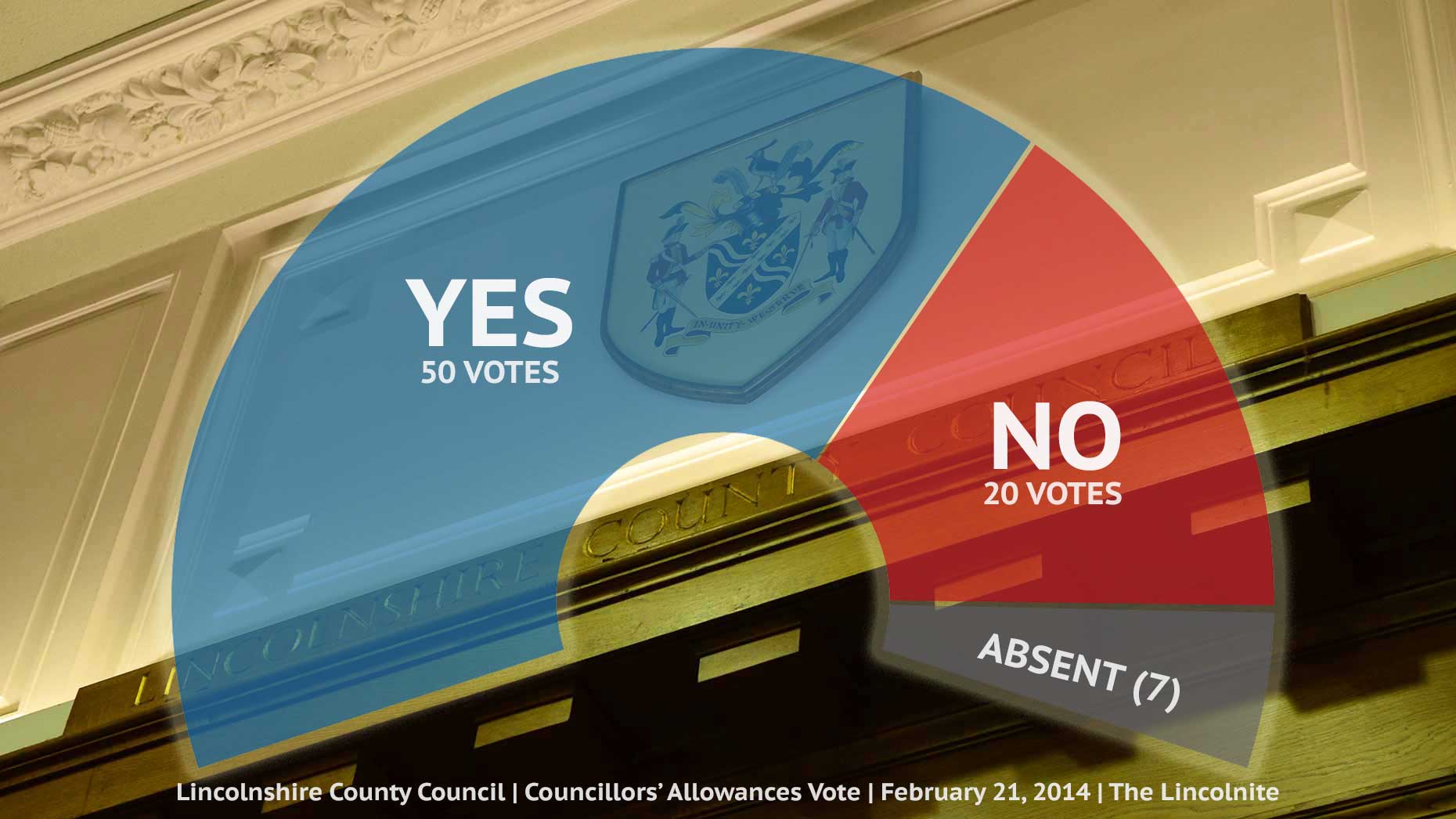 Lincolnshire councillors voted in majority for a 23.4% rise in their allowances at a meeting on February 21.
County councillors voted 50 for and 20 against the raise in personal allowances, while seven were absent.
This vote means a rise of the basic allowance paid to councillors from £8,184 to £10,100 per year, with a rise to £21,000 for the deputy leader and £18,000 for members of the executive.
The allowances for opposition group leaders will also rise to £9,090 due to the responsibility of providing an effective opposition to the majority group.
Leader of the Council, Councillor Martin Hill, is in line to get a 56% increase to £32,000 per year in allowance, but he has declined to accept the allowance increase.
He voted for the proposal, however, as he felt it was "fair" on his fellow councillors.
All Conservative, Lincolnshire UKIP and Lib Dem members present at the meeting voted for the raise, whilst Labour were completely against.
Meanwhile, Lincolnshire Independents and UKIP were divided in their views on the matter.
Who voted for and against? The Lincolnite complied a list and chart:
Voted for:
Bob Adams (Conservative)
Mark Allan (Lincolnshire Independents)
Alison Austin (Lincolnshire Independents)
John Beaver (UKIP Lincolnshire)
Patricia Bradwell (Conservative)
David Brailsford (Conservative)
Jacqueline Brockway (Conservative)
Michael Brookes (Conservative)
Jo Churchill (Conservative)
Colin Davie (Conservative)
Richard Davies (Conservative)
Richard Fairman (UKIP Lincolnshire)
Ian Fleetwood (Conservative)
Andrew Hagues (Conservative)
Martin Hill OBE (Conservative)
Marc Jones (Conservative)
Burton Keimach (Conservative)
Tiggs Keywood-Wainwright (UKIP Lincolnshire)
Stuart Kinch (Conservative)
Charles Marfleet (Conservative)
John Marriott (Liberal Democrats)
Robert McAuley (UKIP Lincolnshire)
Angela Newton (Independent)
Patrick O'Connor (Liberal Democrats)
Marianne Overton MBE (Lincolnshire Independents)
Clive Oxby (Conservative)
Chris Pain (UKIP Lincolnshire)
Nigel Pepper (Conservative)
Raymond Phillips (Conservative)
Helen Powell (Lincolnshire Independents)
Susan Rawlins (Lincolnshire Independents)
Anne Reynolds (UKIP)
Peter Robinson (Conservative)
Lesley Rollings (Liberal Democrats)
Reg Shore (Liberal Democrats)
Jane Smith (UKIP)
Elizabeth Sneath (Conservative)
Charles Strange (Conservative)
Christine Talbot (Conservative)
Thomas Trollope-Bellew (Conservative)
Anthony Turner MBE JP (Conservative)
Stuart Tweedale (Conservative)
William Webb (Conservative)
Paul Wood (Lincolnshire Independents)
Susan Woolley (Conservative)
Linda Wootten (Conservative)
Ray Wootten (Conservative)
Nick Worth (Conservative)
Susan Wray (Conservative)
Voted against:
Victoria Ayling (UKIP)
Phil Dilks (Labour)
Sarah Dodds (Labour)
Geoffrey Ellis (Labour)
John Hicks (Lincolnshire Independents)
John Hough (Labour)
Dean Hunter-Clarke (UKIP)
Robin Hunter-Clarke (UKIP)
Ian Jackson (Labour)
Rosanne Kirk (Labour)
Colin Mair (UKIP)
Charmaine Morgan (Labour)
Neil Murray (Labour)
Stephen Palmer (Lincolnshire Independents)
Robert Parker (Labour)
Elizabeth Ransome (UKIP)
Felicity Ransome (UKIP)
Sue Ransome (UKIP)
Judy Renshaw (Labour)
Robin Renshaw (Labour)
Absent:
William Aron (Independent)
Christopher Brewis (Independent)
Anthony Bridges (Conservative)
Kevin John Clarke (Labour)
Denis Hoyes MBE (Conservative)
Daniel McNally (UKIP)
Barry Young (Conservative)