May 2, 2014 10.45 am
This story is over 91 months old
Lincolnshire solicitors raise £10.9k for charity
Will Aid: Staff at a Lincolnshire solicitors have raised over £10k from their 2013 charity will-writing campaign.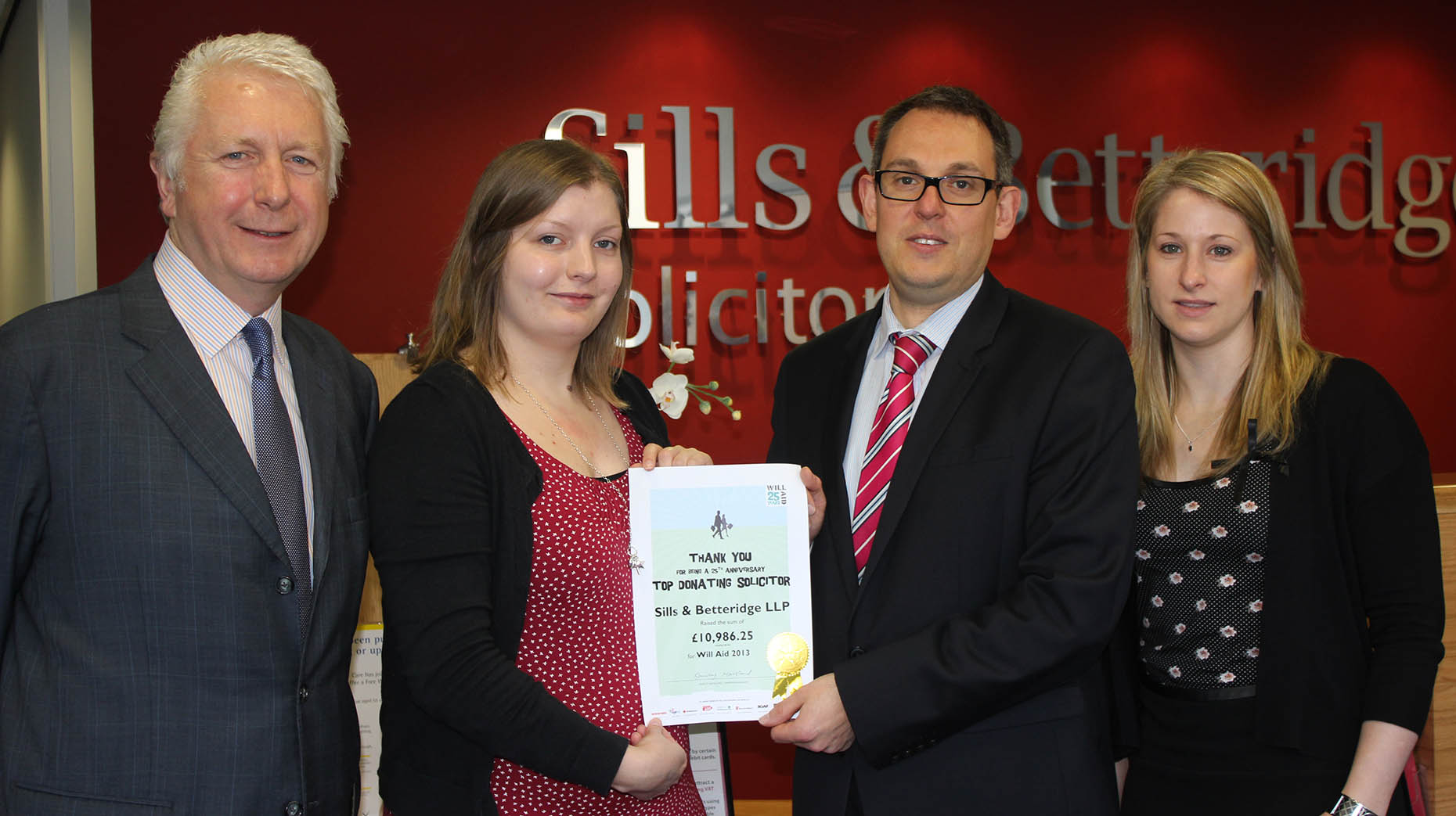 Staff at Lincolnshire solicitors Sills & Betteridge have raised £10,986 from their 2013 will-writing campaign for charity.
The money raised will be added to the nationwide 25th anniversary total, and was double the amount raised in the 2012 campaign.
Teams from the Lincoln, Nottingham, Boston, Gainsborough, Sleaford, Skegness and Spilsby branches offered people the opportunity to update their will in return for a donation to help people in need all over the world.
This money from Will Aid is shared by nine well-known UK charities: ActionAid, Age UK, British Red Cross, Christian Aid, NSPCC, Save the Children, Sightsavers, SCIAF (Scotland) and Trocaire (Northern Ireland).
Imogen Tate from Christian Aid visited the firm at their Lincoln branch to thank the team for all their hard work and present their Will Aid certificate.
Sills & Betteridge LLP has participated in nine Will Aid campaigns to date, and in total has raised an impressive £27,232.
She said: "We at Christian Aid greatly value Sills & Betteridge's support. Will Aid is very important to Christian Aid as not only do we receive a significant amount in donations but the campaign also provides an opportunity for people to leave Christian Aid a legacy.
"Legacy gifts are crucial in enabling our work to eradicate poverty and change the systems and structures which cause it. Legacies of all sizes are incredibly valuable to Christian Aid – last year our income from legacies could have more than paid for all our work in Latin America and the Caribbean – making a lasting difference to thousands of lives."
Jennifer Lowe, Business Development Manager, said: "Will Aid works for us as a firm that is strongly committed to the local community. It enables us to help our clients to support a worthwhile cause whilst putting their affairs in order.
"We also support Free Wills Network, and this year until May 31, we will provide wills free of charge for people over 55 years of age who sign up to the Marie Curie Cancer Care scheme. There will be a limited number of free wills available on a first-come, first-served basis."
Richard Bussell, Partner and Head of Wills Trust & Probate, added: "Having now taken part in Will Aid for several years, we are always surprised but delighted to see it grow each year.
"To know we are the top firm in the East Midlands region this year and that we have raised this much for the Will Aid charities is amazing. We look forward to supporting the scheme again this November."