Lincolnshire Police face collapse, says Chief Constable
Force at risk? Writing to the Home Secretary, Chief Constable Neil Rhodes has warned of an unsustainable future due to funding cuts.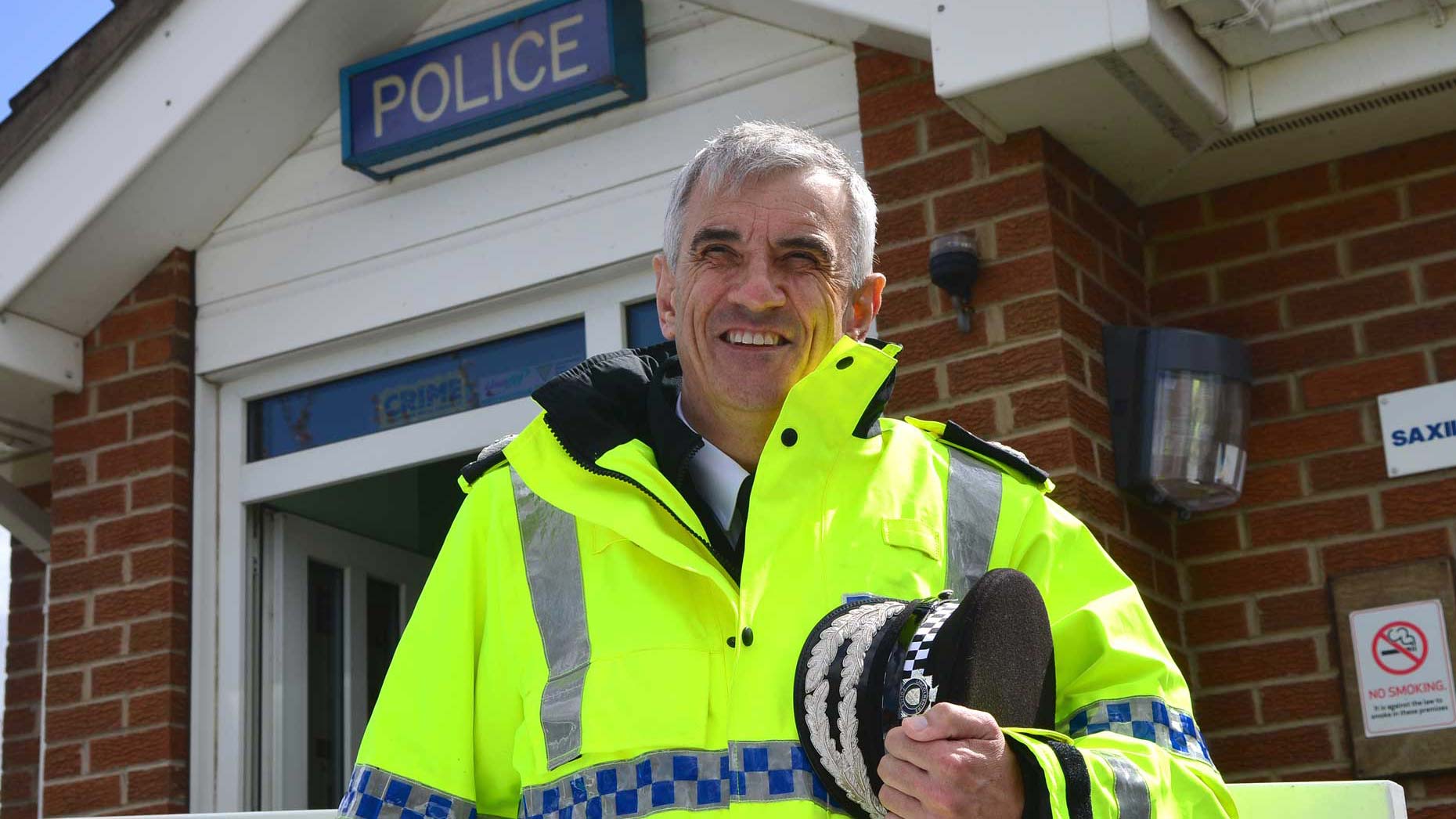 Lincolnshire Police Chief Constable Neil Rhodes has said that the force could be the first in the country to "fall over" due to funding cuts in a letter to Home Secretary Theresa May.
In the letter, the Chief Constable warns that the current funding arrangements would make the force "unsustainable" and frontline services would be in jeopardy by 2018.
Lincolnshire Police say the letter was written in agreement with Lincolnshire Police and Crime Commissioner Alan Hardwick, and debated by the Lincolnshire Police Crime Panel.
The force, which is the third largest policing area in the country, has previously received an outstanding mark for delivering affordable policing in a HMIC report.
Despite remodelling the force in reaction to government cuts, concern remains for the force's ability to cope with a further funding squeeze.
After a visit to Lincoln earlier this year the Shadow Policing Minister Jack Dromey shared concerns of the consequences for further cuts to the force.
With a predicted 4% decrease in government funding, Neil Rhodes' stark letter to the Home Secretary highlights a shortfall of £10.4 million, meaning front line officers would be axed.
Officer numbers have already been slashed from 1,220 to 1,200, but Mr Rhodes is expecting a further 236-officer reduction.
Police and Crime Commissioner Allan Hardwick also wrote to the Home Secretary about the future funding issues facing the county.
Mr Rhodes published the letter in full on Monday, December 8:
"The future sustainability of policing services in Lincolnshire within the current funding arrangements
"As we begin to finalise our budget arrangements for 2015/16, with a view to the years immediately beyond that, it is important that I draw your attention unequivocally to the problem in terms of sustainable policing services that confronts the communities of Lincolnshire and which is a cause of grave concern to me.
"A smaller, forward looking and innovative force that has embraced change, Lincolnshire Police in 2016/17 will be, on the basis of current financial projections, on the edge of viability. In the following year it will be unsustainable. Having balanced our books in probably the most challenging position in the country, we firmly believe that we are an exemplar of good practice and efficiency – graded 'Outstanding' by HMIC for the provision of affordable policing – yet find our very future threatened by an anomalous funding formula and the blunt instrument of straight percentage cuts.
"We have worked hard over the past year in particular to shape and inform Government thinking, hosting visits from the previous Police Minister and groups of senior civil servants. We participate in a number of government-led groups looking at these issues, however, all are working to produce information for Summer 2015 and we must take decisions now if we are to produce balanced budgets. Our principal means of reducing budgets is now almost solely by reducing officer numbers.
"There are two key problems with this approach to reducing costs. Firstly, to cut officer numbers by the amount needed would mean service degradation to a level that would be unacceptable to our communities and compromise both public safety and officer safety. Secondly, the scale of reduction required far outstrips our ability to cut numbers through normal means.
A short overview of the force
"Lincolnshire Police covers the third largest policing area in the country (almost 2300 square miles) with just 1100 officers, 149 PCSOs and 256 police staff. The cost of policing per head of population is the very lowest in the country, whereas the caseload of officers is the third highest. Despite this, force performance is very good, crime detection and resolution is on a par with most forces and there has been really significant crime reduction in recent years – although last year's reduction was small and this year's is currently neutral.
"In this Comprehensive Spending Review round, being required to take out £19.7m from a £120m budget, the force restructured to work as one unit without BCUs, reduced officer numbers by 120, and cut significantly non-staff budgets. We also entered into a ground-breaking outsourcing arrangement with a private sector provider that sees many back office functions supplied at much lower costs, whilst retaining 575 jobs in the Lincolnshire economy.
"In addition, there has been a real drive to embrace and lead regional collaboration, with major crime, serious and organised crime and specialist operational services such as roads policing and armed policing being delivered with neighbouring forces. We led the creation of the East Midlands Criminal Justice Service, which will see for the first time an integrated criminal justice IT platform across four forces.
The financial position in brief
"Based on prudent assumptions, if the pot of money we believe is available to policing in the next few years continues to be allocated in the usual manner, then Lincolnshire Police will have a funding gap of £7.6m in 2016/17 growing to £10.4m in 2017/18. Alternatively, if there was to be no reduction in central police grant, then cost pressures such as a 1% pay rise and the scheduled increase in employer National Insurance contributions would still mean a £3-3.5m gap.
"Although we are working hard and innovatively to drive out further savings, our ability to make any real impact on that number simply has to be by reducing police officers and PCSOs. £10.4m equates broadly to 236 officers. To make a further reduction of police officers (or combination of officers and PCSOs) would mean significant service degradation to a level that the community would find unacceptable.
The impact of service degradation
"Lincolnshire Police has a trusted and tested approach to forecasting resources and demand that has been reviewed by HMIC. Chief officers recently worked through the service degradation impact of a scenario where officer and PCSO numbers were cut in line with the potential budget reductions indicated.
Our professional opinion is that –
Although the ability to deal with major crime, serious and organised crime and the provision of specialist operational services such as roads policing and armed policing will be sustained through existing collaborative arrangements, there will be almost no capacity to provide mutual aid in public disorder scenarios.
Meaningful Neighbourhood Policing as we currently practise it will cease, with no constable community beat managers and just a few PCSOs.
The lowest level of local political engagement will be at inspector level.
The spectrum of response times experienced by those calling for our attendance will increase substantially (work being done to quantify change).
Pro-active patrol as opposed to response will almost cease.
The range of offences where a meaningful investigation will be possible will reduce (work being done to quantify).
Computer enabled (cyber) crime capacity will be sustained, but not expanded in line with the growing need.
Child Sexual Exploitation investigations, by necessity, will focus on the here and now with limited ability to examine historical cases.
Except where the financial business case remained strong, the force would be obliged to withdraw from pro-active partnership working, where it so often provides the glue in relationships.
The Police Service often finds itself the service of last resort, particularly as others contract because of funding issues. Lincolnshire Police would continue to strive to deal with emergency need in appropriate cases around, for example, mental health or ambulance attendance times, but that ability would be severely constrained.
With lower numbers and significant distances to travel officer safety will be compromised more frequently.
Public confidence in policing and those charged with providing it will be severely eroded.
Although there would be much that could be done to mitigate the worst effects of this service degradation, local policing in Lincolnshire would look and feel very different to the rest of the East Midlands. Our communities, whilst still paying a higher level of police precept.
"Council Tax, would look with envy across boundaries to much better funded neighbouring counties, and that simply cannot be right.
The future shape of policing
"My PCC has made his views clear that he favours the continuation of an independent force in Lincolnshire. It is my settled view too, as both the current chief constable and a long standing resident of this county that because of size, identity and policing need it is right that the county retain its own police force.
"As a force, being resolutely apolitical, we see a range of potential structural options for change in future years for the police service. No serious discussion appears to be taking place around a national force, feasible options range from mandated collaboration in certain areas, through the forming of strategic sized forces (where two or more combine to achieve a size where real economies of scale can be had), to the creation of regional forces. Work undertaken in Lincolnshire over recent years, in terms of restructuring and being a driving force in regional collaboration, currently positions us well whatever course of action is chosen.
"The real issue for Lincolnshire Police is viability during the transition period from 2016/17 to the adoption of any new or revised model.
Other forces approaching similar situations
"Lincolnshire Police is not the only force facing challenges of this order, however it is the one for whom the issues will probably crystallise first, owing to the organisational restructuring and aggressive cost cutting that has enabled it to meet the challenges of the current Comprehensive Spending Review period and its position as an outlier, being the least expensive force in the country. HMIC also identify a cluster of around six forces for whom size and other factors will limit capacity to bear further cuts.
Potential solutions
"We appreciate that the overall pot of money for policing will shrink further. It is vital that the smaller pot is targeted carefully and fairly.
"Any funding formula adjustments that provide relief will be welcome, although we acknowledge that it is the nature of formula driven approaches that there will be anomalies and outliers who will potentially be disadvantaged. In the past grants have been tailored to compensate for rurality or sparsity and they can prove useful, but are unlikely to cover comprehensively the forces that need help whilst there will be bonuses for unintended beneficiaries.
"The most productive and fair approach may be to recognise that there is simply a cost to being in business for a smaller force that acknowledges a set of fixed core costs and to implement a 'cost of being in business' funding net or floor at a modest but sensible level (we have suggestions as to how this might be achieved) and then allow a revised funding formula to allocate the distribution of the bulk of monies. The impact of this approach on the funding of medium to larger forces would be marginal indeed but it would give a massive lift to the half dozen smaller forces, moving them into a zone where savings may be difficult but would at least be possible. If this were coupled with an approach where budget reductions were made with more surgical precision than the blunt instrument of straight percentage cuts, real progress might be made.
In conclusion
"In Lincolnshire we would like to be seen as part of the solution to the difficulties the Police Service faces, rather than an element of the problem. Our structural leanness, low unit costs and innovative approaches, coupled with pretty good performance, have to present an example to others.
"The Police and Crime Commissioner and I would really welcome the opportunity to host a short visit to Lincolnshire to demonstrate what this force has to offer, or alternatively could travel to London to present our thoughts if that is more convenient.
"I look forward to hearing from you and hope you can find time in your diary to either come to the county or receive a visit from us."