Rewind: Top 14 stories of 2014
Top of the headlines: See which stories made the most-read list for 2014 as The Lincolnite looks back over another year of Lincoln news.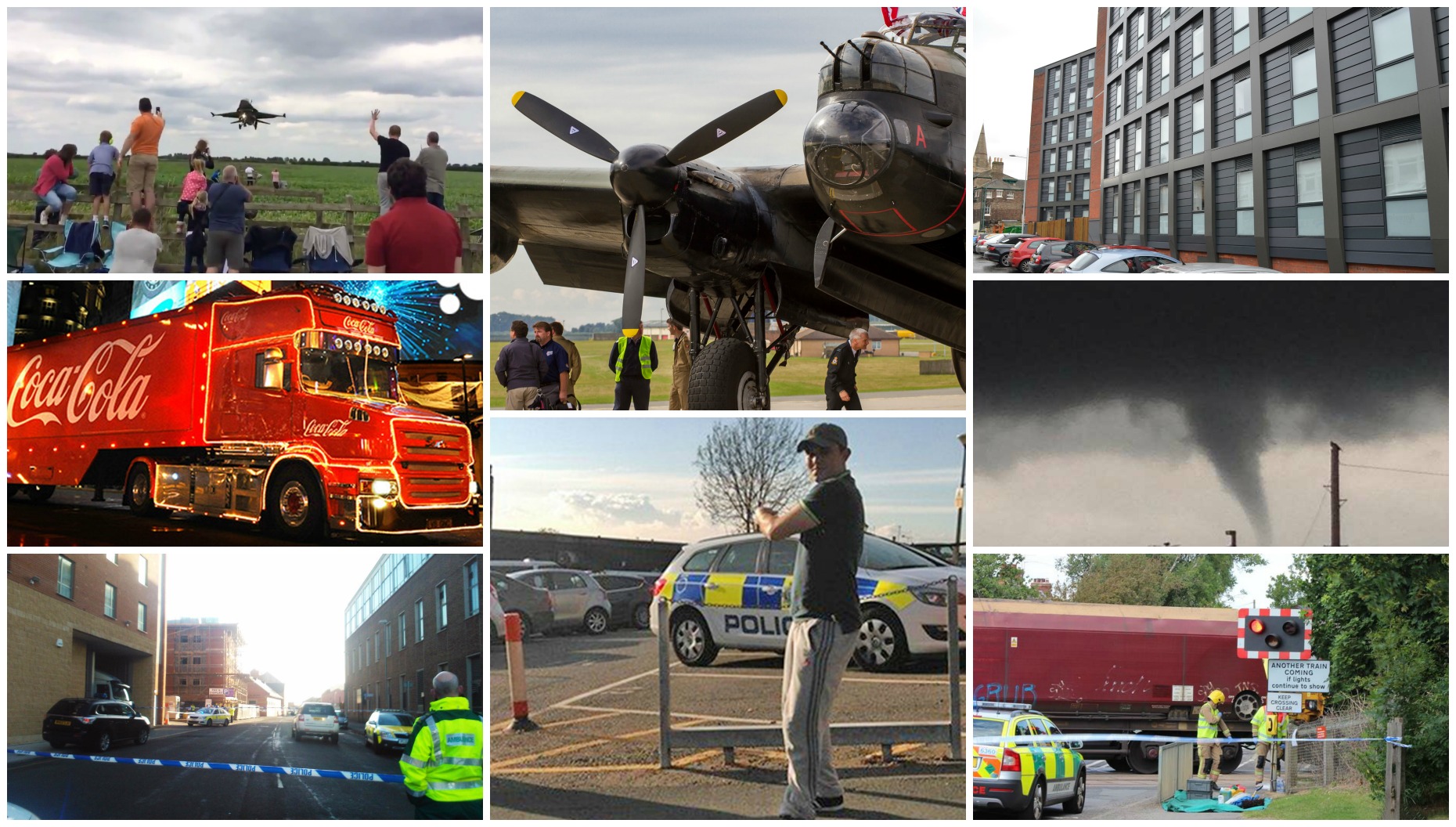 It's been a busy year in Lincoln and The Lincolnite has been on hand covering all of 2014's news and events. This year, more stories were published and shared than ever before. Here are some of the most read and most talked about headlines:
---
Video: Turkish F16 skims onlookers' heads at Waddington Air Show
During the 2014 Waddington Air Show spectators were caught running for cover when a Turkish F16 jet made a low landing. The group were filmed at a stretch of the runway near to the A15 as the F16 dove towards the base. The video now has over 460,000 views on Youtube – luckily, no one was harmed.
The 2014 Waddington Airshow attracted over 135,000 visitors and raised over £260,000 for charity. Highlights from Day 1 and Day 2 include displays from hundreds of aircraft including Lincolnshire's own Red Arrows.
The 2015 Waddington Airshow has been cancelled due to £34 million runway works  and the RAF is conducting a full review of its future air show commitments.
---
Christmas Coca-Cola truck stops in Lincoln
On December 10, 2014, a site which for many people cued the beginning of the Christmas holiday season brought the city to a standstill. Some 20,000 people made their way to St Marks shopping centre in order to welcome the iconic Coca-Cola campaign truck as it made its Lincoln stop.
Visitors to the event were treated to a can of Coke, a choir which performed festive hits and could have their photograph taken with the truck. Our gallery here.
---
Police investigate Lincoln student's death at Danesgate
Police launched investigations after a University of Lincoln student was taken ill at student accommodation in the city on December 17. He was taken to Lincoln County hospital and sadly died.
The 19-year-old student, later named as Ashley Hughes, was at Danesgate House with friends before he was taken ill. The death of the young man from Manchester was treated as unexplained.
---
Missing 11-year-old girl
Cordelia Hookings, 11, went missing from her home on Jellicoe Avenue in Lincoln from the evening of March 25 to early March 26. Sightings were reported to police at Tesco on Wragby Road and as concern mounted an overnight helicopter search was conducted alongside police ground work. Cordelia was found safe and well.
---
Two people die after being hit by train in Cherry Willingham
Two elderly people died after they were struck by a moving freight train in the Lincoln village of Cherry Willingham on Wednesday, July 9. The man in his 80s and woman in her 70s, both local to the village, were pronounced dead at the scene.
The incident, which happened near to the pedestrian crossing on Croft Lane, was investigated by British Transport Police as non-suspicious.
---
Man dies after fall from Lincoln car park
In the early hours of February 26, a 23-year-old Lincoln man died after falling from Broadgate multi-storey car park on St Rumbold's Street. The man was named by police as Patrick McCauley, also known as Paddy.
---
Man found hanging at Lincoln bus station
A 56-year-old man from the Lincolnshire coastal area was found hanging at Lincoln bus station on April 19 at 5.15am. Emergency services attended the scene and confirmed his death before his body was collected by the coroner. Police said there were no suspicious circumstances surrounding the incident.
---
Wanted man taunts Lincolnshire Police outside their offices
Local man Aaron Bee saw his 'wanted' status as an opportunity to lead Lincolnshire Police on a provocative cat and mouse chase in November, bringing him a wave of media attention followed by his arrest.
Aaron, 22, was wanted by Lincolnshire Police on suspicion of assault and domestic violence in the Lincoln area and after the launch of an appeal, alongside two other suspected offenders, Aaron took to social media to taunt the force.
Aaron posted pictures and statuses on his Facebook page near to police officers followed by a 'selfie' outside Lincoln Police Station on West Parade. He then took his game to the next level by posing outside the Lincolnshire Police HQ in Nettleham.
Aaron was arrested on November 11. He appeared in Lincoln Magistrates Court on Wednesday, November 12 and was charged with two counts of assault by beating, one count of criminal damage, six breaches of a non-molestation order and a further count of making off without payment. He has been remanded in custody until February 2015.
---
Police recover body from river in Lincoln
Police recovered a body from the River Witham in Lincoln after receiving a report from a rower who saw the body in the water on February 9. A police underwater search unit attended the scene at the Stamp End area, and the body was later identified as 28-year-old Ryan Morgan, who had been missing for a number of weeks.
---
Lincoln teenager and woman die after Good Friday crash near Alford
A 16-year-old Lincoln boy and a 70-year-old local woman died in a three-vehicle collision near Alford on Good Friday, which also left six others injured. Three other 17-year-old boys from Lincoln were seriously injured in the crash and were treated in hospitals in Hull, Grimsby and Boston.
---
Lancasters, Vulcan and Hawks host iconic Lincoln flypast
Local aviation enthusiasts got a rare chance to watch the last two airworthy Lancaster bombers fly from RAF Coningsby over to RAF Waddington, accompanied by the Vulcan on Thursday, August 21. The PA474, flown by RAF Coningsby's Battle of Britain Memorial Flight, and FM213 flown by the Canadian Warplane Heritage Museum, flew to RAF Waddington, where they were joined by the delta wing Vulcan Bomber XH558.
Rewind over the iconic flypast here.
---
Lincoln stabbing 'self inflicted'
Police confirmed that a man found with stab wounds to his abdomen in the street in Lincoln in April had in fact caused his own injuries after a 35-year-old woman was arrested. The woman was released from custody without charge and police said that no crime had been committed.
---
Tornado spotted near Lincoln
The top weather story of the year came after tornado-like formations appeared across the Lincoln area. Local residents armed themselves with cameras and phones to document the unusual funnel-shaped clouds and many Lincolnite readers sent in their images.
---
Lincolnshire schools without meals as supplier ordered to stop trading
A number of schools in Lincoln and the surrounding villages faced a loss of meals due to confusion over their supplier's license to trade. North Kesteven District Council and Boston Borough Council ordered Food 4 Thought GB Ltd to cease trading after it was found to be illegally supplying meals to schools. It was found to have been trading since going into liquidation on November 4. The company opposed the claims that it was acting illegally and was back in business as UK Ideal by November 20.