April 7, 2015 3.38 pm
This story is over 102 months old
Official blessing for £10k archway to The Strait
Grand opening: The Strait archway was officially unveiled by the Bishop and Mayor of Lincoln on April 7.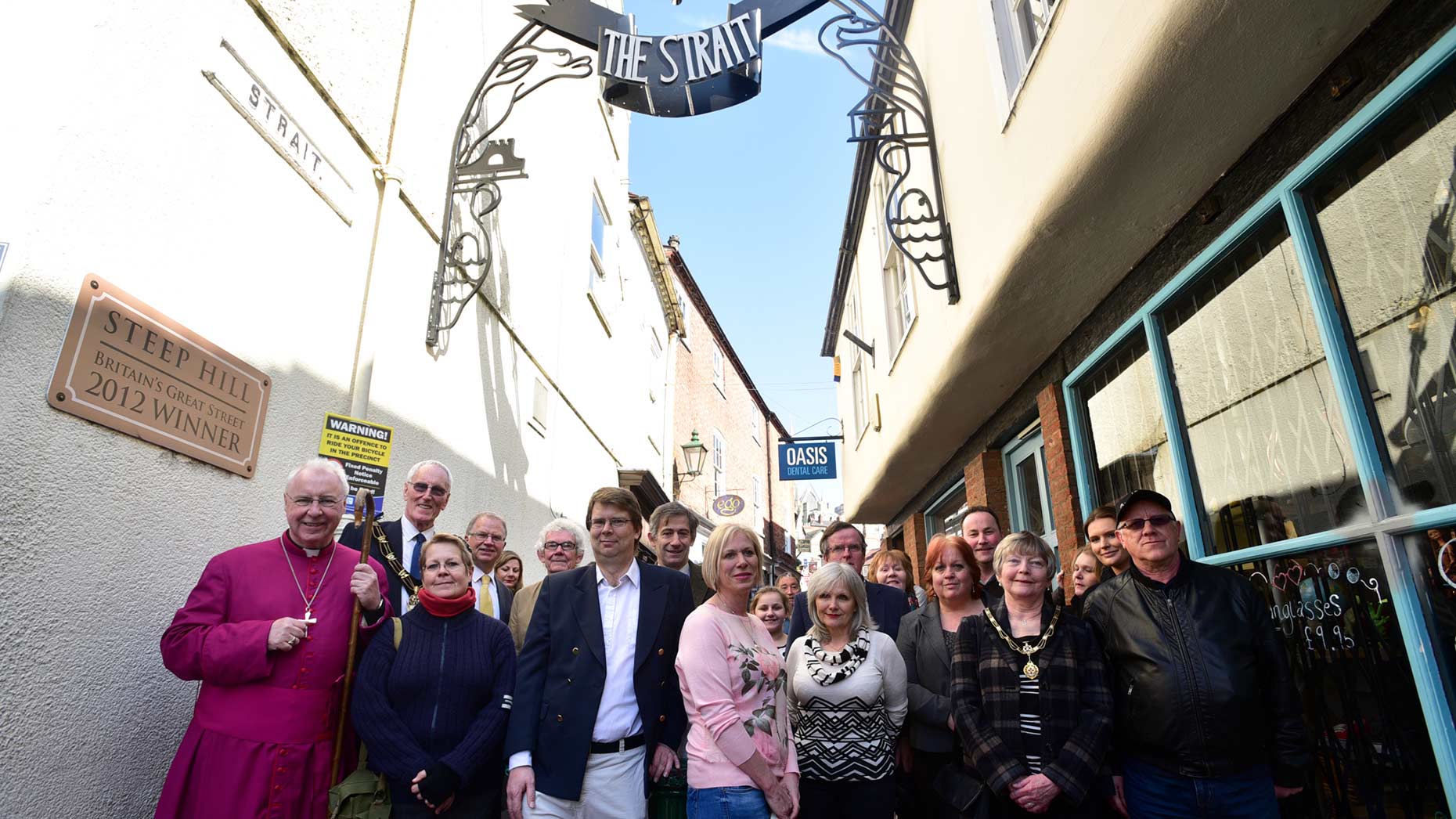 Local traders and businesses were present as The Strait archway was finally unveiled by the Bishop and Mayor of Lincoln on April 7.
The archway, which connects Lincoln city centre with Steep Hill and the cathedral quarter, was developed over a four-year period by the Bottom of the Hill Traders Association with Lincoln Business Improvement Group (Lincoln BIG), at a cost of £10,000.
Bishop of Lincoln Christopher Lowson, who gave a blessing to welcome visitors to The Strait, said: "The archway is a great addition to the streetscape of this part of Lincoln which is one of the historic parts of the city and it celebrates all our beautiful independent shops which add real character to the centre of Lincoln."
Mayor of Lincoln Brent Charlesworth added: "The archway is all part of the experience from when you get off the train, you walk up the high street, you come to The Strait, then Steep Hill, then the Cathedral. It's a lovely experience for visitors to one of the most attractive cities in the world."
John Shipton, member of the Bottom of the Hill Traders Association for the last four years, said: "We hope that people will come and see the archway, and we think it will help people notice that there are independent shops here such as my wife and daughter's one, Mono Boutique, so they come up and see what's on offer.
Lincoln BIG Chief Executive Matt Corrigan said: "Public art helps to enhance the experience of the city centre for visitors.
"Features like this reinforce Lincoln's unique identity and story and help to make our city stand out from the crowd, by encouraging visitors to explore our many attractions and find out more about our history."
Lincoln artist Lea Goldberg created the design – which features James Usher's Imp, the Magna Carta and a hare, goose, amphora and fish (symbolic of the city's ancient markets) – after winning a competition inviting concepts.
The arch was manufactured by Sleaford-based blacksmith Anwick Forge and is 2.7m high and 2.9m wide.
Funding for the project, which was completed on March 22, came from grants and events held by local businesses.