May 18, 2015 11.24 am
This story is over 102 months old
Lincoln shoppers add to colourful bucket list in annual campaign
Before I die: Shoppers in Lincoln are being asked to think about death and their ambitions in an annual awareness campaign.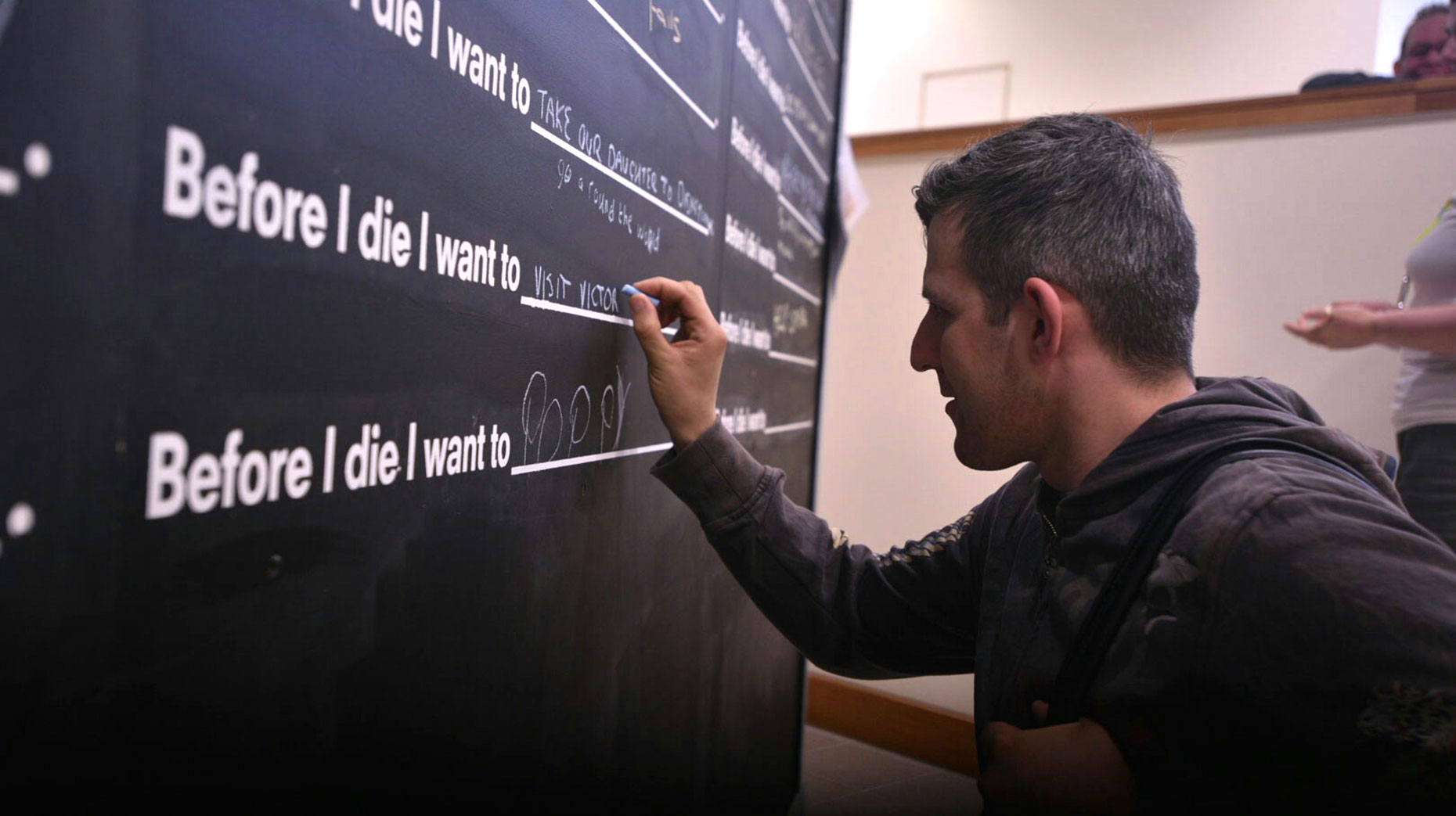 Shoppers at Waterside Shopping Centre in Lincoln are being encouraged to think about what matters most to them in an awareness week for end of life care.
St Barnabas Lincolnshire Hospice will be producing bucket lists across the county during Dying Matters Awareness Week.
The charity is hosting 'Before I die' boards at the shopping centre from May 18 to 21, encouraging the community to add their aspirations.
The large 6ft by 12ft boards are being erected to promote the annual awareness week, which runs 18 to 24 May. The campaign urges people to talk more openly about death, dying and bereavement and make plans for the end of life.
Jane Bake, Director of Patient Care, said: "Talking about death, dying and bereavement is a subject that many people can find challenging. In many ways it has become a modern taboo with people desperately avoiding their own mortality.
"What we are hoping to do is help to change social attitudes towards death and dying and provide a safe haven where talking about death is encouraged.
"It is our view that having open and honest conversations will mean that we are all better equipped to support each other when death has an impact on our lives."
In addition to the 'Before I die' boards within The Waterside the charity is also hosting a number of smaller boards within their Day Therapy centres and 18 of their high street shops. Their community teams are also taking the boards out into their local areas in Boston and Stamford.
Jane said: "Before I die may sound morbid but it really isn't. Our hope is that this project will help people to accept their own mortality and encourage them to live the life they truly desire.
"The initiative is really focused on the living, the here and now and making the most of every second we have. Talking about death, dying and bereavement is in everyone's interest as it can help to ensure that we get what we want out of life and death.
"Dying Matters Awareness Week is a brilliant opportunity for people to start having these types of conversations. The 'Before I die' boards seek to support these conversations in a way that is easily accessible by all."
It's not the first time the boards have been used by communities in Lincoln. Residents of the Abbey ward in Lincoln got involved in a project previously bringing together their hopes for the community.
The project was created by artist Candy Chang who put up a wall and left some chalk in her neighbourhood in New Orleans in 2011 to bring her community together. Since, photos of the project and the idea has spread worldwide.