July 9, 2015 5.06 pm
This story is over 99 months old
Lincoln MP: "Network Rail have once again let our city down"
Broken promises: Rail schemes in Lincoln including the Brayford level crossing footbridge have been shelved.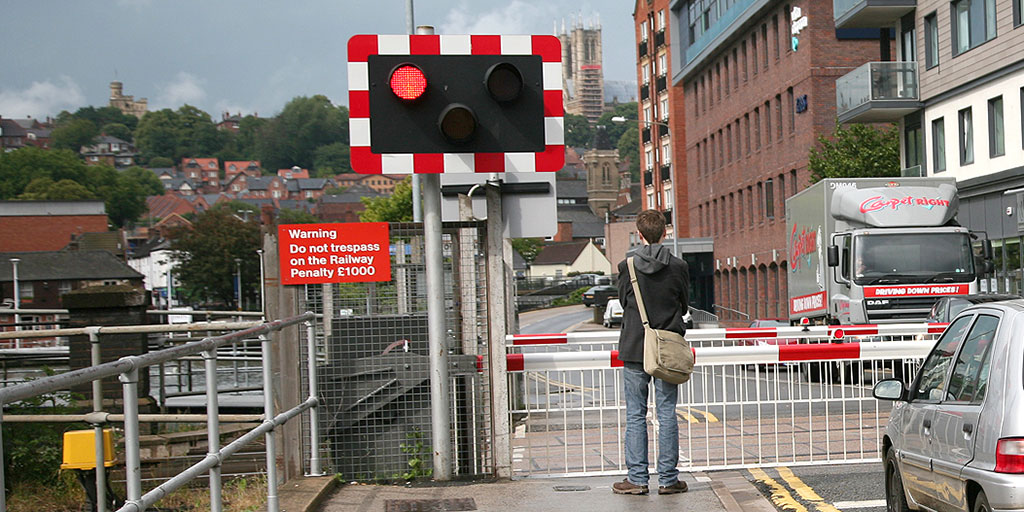 A number of schemes that were set to modernise rail infrastructure in Lincoln have ground to a halt, with city leaders speaking out against broken promises by operators.
Network Rail have confirmed that the footbridge above the Brayford Wharf East level crossing, initially planned for a September 2013 completion, has once again been shelved due to funding difficulties.
The rail operator has been widely criticised by the government for rising costs and missed targets on a nation-wide £38 billion plan to bring the country's railways into the 21st century.
Network Rail say that, while the Lincoln High Street footbridge is progressing, the Brayford bridge is no longer affordable – despite plans undergoing a redesign.
A spokesman for Network Rail said: "We are still trying to move forward with a new footbridge at Brayford Wharf East but planning conditions, as a result of its sensitive location, has made the current plan unaffordable.
"As with all public funded companies, money is tight but we remain committed to reducing the risk at all of our level crossings.
"We are now talking to the university, the local authority and others about how we might fund extra funds or how we might be able to alter our plans to make them more affordable."
Lincoln's Member of Parliament Karl McCartney, who has been campaigning for improved rail services since before his re-election, spoke out against the delay.
He said: "I am extremely disappointed that Network Rail have, once again, let our city down.
"I am well aware that Network Rail have had their arm twisted by the Office of Rail and Road Regulation (ORRR) in this matter, but we were promised this footbridge and it is incumbent on their organisation to deliver it.
"Network Rail's decision to push more freight through the centre of Lincoln city means that public safety will be put at risk if we do not have a footbridge over both our City Centre level crossings.
"The only alternative is to begin to limit the amount of freight on the East Coast Main Line that diverts through Lincoln to free-up capacity."
Executive member for highways and transportation at Lincolnshire County Council, Councillor Richard Davies, added: "News that the Brayford Wharf footbridge project has been deemed unaffordable at this time is very disappointing.
"Lincolnshire County Council fully understands the financial pressures that many organisations are under in these times of austerity, but we are keen to see this bridge built and will support Network Rail in its attempts to locate suitable alternative funding or in its efforts to make the project more affordable."
Councillor Ric Metcalfe, Leader of City of Lincoln Council, said: "This is obviously very disappointing news for the city. We know many organisations are currently under tremendous financial pressures and Network Rail is no different.
"We understand that Network Rail has had to review their current investment programme (CP5) and have concluded they cannot afford all of the projects against the funds they have available.
"We understand the footbridge scheme is only on hold and we are hopeful a solution can be found and the project resumed in the near future. We will be working with Network Rail, Lincolnshire County Council and the University of Lincoln to discuss the options.
"Although it is very positive that work on the High Street footbridge is progressing well, the crossing at Brayford Wharf East is also extremely busy and the safety of residents, visitors and motorists is paramount.
"Some action must be taken to improve this crossing and it's essential we work together to find a way forward."
Lincoln to London plans teetering
Promises of extra Lincoln to London trains by 2019 have also been thrown into doubt due to the route not appearing on draft timetables.
An additional six trains a day to Lincoln and five a day from London to Lincoln were promised by the East Coast franchise winner Inter City Railways in November 2014.
It is understood the ORRR is considering access applications to run additional services on the East Coast Main Line, including those previously promised by Virgin Trains East Coast.
Network Rail produced draft timetables, but with no mention of the extra Lincoln services.
MP Karl McCartney said: "This situation has been compounded by the failure to include the new promised rail services between Lincoln and London in the draft timetables for which I also hold both ORRR and Network Rail responsible.
"I will make it my business to be a problem to all involved in the fiasco and will use all influences at my disposal – both locally and within Government circles and on the Transport Select Committee – to ensure that promises are kept to the people of Lincoln."
Councillor Richard Davies added: "Direct trains from Lincoln to London are essential for the city to grow in the way we would wish. This will help to support our thriving tourism industry, growing economy and our world class university."
"I and my colleague Councillor Colin Davie, Executive Councillor for Economic Development, will carefully monitor the situation and give support, where required to Virgin Trains so they can deliver on their ambition for Lincoln services."
A Virgin Trains spokesperson said: "Our franchise will bring investment of £140m and major improvements to the customer experience.
"Our plans would enable us to introduce hundreds of extra services per week, make millions more seats available and create many faster journey times and better connectivity across the UK, including serving new or emerging markets, including Lincoln.
"We do not believe the open access proposals would be deliverable alongside our significant timetable enhancements and the full programme of planned customer and community benefits which has been agreed with the Department for Transport."