August 13, 2015 4.53 pm
This story is over 76 months old
Lincolnshire above national average as students find out their A-Level results
Success stories: The anxious wait for thousands of young adults across Lincolnshire finally came to an end on August 13, as students received their A-Level results.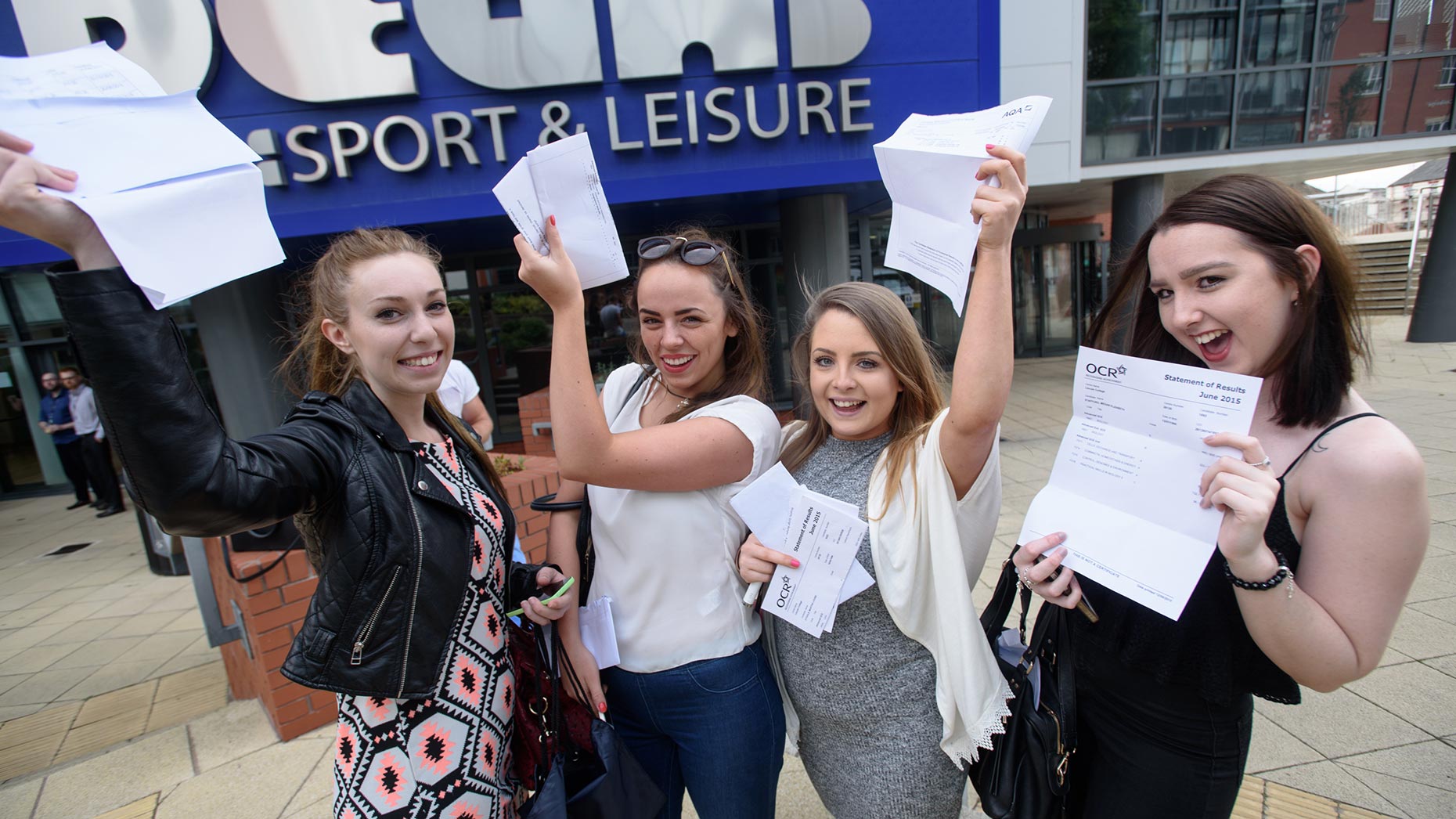 The anxious wait for thousands of young adults across Lincolnshire finally came to an end on August 13, as students received their A-Level results.
Provisional results from 36 out of 39 sixth forms in Lincolnshire showed an increase in A-Level passes and an increase in higher level grades awarded.
The pass rate for A-Levels in Lincolnshire schools reached 99%, above the national average.
Fourteen schools achieved 100% pass grades in the county, including Lincoln Christ's Hospital School and North Hykeham Joint Sixth Form.
The percentage of entries achieving the highest grade of A* grade has risen again and at 8.2% is in line with the national figure.
Eleven Lincolnshire schools achieved a % of A* grades above the national average, with nine achieving over 10% of the highest grade.
Patricia Bradwell, Executive Councillor for Children's Services at Lincolnshire County Council, said: "I am delighted that yet again almost all students in Lincolnshire schools have passed their A-Levels, and that the proportion awarded the highest grades continues to rise.
"Students are to be commended for the hard work they have put in to achieve these results. I'm sure they will want me to extend their thanks for the support they have received from their teachers and parents and carers."
Debbie Barnes, Director of Children's Services, said: "Studying at this level is not easy and requires determination and dedication to reach their goals.
"It is particularly pleasing to see the increase in the highest grades awarded, and once again shows that we have some of the best young achievers on the country."
Here are some of the area's success stories:
Branston Community Academy
Students at Branston Community Academy exceeded all expectations with an incredible pass rate of 99.6%.
In fact nearly half of all the A-Levels entered by students at the school resulted in an A or A* grade (46%) – exceeding last year's figures by 10%.
Nearly two thirds, 64%, of pupils celebrated grades between A* to B and 86% were awarded A*to C grades – again beating last year's overall results.
Among the students who excelled this year were Stephanie Adams (A* in History and Sociology, A in German), Callum Evans (As in Maths, Physics and Computing), Ellie Lowe (As in English, History and Psychology), Alex Waldie (A* in Maths, As in Physics and General Studies and B in Psychology), Matthew Parkes (As in English, History and General Studies and B in Geography) and Jade Cunningham (A in Performing Arts and A* equivalents in PE and Science).
"I am incredibly proud of the achievements of our students. Their work ethic, determination and passion has been supported by the commitment of our team of dedicated and able teachers," said headteacher Peter Beighton.
Lincoln College
The percentage of students achieving pass grades in their final year was 98%, equalling last year's pass rate and 30% of students achieved the very highest grades of A* to B.
There was also a 100% pass rate in English, with 18% of those getting A* in English Literature, and 51% of students getting A* to B grades in maths.
Lincoln College Group Managing Director of Education and Training Delivery, Mark Locking, said: "We are delighted with these results – they represent a huge amount of effort on the part of our students and teaching staff.
"I'd like to personally congratulate all of our learners – they have done themselves, their families and their tutors proud."
Lincoln Christ's Hospital School
Students at Lincoln Christ's Hospital School have also been celebrating an excellent set of A-Level results.
The sixth form achieved a 96% pass rate, an improvement on 2014, along with a 21% increase in the proportion of students gaining three passes at A-Level.
Improvements have also been made in the proportions gaining A*-C grades and A*-A grades, with pass rates at AS-level rising.
Headteacher Martin Mckeown said: "This is an excellent way to start the new chapter in sixth form education at the school, as we look forward to opening up our new state-of-the-art sixth form building in a few weeks' time and we look forward to seeing our results soar further in the year ahead.
"I feel so privileged to be working at a school where we have such talented and enthusiastic staff, supporting students every step of the way through their studies."
William Farr School
A-Level students at William Farr CofE School have achieved their highest ever number of A* grades since they were first introduced in 2010.
One in eight of this year's A-Level grades awarded to pupils at the school was an A*. The figure was an increase of almost 4% on last year.
And the percentage of students achieving both A* and A-grades in their exams equalled last year's record of 26.2%. The national average this year was 25.9%.
A total of 43% of the school's A-Level students achieved grades A,B,B or better with almost a quarter getting A,A,B in facilitating subjects – maths, English, science, humanities and languages.
For 18-year-old Amy Cragg, her hard work was rewarded with five A* grades in French, Spanish, geography, politics and general studies.
"I can't believe it, I was absolutely amazed when I opened my results," she said.
"I am going to Cambridge to study modern languages, and tonight I am going out with my friends to celebrate!"
Mark Lee from Nettleham, who was this year awarded Secondary Student of the Year at the Lincolnshire Media Education Awards, is heading to Durham University where he will begin a four-year engineering course.
Mark got A* grades in physics, maths, further maths and A-grades in chemistry, general studies and the new Extended Project Qualification (EPQ).
"My grades are much higher than I was hoping for – I was so nervous opening them," he said.
Also delighted with his results was Jason Metcalfe who got A* grades in maths, biology and physics and an A in chemistry.
"These results are definitely what I was hoping for," he said.
"I am going to Leeds to read medicine with a view to becoming a doctor, possibly in a hospital's A&E department."
Headteacher Andy Stones said: "Our A-Level students are an exceptional group of young people who have worked so hard with their teachers to give themselves the best opportunity for the future.
"We are thrilled that every child has achieved what they set out to do. They can now look forward to the next phase of their lives."
North Hykeham Joint Sixth Form
Another sixth form with a record-breaking performance was the North Hykeham Joint Sixth Form.
The sixth form, composed of North Kesteven School and Sir Robert Pattinson Academy saw the numbers of A*-B grades at A-Level increase from 37% to 40%, with the pass rate remaining at 99%. 70% of A-Level grades were A*-C.
Helen Renard, head at Robert Pattinson, said: "The results show the joint sixth form getting stronger every year and we are proud of the incredibly able, driven and responsible students that will now go on to thrive in whatever career or further education they choose. We wish them every success."
Martin Connor, headteacher at North Kesteven School, said: "We are delighted with this year's results as they show strong achievement across a huge range of subjects and we wish every student great success for the future."
Sir William Robertson Academy
The academy's second cohort of Year 13 students has celebrating their exam success, with one third achieving top grades (A*-B) in at least two of their subjects with 70% securing a place at their first choice university.
Twins James and Daniel Evans from Coddington did exceptionally well with James gaining three A's and an A* – An A in Mathematics, A in Biology, A in Chemistry and an A* in Further Maths and Daniel securing an A in Physical Education and a B in both Biology and Geography.
Both will be studying in Nottingham with James going to study Mathematics at Nottingham University and Daniel studying Biological Sciences at Nottingham Trent University.
Amy Meagher from Caythorpe gained an A* in English Literature, an A in Psychology and a B in English Language and is going to study Psychology at Loughborough University.
Alexander Maughan from Ancaster also gained an A* in his EPQ as well securing an A for Business Studies and an A in English Literature. He has taken up an Apprenticeship with Streets & Co, Chartered Accountants in Lincoln and will be studying for his AAT Accountancy qualifications.
Headteacher Mark Guest said: "There have been some outstanding individual performances and we are immensely proud of the hard work, application and superb results from the sixth form as a whole."
Lincoln Castle Academy
Students at Lincoln Castle Academy were also celebrating after achieving excellent A-Level and BTEC results, achieving the grades required to go to university.
Headteacher Louise Laming said: "We are enormously proud of the individual achievements of our students this year; over 90% of Year 13 students secured a place at their first choice universities.
"We pride ourselves on providing a high quality and balanced curriculum alongside considerable support and excellent facilities.
"We wish our students every success as they now start on their university courses, apprenticeships, employment, or further training."
Notable results were gained by several students, including:
James Atkins, who gained a B, Distinction and Distinction*, and is now going to the University of Lincoln to study Business & Marketing
Beth Bates, who gained three Distinction* grades, and is heading to Liverpool Hope to study Education and Special Educational Needs
Freya Wells, who gained three Distinction* grades, and is to study International Tourism Management at the University of Lincoln
James Cooper, who also gained three Distinction* grades and is to study Computer Systems Engineering at the Nottingham Trent University