October 12, 2015 4.15 pm
This story is over 97 months old
Retired Hawk jet becomes gate guardian for home of the Red Arrows
New wings: A retired Hawk jet was given a new role as 'gate guardian' for RAF Scampton, home of the RAF Red Arrows.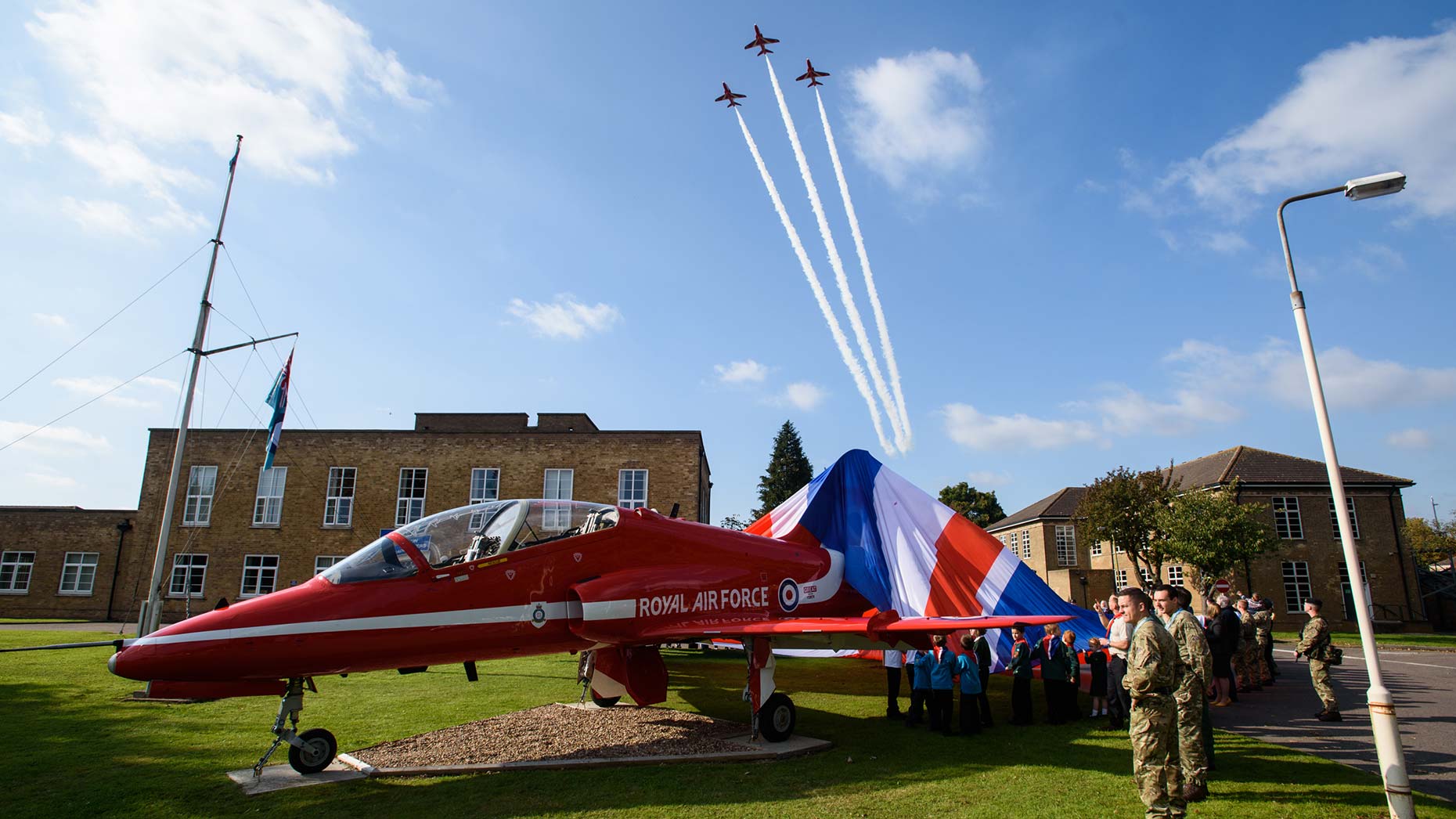 A former Red Arrows jet has been unveiled as the new 'gate guardian' at RAF Scampton, pinpointing the home of the UK's famous aerobatics team.
Personnel and special guests gathered at the station headquarters on Monday, October 12 to see the Hawk aircraft positioned at the front.
The new guardian of the base was unveiled by RAF Scampton's Station Commander Mike Harrop as part of a traditional tribute celebrating the past, present, and future roles of the airfield.
He was joined by children from the Scampton Pollyplatt Community Primary School and the local air scouts, cubs and beavers.
The group had the honour of releasing a Union Jack flag from over the retired aircraft as three current jets blasted jets of vapour overhead.
Although the distinctive Hawk T1s of the Red Arrows are now the primary users of RAF Scampton's runway, the base has previously been home to crews operating, among other aircraft, Lancasters and Vulcan bombers – each playing their own part to secure our skies.
Today, in addition to the Royal Air Force Aerobatic Team, the Station acts as parent organisation to two other resident units – No 1 Air Control Centre (1ACC) and the Mobile Meteorological Unit (MMU).
The decommissioned XX30 took centre stage after being transported from RAF Cranwell. It was assembled after around 13 hours by RAF Red Arrows crew.
It had been painted at RAF Cranwell to reflect the aerobatics team's current livery.
RAF Red Arrows Warrant Officer Gary Smith said: "Bringing it in was a big logistics operation over the weekend.
"The aircraft was in pieces and a group came in on Saturday and volunteers to build the aircraft.
"It took all day but it was a proud moment for us all."
Wing Commander Mike Harrop, RAF Scampton's Station Commander, said: "It's a fantastic day. For the station it means that we want to look into our history compared with where we are today and the role we play today.
"We are looking very much into the future and the RAF and Scampton's role beyond that as part of securing the skies."
Flight Lieutenant Emmett Cox, otherwise known as 'Red Five', added: "It's fantastic to have the retired jet here to pay homage to what we do day in day out.
"It represents the previously history of the base as well, hosting some fantastic aircraft. It's a pity we can't have them all.
"Some pilots will have flown this jet quite a lot, it's one of the founding jets and was decommissioned in around 2012.
"Throughout the season we will generally stick to one jet, although they are made to be the same, if you fly them so often you really get used to them and fond of them.