April 26, 2016 10.55 am
This story is over 73 months old
Health Secretary in firing line as Lincoln junior doctors stage first all-out strike in NHS history
Striking doctors on the picket line at Lincoln County Hospital for the first full walkout in NHS history have placed the blame for the ongoing dispute firmly at the door of Health Secretary Jeremy Hunt. The two-day strike began at 8am on Tuesday, April 26, and is the fifth occasion junior doctors have taken part…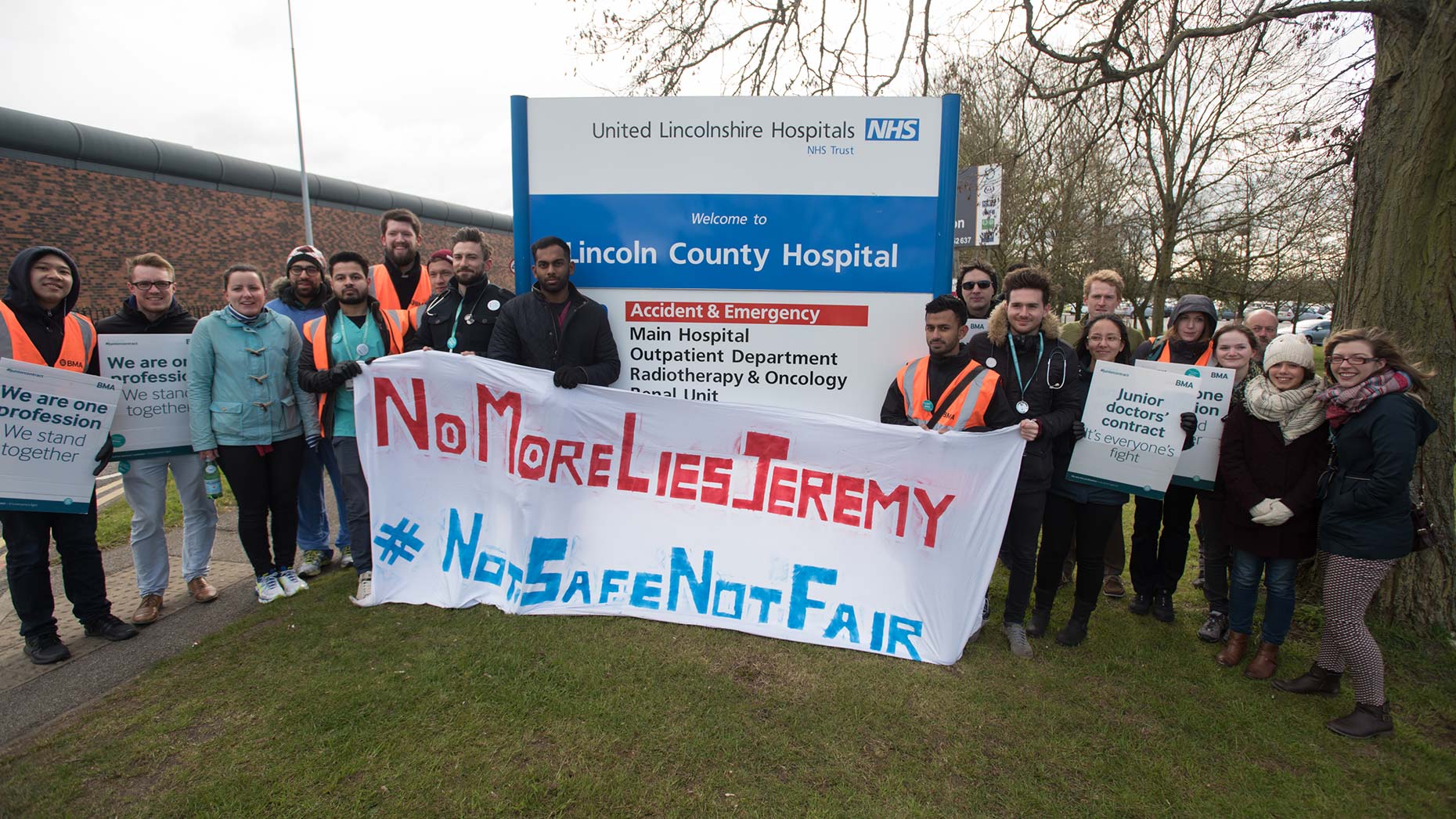 Striking doctors on the picket line at Lincoln County Hospital for the first full walkout in NHS history have placed the blame for the ongoing dispute firmly at the door of Health Secretary Jeremy Hunt.
The two-day strike began at 8am on Tuesday, April 26, and is the fifth occasion junior doctors have taken part in industrial action so far this year.
However, the doctors are not providing emergency cover as well as elective care.
United Lincolnshire Hospitals NHS Trust confirmed that 745 outpatient appointments and 18 operations have been postponed.
Banners reading 'No More Lies Jeremy' and 'Not Safe Not Fair' were held by the doctors on the picket line in Lincoln.
Junior doctor Tom Smart, who is a local union representative for the BMA, was scathing in his attack on the Health Secretary's actions since the dispute began.
He said: "The BMA have said to Jeremy Hunt all week that if they lift imposition, then we'll lift the full walkout but he's decided that's not an option he wants to pursue. This is obviously what Jeremy Hunt wants.
A seven-day NHS needs to be clarified by Jeremy Hunt. If he wants to have a seven-day elective service, then he needs to put a lot more money into it. If he means a seven-day emergency service, well we already have that.
"For the last week and a bit, there's been people outside the Department of Health throughout the day and occasionally at night always happy to talk to Jeremy Hunt and it's Jeremy Hunt who has refused to go to the negotiating table. Just yesterday he was chauffeured 50 yards to avoid them and I think that shows that he isn't willing to engage in talks."
In a statement to Parliament, the Health Secretary said that the new contract offers junior doctors who work frequently at weekends more Saturday premium pay than nurses, paramedics, than the assistants who work in their own operating theatres, more than police officers or fire fighters and nearly every other worker in the public and private sectors.
He said:
Regrettably, over the course of this pay dispute 150,000 sick and vulnerable people have seen their care disrupted, and the public will rightly question whether this is appropriate or proportionate action by professionals whose patients depend on them.
"The impact of the next two days will be unprecedented with over 110,000 outpatient appointments and over 12,500 operations cancelled."
But Ryan Huckle, a junior doctor at Lincoln County who has attended all the pickets said that they had been "backed into a corner" by the government.
"We're very sorry that we're not in today and tomorrow but the most experienced doctors in the hospital will be covering A&E combined with the support of the fantastic nursing staff," he said.
"The dispute needs to come to a resolution. There's only one thing for it and I think everybody that's got their head screwed on knows that Jeremy Hunt needs to open up his doors, sit down and have a listen to some of the people who actually do the job because we all just want to get back to work."