Sneak peek: Interactive selfie flume unveiled at North Hykeham pool
Britain's first interactive selfie flume offering a unique experience to users at a North Hykeham swimming pool will open to visitors on May 2. The Lincolnite visited the North Kesteven Centre, rebranded as One NK as part of a £3.6 million makeover, for a behind-the-scenes look at the newly installed flume, and refurbished facilities on…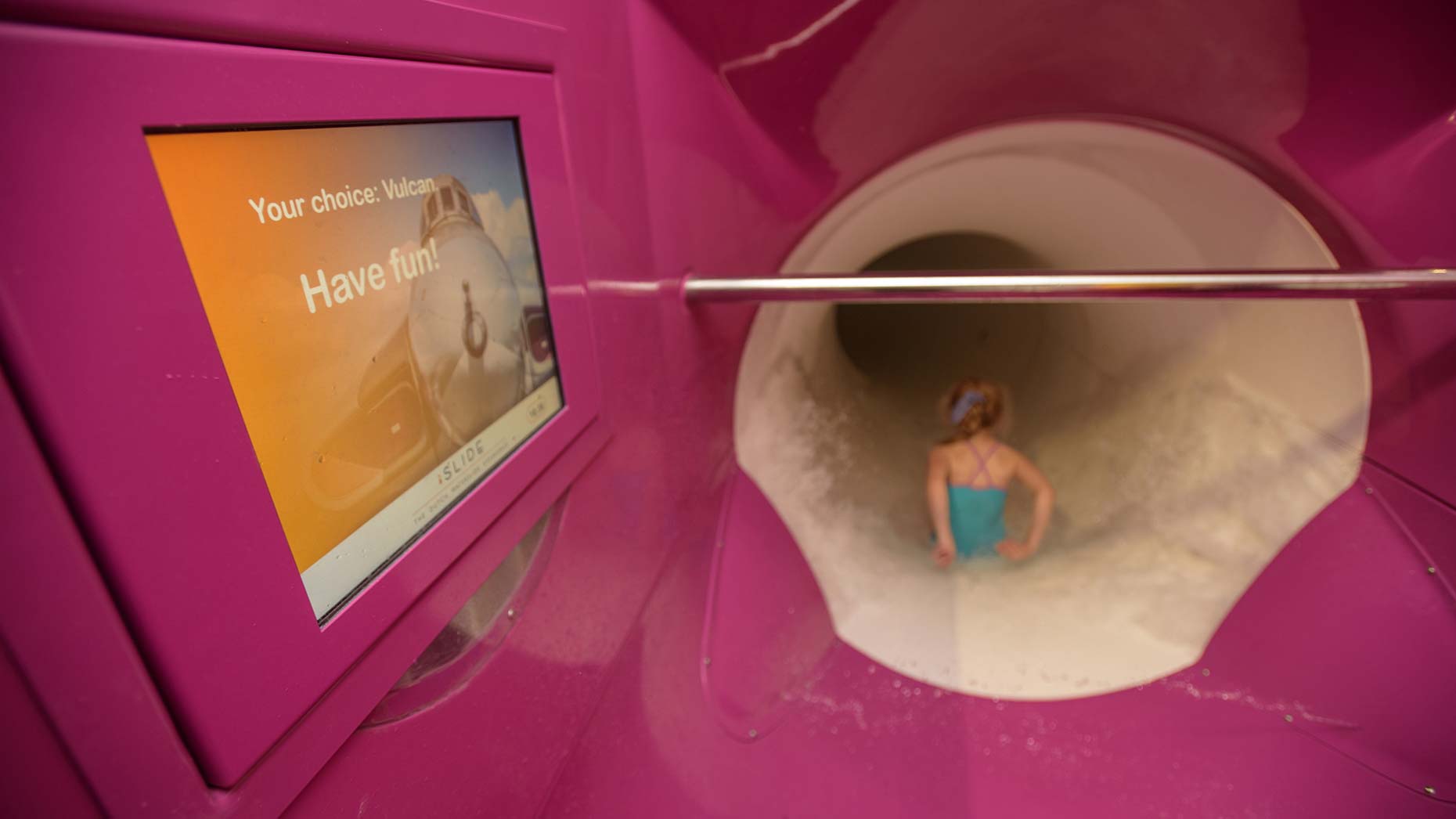 Britain's first interactive selfie flume offering a unique experience to users at a North Hykeham swimming pool will open to visitors on May 2.
The Lincolnite visited the North Kesteven Centre, rebranded as One NK as part of a £3.6 million makeover, for a behind-the-scenes look at the newly installed flume, and refurbished facilities on Thursday, April 28.
Those who ride the flume, named VFlume, will be able to select one of 12 different ride choices, three of which are based around North Kesteven's Aviation Heritage – Vulcan, Spitfire and Lancaster.
Other choices include themes based around party and films.
The ride is restricted to those over 1.2 metres, but the Magna Carta Splash area has a knight's horse slide and water cannon for children.
One NK opens from 10am on Monday, with the use of the pool, flume and splash area costing £1.
The refurbishment of the centre means there is a new changing village, making it easier for families to enjoy the whole experience together, and accessible facilities are better than before.
Visitors will also be able to use the new gym and studio facilities.
Students from North Kesteven School and the Youth Council were consulted during the naming process, and helped choose the themes for VFlume.
Mike Lock, Leisure and Cultural Services Manager at North Kesteven District Council, said: "The shape of the V forms the ejection seat warning and prominently sits next to the word flume – so it seemed fitting.
"The students have been involved quite a bit through the whole process, and it is exciting to see the final bits come together ready for opening.
We as a district council have always been passionate about the leisure arts and culture services we offer, and to add this one of a kind experience, unique in the UK is formidable.
Councillor Marion Brighton, leader of the council, said: "We said we would continue to support, improve and invest in our leisure, arts and cultural services, and we have kept our promise.
"This facility offers so much more now for its residents and visitors, and will continue to do so for many more years to come.
"One NK is the one place to go for all your cultural needs. We hope as a district council that everyone finds some enjoyment from the centre, and we will continue to act on our promise in investing in the district."
Further information can be found on One NK's Facebook page or by contacting the centre on 01528 883311.