Council-produced magazines cost Lincolnshire taxpayers nearly £1.3 million
Lincolnshire County Council and City of Lincoln Council spent over £1.2 million producing their own publications in the last five years, but have both insisted that the cost represents "excellent value for money". A Freedom of Information request by The Lincolnite has revealed that the county council and city council spent £1,276,086 between them on their respective publications. County…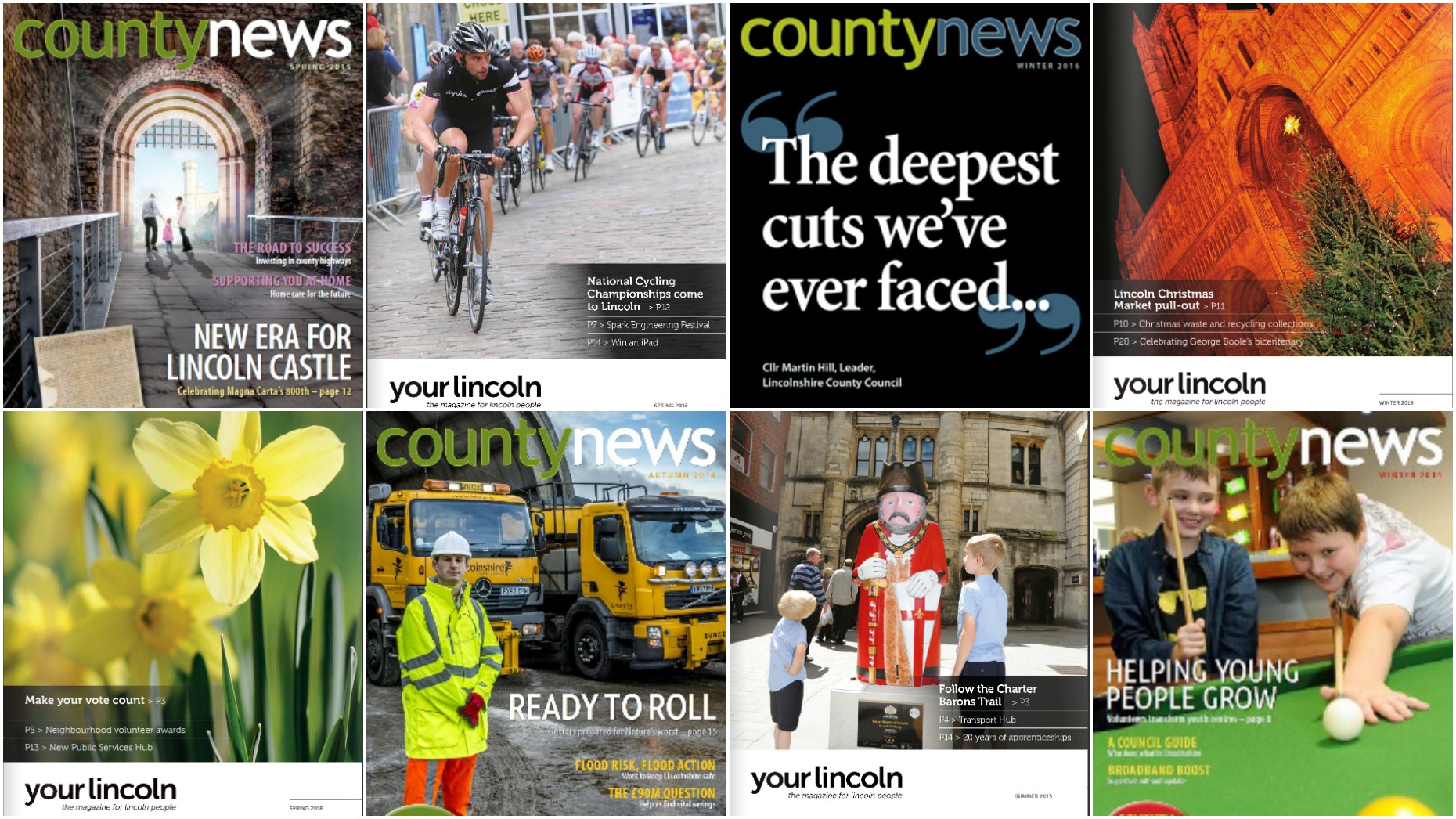 Lincolnshire County Council and City of Lincoln Council spent over £1.2 million producing their own publications in the last five years, but have both insisted that the cost represents "excellent value for money".
A Freedom of Information request by The Lincolnite has revealed that the county council and city council spent £1,276,086 between them on their respective publications.
County News
County News, Lincolnshire County Council's magazine produced by its communications team, cost taxpayers a total of £1,116,208.68 in the five years from 2010-2011 to 2014-2015.
The cost was greatest in the first year the information was disclosed, when taxpayers paid £343,770.21 for the authority to produce 10 editions a year of a 20-page newspaper.
Following the government's introduction of a Code of Recommended Practice on Local Authority Publicity, which set a range of provisions, including not publishing any newsletter more frequently than quarterly, Lincolnshire County Council scaled back its County News output.
In 2011, the authority moved to a bi-monthly and then quarterly publication, with the costs reducing significantly to just over £200,000 and then further to £184,256.72.
However, since 2012-2013, the cost of County News has slowly started to creep back up, rising to £189,547.91 in 2013-2014 and to £197,952.62 in 2014-2015.
Your Lincoln
By comparison, City of Lincoln Council's Your Lincoln magazine cost taxpayers £127,393 in the last five years.
However, the publication is distributed to only 45,000 households and businesses, 300,000 fewer than County News.
The cost was broken down by the council into £22,975 for 2011, £24,156 for 2012, £24,454 for 2013, £28,129 for 2014, and £27,679 for 2015.
The city council said that they have recently renegotiated a new contract for Your Lincoln, with the new annual cost standing at £21,075.
Council leaders fight back
The cost of producing the council-edited magazines has been defended by the leaders of Lincolnshire County Council and City of Lincoln Council, who both describe their publications as good value for money for the taxpayer.
Councillor Martin Hill, leader of Lincolnshire County Council said: "We have a responsibility to inform the people of Lincolnshire on the services we provide and how they can access them. And we know the better informed they are, the happier they feel about this.
"County News is delivered directly to 345,000 homes and businesses four times a year at a print, design and delivery cost of just 15p a copy.
"I consider this excellent value for money when a first class stamp alone these days costs 64p. Reaching this number of people across a large rural county is no easy task.
"We also use County News to consult with our communities and we recently did this on some very difficult budget decisions. The response from the County News survey was invaluable in informing and helping us make choices, whilst being a very cost-effective method of conducting the consultation.
"The council also have a duty to print statutory notices and wherever possible we include these in County News, saving the taxpayer money.
"We are looking at the moment at ways in which we can cut down on the printed version and deliver more articles on our website.
"But as enthusiastic as I am sure The Lincolnite are on delivering news online, we have to remember that not everyone in the county uses digital channels and we have to ensure that all our citizens have access to the information they need."
Councillor Ric Metcalfe, City of Lincoln Council leader said that he felt the Your Lincoln magazine was "excellent value for money".
He said: "We have a duty to keep people informed of our services and plans for the future. We are an open and transparent organisation and Your Lincoln helps us maintain this standing.
"The 24 page magazine is produced three times per year and delivered to 45,000 households and businesses in the city at an annual cost of less than 50 pence per household – we consider this to be excellent value for money.
"It's a great way of letting people know how their council tax is being spent, as well as providing updates on important new schemes and initiatives and helping people understand what benefits they might be entitled to and how to access the services we and our partners provide.
"If, for example, the magazine became digital only this would exclude some of the city's more vulnerable people and they would need to be communicated with in other ways, creating more expense.
"Your Lincoln is currently the easiest and most cost-effective way of communicating directly to every household and business in the city."