'Hotels, restaurants and 300 jobs': East West Link business possibilities on show
Lincoln's recently opened East West Link Road could pave the way for new business opportunities, creating jobs and space for brands such as hotels, restaurants and offices. Some 80 business leaders toured the fresh opportunities which have been made available, on Friday, November 18, on two vintage Lincolnshire Corporation Buses from the Lincoln Transport Museum before heading to a reception at Wyvern…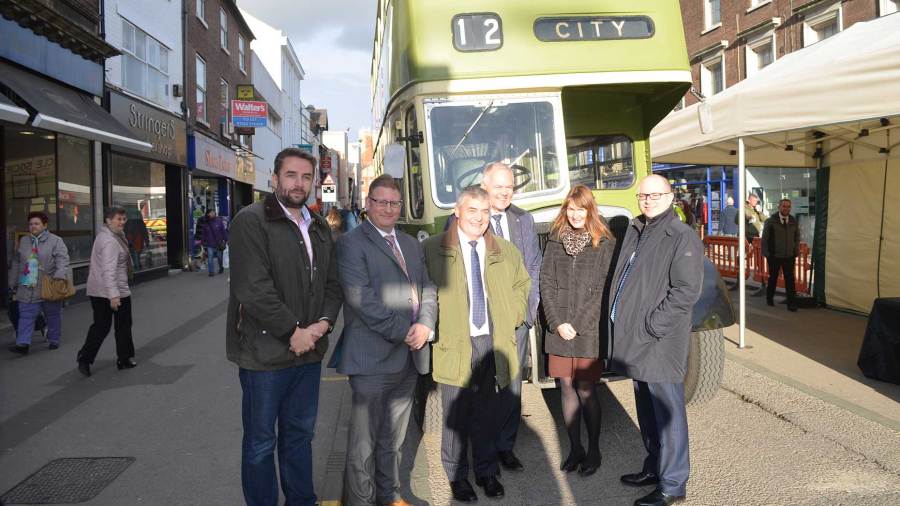 Lincoln's recently opened East West Link Road could pave the way for new business opportunities, creating jobs and space for brands such as hotels, restaurants and offices.
Some 80 business leaders toured the fresh opportunities which have been made available, on Friday, November 18, on two vintage Lincolnshire Corporation Buses from the Lincoln Transport Museum before heading to a reception at Wyvern House.
It is hoped that the additional space created along the new £22 million road will provide a boost for the Lincolnshire economy.
Councillor Richard Davies, Executive Member for Highways and Transportation at Lincolnshire County Council, opened the tour explaining how the new road will provide a prime location for companies to invest.
He said: "Today represents fantastic opportunity. The regeneration of this area is undoubtedly going to bring economic growth for Lincolnshire.
"New businesses will bring new jobs, potential uses for the space include hotels, restaurants and up to 30,000 sq. ft. of employment opportunities, which equates to at least 300 new jobs.
"The redevelopment of this prime, central area reinforces the image of Lincoln and Lincolnshire as a growing place that people want to do business.
"Lincolnshire County Council, the city council and Lambert Smith Hampton have prime development plots for sale all along the route.
"They are ideally situated near the station, near to the road and near to the excellent new transport hub that's being built to provide a key location for businesses wanting to start, to grow and to expand.
"We now have a blank canvas for the business community to build on."
Sam Elkington, Director and Head of the Lincoln Office for Lambert Smith Hampton and sponsor of the event, said: "The delivery of the East West Link Road is going to prove pivotal in the improvement of the movement of traffic around central Lincoln.
"It is the first phase of a number of improvements which will hugely benefit the city.
"This has been a demanding and exciting project which is proving to be the catalyst for a number of other opportunities."
Anyone wishing to find out more about the economic opportunities along the East West Link Road should contact Economic Development Services on 01522 550500 or by email.