March 16, 2017 10.27 am
This story is over 57 months old
Work starts on A17 Holbeach Peppermint Junction improvements
An official groundbreaking has marked the start of road improvements at the current A17/A151 junction in Holbeach. This includes installing a new, three-arm roundabout, as well as a new four-arm roundabout on the A151. The work on Peppermint Junction is in preparation for the new £5.4 million scheme, which will see the construction of a new Food Enterprise…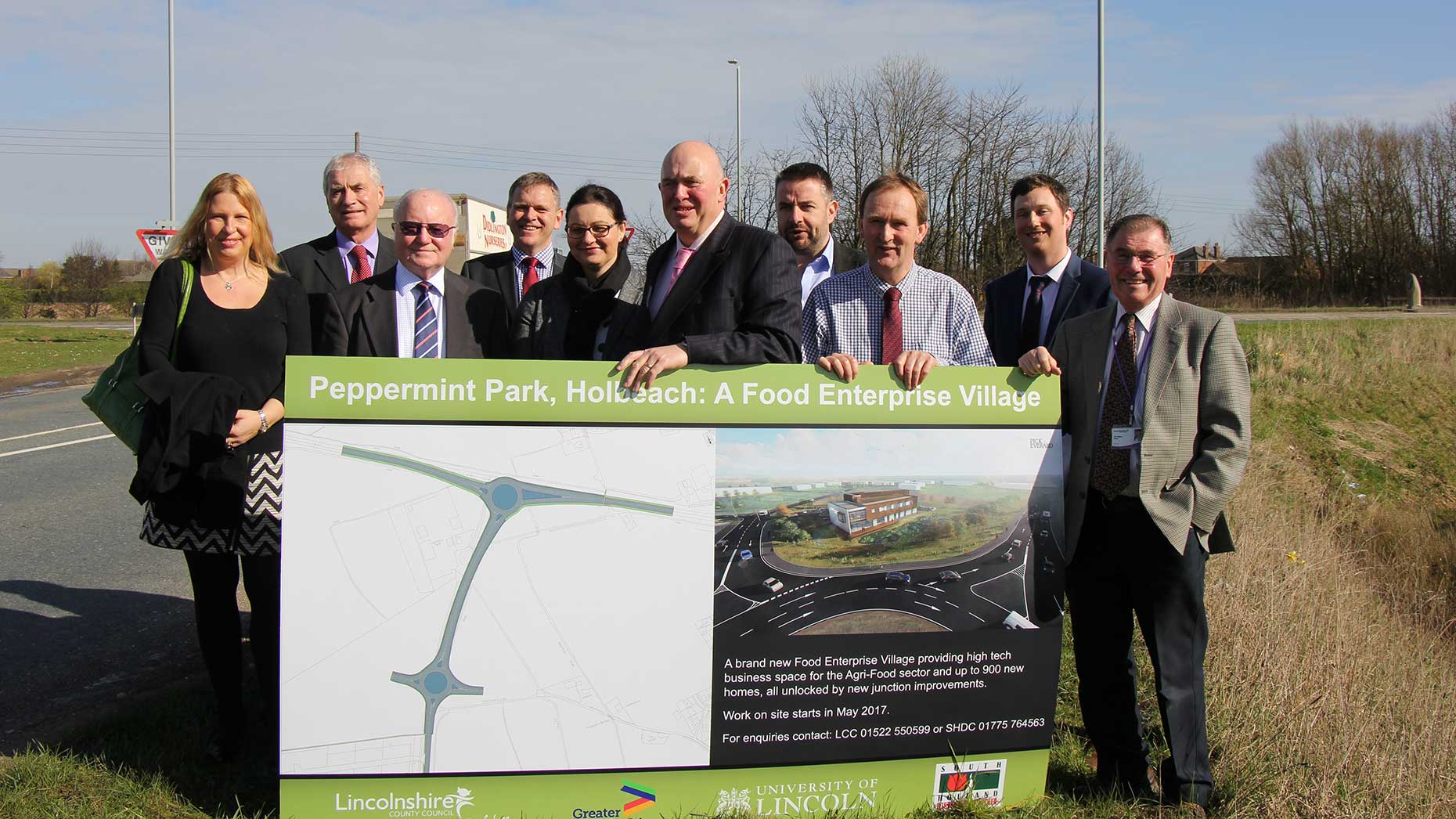 An official groundbreaking has marked the start of road improvements at the current A17/A151 junction in Holbeach.
This includes installing a new, three-arm roundabout, as well as a new four-arm roundabout on the A151.
The work on Peppermint Junction is in preparation for the new £5.4 million scheme, which will see the construction of a new Food Enterprise Zone (FEZ) Peppermint Park, Holbeach: A Food Enterprise Village as well as make the current junction safer.
The village will also deliver approximately 900 new homes.
Initial preparatory work, which included tree removal, was completed on March 6 and 7, ahead of bird nesting season.
Additional works are planned for April 3 – 7 to alter fence lines south of the A17 and clear shrubs from the ditches to the north of the A17 and a small section of New River Drain.
Funding for the project includes £2.4 million from the Greater Lincolnshire Local Enterprise Growth Fund, with the remaining to come from developers and the county council.
The FEZ will be located next to the A17 and A151 and is designed to support agri-food businesses, with a particular focus on the food technology sector.
When complete, the multi-million pound development will create around 59,000sq m of new business space, capable of supporting over 2,000 jobs. The University of Lincoln has outline planning consent to move part of its existing Holbeach campus to a new, purpose-built facility within the FEZ.
Key representatives from Lincolnshire County Council, Eurovia UK, Greater Lincolnshire LEP, South Holland District Council and the University of Lincoln joined together to officially break ground ahead of the road improvements.
Councillor Nick Worth, South Holland District Council portfolio holder for Growth and Commercialisation, said: "I am delighted that after many years of personally championing the need for this major road improvement, first highlighted in the Holbeach Parish Plan as long ago as 2008, it is finally going to happen.
"It is very exciting and a huge boost for the future economy of Holbeach, linking, as it does, to highly skilled jobs in the upcoming Food Enterprise Zone."
Ruth Carver, Director of the Greater Lincolnshire Local Enterprise Partnership, said: "The Greater Lincolnshire LEP is delighted to be supporting the construction of key highways infrastructure to enable the development of the South Lincolnshire Food Enterprise Zone (FEZ) at Holbeach.
"The £2.4m Growth Deal grant for Peppermint Junction will create a new roundabout access point, supporting the emerging masterplan for the wider site and kick-starting commercial and residential development. The FEZ will also be home to an Agri-Food Centre of Excellence being led by the University of Lincoln."
Councillor Colin Davie, Executive Member for Economic Development, said: "The food sector, particularly agri-food and food manufacturing, are of enormous importance to Greater Lincolnshire – it's our third biggest sector and contributes £2.5 billion every year to the area's economy.
"By developing land for the South Lincolnshire FEZ, we want to support existing businesses, while also attracting those interested in investing and relocating to the county."