May 13, 2017 9.07 am
This story is over 78 months old
Students kick off Lincoln festival with a spectacular cathedral fashion show
Graduate BA Fashion Students from the University of Lincoln showcased their end of year creations in the stunning setting of the Lincoln Cathedral Chapter House. The fashion show on Friday, May 12 will kick off the launch of Lincoln's first ever Festival of Creativity which will run until June 9. The BA Fashion course at the…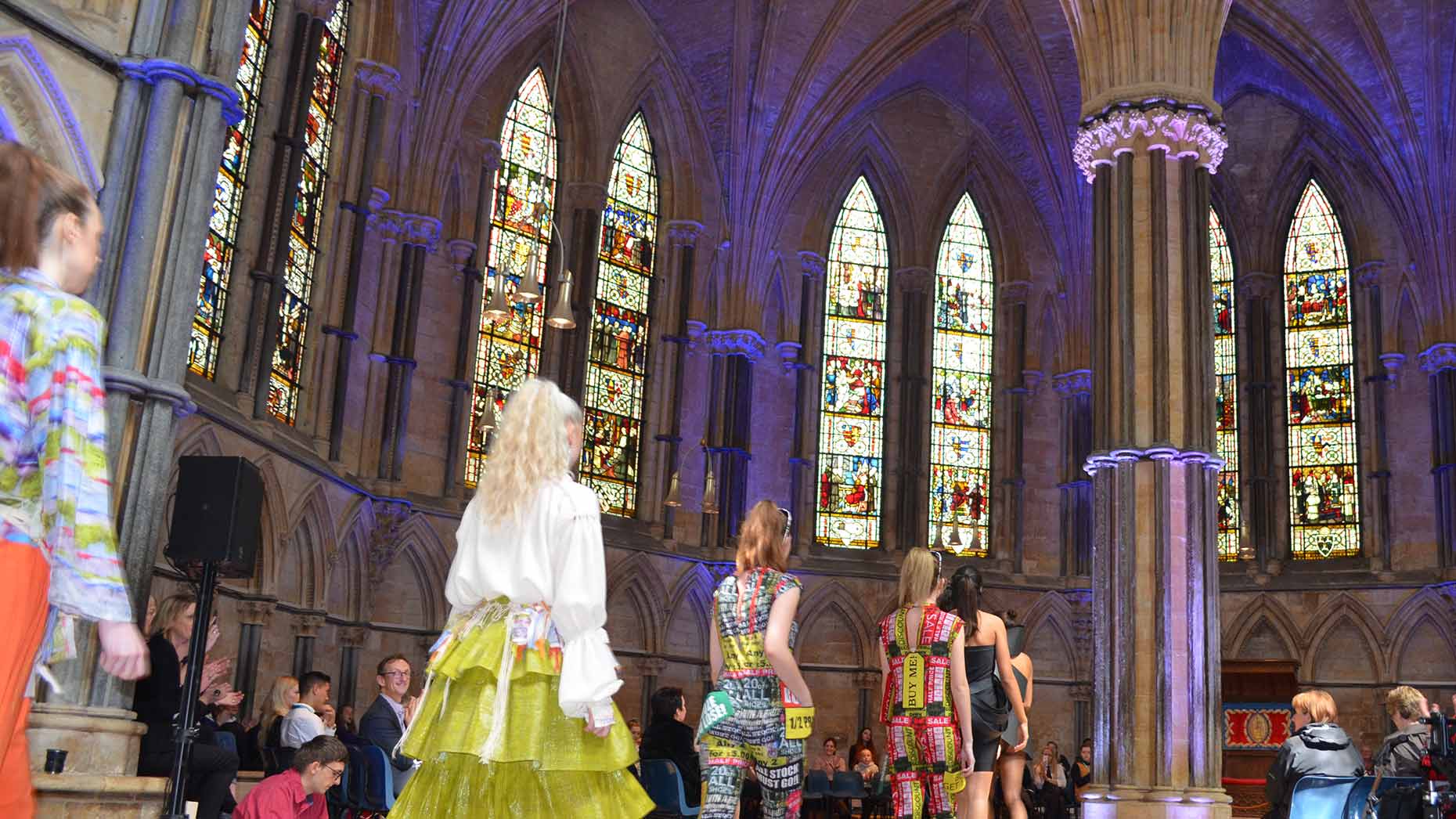 Graduate BA Fashion Students from the University of Lincoln showcased their end of year creations in the stunning setting of the Lincoln Cathedral Chapter House.
The fashion show on Friday, May 12 will kick off the launch of Lincoln's first ever Festival of Creativity which will run until June 9.
The BA Fashion course at the university focuses less on commercial fashion and more on fashion as an art form.
Their students express their views through their creations. The course encourages and celebrates creativity including the weird and wonderful.
There is an ongoing theme with designers using cathedrals for their fashion show venues. Last year Gucci used Westminster Abbey for the centre stage to showcase his collection.
Final year student Tia Mountain, who designed the  'Shop 'Til You Drop' collection said: "My initial inspiration was looking at the amount of waste that we create and then I thought about how we were persuaded to buy things in the sales.
"I looked at the colours and the signs that were used." Tia thought about how shoppers are consumed by the constant persuasion to keep on buying.
"I don't think that the creative arts are celebrated enough and its great that they are starting to be celebrated more."
When asked about the venue choice, Tia said: "I'm so excited, it's something new for us and it's a challenge."
Final Year student Tiffany May Collins, who designed the '529' collection, said: "I'm a vegan, so my collection is based around how animals are treated.
"I based my collection around that feeling of being trapped and portraying the entrapment."
Tiffany aims for people to think about how they would feel if they were in an animals situation of feeling trapped. Her collection includes chains and rope to recreate this feeling.
Tiffany said: "The setting was amazing." The BA Fashion Show celebrates the amazing creative talent the graduating students possess. Their final creations are spectacular especially in front of the beautiful backdrop of the Chapter House.
Victoria Bellandini, the programme leader for Fashion at the University of Lincoln, said: "We are at a time now where top designers are doing shows in cathedrals, it seems to be the thing of the moment.
"It's just a brilliant setting that makes all the students work look amazing, and its great marketing for Lincoln and the cathedral and the university."