June 13, 2017 2.21 pm
This story is over 77 months old
'They are saving lives every day': Bourne man meets lifesaver at launch of new ambucopter
A Bourne man has met the paramedics who saved his life at a launch of a new ambucopter for Lincolnshire and Nottinghamshire Air Ambulance. Neil Wood was travelling to work when a lorry lost control and forced his car into a ditch. He suffered a serious head injury, a shattered and dislocated pelvis and a shattered knee…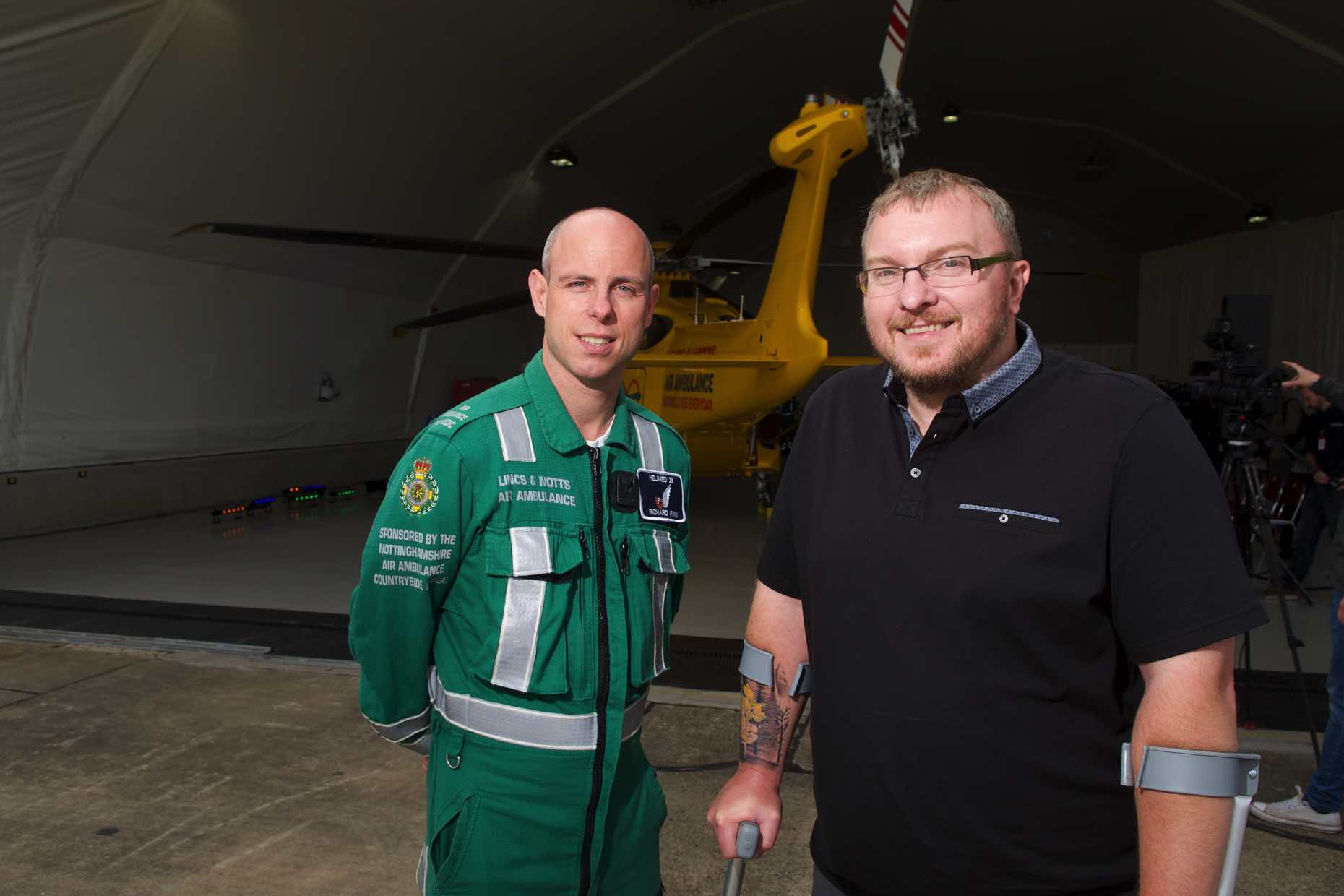 A Bourne man has met the paramedics who saved his life at a launch of a new ambucopter for Lincolnshire and Nottinghamshire Air Ambulance.
Neil Wood was travelling to work when a lorry lost control and forced his car into a ditch.
He suffered a serious head injury, a shattered and dislocated pelvis and a shattered knee cap.
Thanks to the Lincolnshire and Nottinghamshire Air Ambulance he is "here to tell the tale" and is now back at home with his wife and two children after spending four and a half months in hospital.
Now, a new state-of-the-art AgustaWestland 169 (AW169) helicopter has arrived at its new Lincolnshire and Nottinghamshire Air Ambulance base at RAF Waddington to help save more lives in the county.
The new aircraft will become operational from Wednesday, June 14 and will undertake an average of three life-saving missions every single day.
The AW169 has significant benefits and will enhance patient care. It is bigger, giving paramedics and doctors 360-degree access to patients in flight, it is faster meaning it can get to patients quicker, and it has better endurance meaning it can fly further without the need to refuel.
Each lifesaving mission undertaken with the new aircraft will cost an average of £2,500.
With around 1,000 of these missions undertaken every year, the charity needs to raise £2.5million over the next year.
The Lincs & Notts Air Ambulance has been operational for over 23 years and in that time the crew has responded to over 18,200 of the most serious and time critical 999 calls, including road traffic collisions, cardiac arrests, sporting accidents, farming incidents, and falls.
CEO Karen Jobling said: "The aircraft also has the most advanced navigation capabilities on offer in the industry and is extremely future-proof.
"We are proud to say that our charity saves lives every day, and with this new aircraft we can continue doing so for many years to come.
"I'm sure our supporters will be pleased to see that the new ambucopter is the same yellow colour that we have all grown so fond of and that it will be spotted very soon flying through our skies, on route to another life-saving mission."