August 14, 2017 4.46 pm
This story is over 75 months old
'Happy birthday Fidel': The best reactions to Lincoln MP Karen Lee's Twitter blunder
Guess who had a dig too?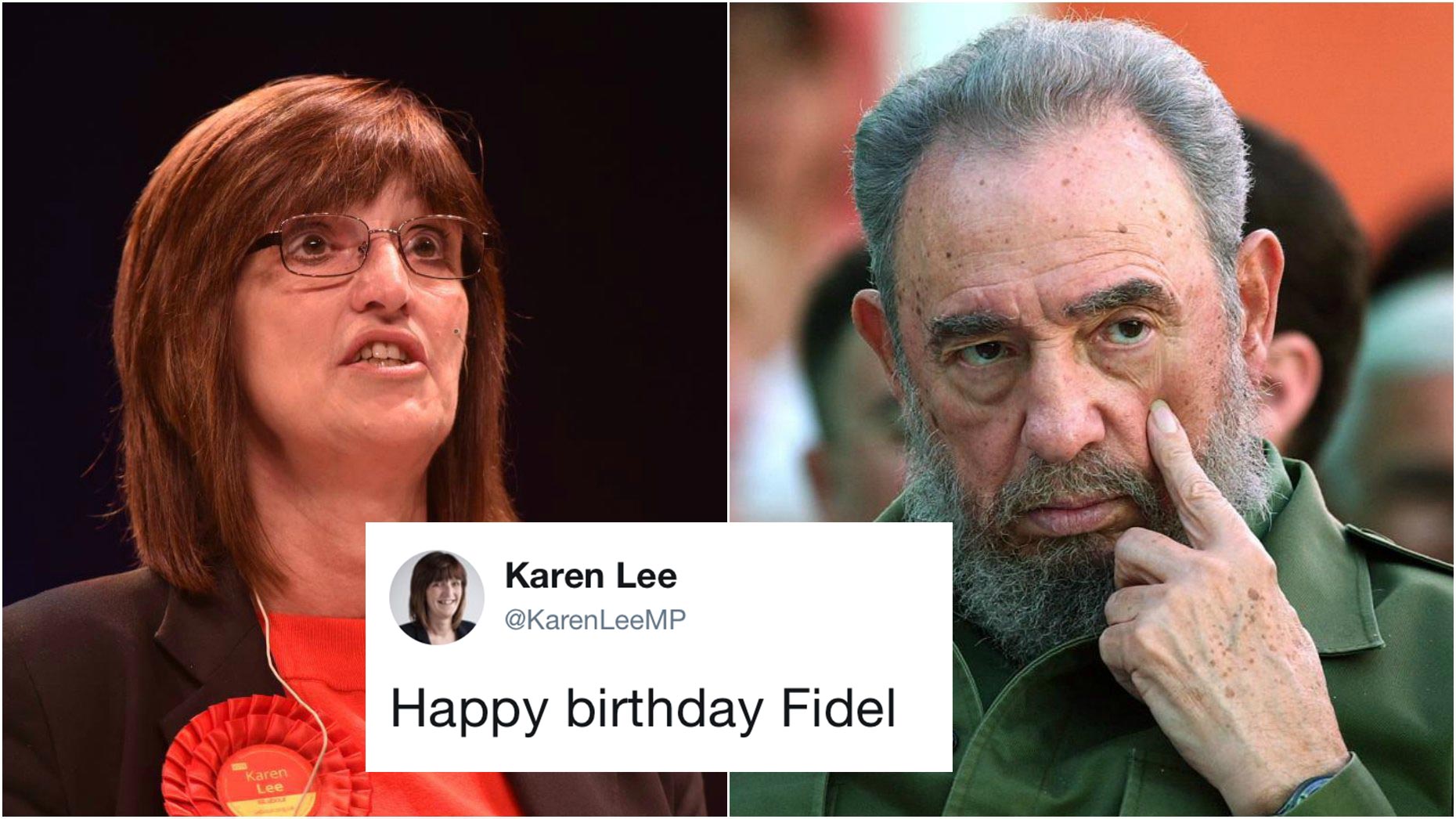 Cuba's infamous communist leader's death last year has not prevented the newly elected Lincoln MP Karen Lee from wishing Fidel Castro a happy birthday on Twitter.
Karen Lee MP made the tweet on Sunday morning, August 13, to mark what would have been the controversial figure's 91st birthday.
Many people on Twitter did not like the post at all. One asked how she could wish a happy birthday to someone with a questionable human rights record:
You should be ashamed of yourself, commemorating the birthday of a man who executed those who disagreed with him. How low is @UKLabour now

— Libertyscott UK (@LibertyscottUK) August 13, 2017
Some users went for a more dry British reaction to show their dismay:
Whereas others were not so subtle:
Are you serious?! Wow. I remember a time I respected the Labour Party. Was a member. Now I think you are an embarrassment to the electorate.

— (((red-tory))) (@RedBeasley78) August 13, 2017
Most reactions to the tweet were negative, but Karen was met with both angry and comical responses on Twitter.
There was confusion as to how one can celebrate a birthday when they are dead: 
I never realised you still had birthdays after you died. My grandad is 147 next week. I must get a card

— Gary Prince (@PrinceGaryloki) August 13, 2017
Happy birthday? He's dead. They usually stop after that

— Thomas O'Donnell (@tododonnell) August 13, 2017
Some remained in disbelief that her account had not been 'hacked' or that the tweets were really from her:
https://twitter.com/robpatterson24/status/896790302450634752
https://twitter.com/dickiewood/status/896854109189541888
One Twitter user went as far as to suggest that a collaborative communist 'party' should be held in London, to celebrate past leaders whose birthdays fall on the month of December (and Christmas of course):
Infact why not throw a massive event in Lincoln, combine the 3.

— Highgate Momentum (@nomentumN6) August 13, 2017
But despite the majority of the tweets being negative towards Karen, there were a few who approved of what the Lincoln MP had said:
https://twitter.com/amozu16/status/896942138361040897
https://twitter.com/iammightor/status/896791761024110592
It only seemed fitting that the Lincoln MP should get caught up in a social media scandal, just as her predecessor did — who was not shy to have a dig:
Some even called for his return:
Just another day for politicians on Twitter.
https://twitter.com/DrewSmithUK/status/896782576681177088