July 19, 2018 11.03 am
This story is over 64 months old
Car park mummies could be Lincolnshire family
A long running investigation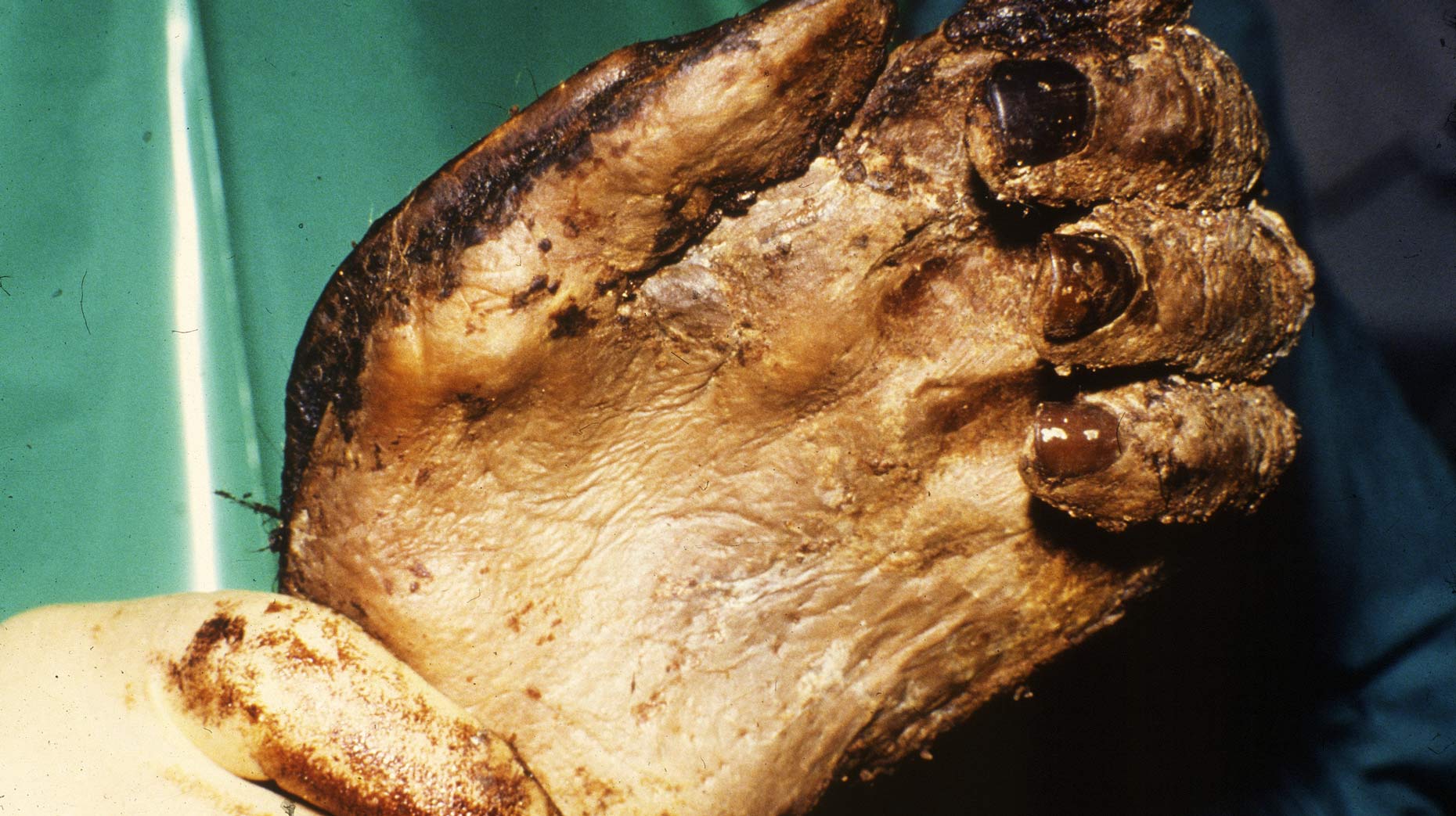 An almost perfectly preserved body of a medieval knight known as 'St Bees Man' found in a Cumbrian car park in the 1980s could have links to Lincolnshire.
In 1981 a fully-fleshed medieval knight wrapped in lead was found by chance under a car park in Cumbria, which was in a ruined chancel aisle of St Bees Priory, by archaeologists from Leicester University.
It is believed the bodies could be of Anthony de Lucy, who has links to Holbeach, and his sister Maud, with DNA tests currently being undertaken.
The discovery was made during a dig, which was searching for evidence of a pre-Norman church, organised by St Bees residents and historians John and Mary Todd.
This led to the discovery of many monastic and secular burials and a large stone vault, which was carefully excavated to reveal the skeleton of a woman and large lead coffin with a body wrapped in a shroud.
It seemed to have been soaked in a resinous material and was tied neatly with a cord.
Back when the vault was discovered was pre-DNA. The man was reburied soon after the post-mortem, which took place a few days after the discovery.
It has since been established that the man is almost certainly Anthony de Lucy, Lord of Cockermouth, who has estates around Holbeach in Lincolnshire, but DNA tests are still underway.
A letter found in an Oxford College links Anthony to John de Multon and a large party of Lincolnshire and Norfolk knights which left England in 1367 to join with the Teutonic Knights in the long running Northern Crusade.
Recent research has been able to identify many in that ill-fated party. Three of them, Anthony de Lucy, Roger Felbrigg, and John de Multon died when they attacked a Lithuanian stockade at Kaunas.
Former Head of Science at St Bees School Chris Robson told Lincolnshire Reporter: "The ladies bones were kept. Eddie Tapp the pathologist kept samples but these got thrown away and we are not allowed to dig our man up to get any more.
"I have spent a lot of time trying to find material from the man that was not buried….there is a jaw bone somewhere! A little time ago I managed to get some tissue samples from Eddie (he had them in his attic) and as the science has improved it is now worth a DNA attempt.
"The detective story to find out the names of the man and woman in the vault has had a number of extraordinary discoveries and a fair number of errors."
Latest developments & lectures
If research is correct the bodies could be brother and sister Anthony de Lucy and Maud.
DNA tests may confirm this, but test are still being worked out and are likely to take around four to six weeks to finish.
Anyone interested in learning about the extensive history of this mystery can attend two upcoming lectures in Lincolnshire.
Chris Robson is doing a talk for the Society for Lincolnshire History and Archaeology at St Hughes Hall on Friday, July 27 at 7.30pm and at the Boston Preservation Trust at 2pm on Saturday, July 28.
The lecture includes pictures of the heart, the liver and the lungs with liquid blood visible and it explains how he died with a savage blow to the jaw and the broken rib that followed.