July 27, 2018 10.53 am
This story is over 41 months old
WWII Hawker Typhoon rolled out at RAF Coningsby
Two iconic aircraft side by side.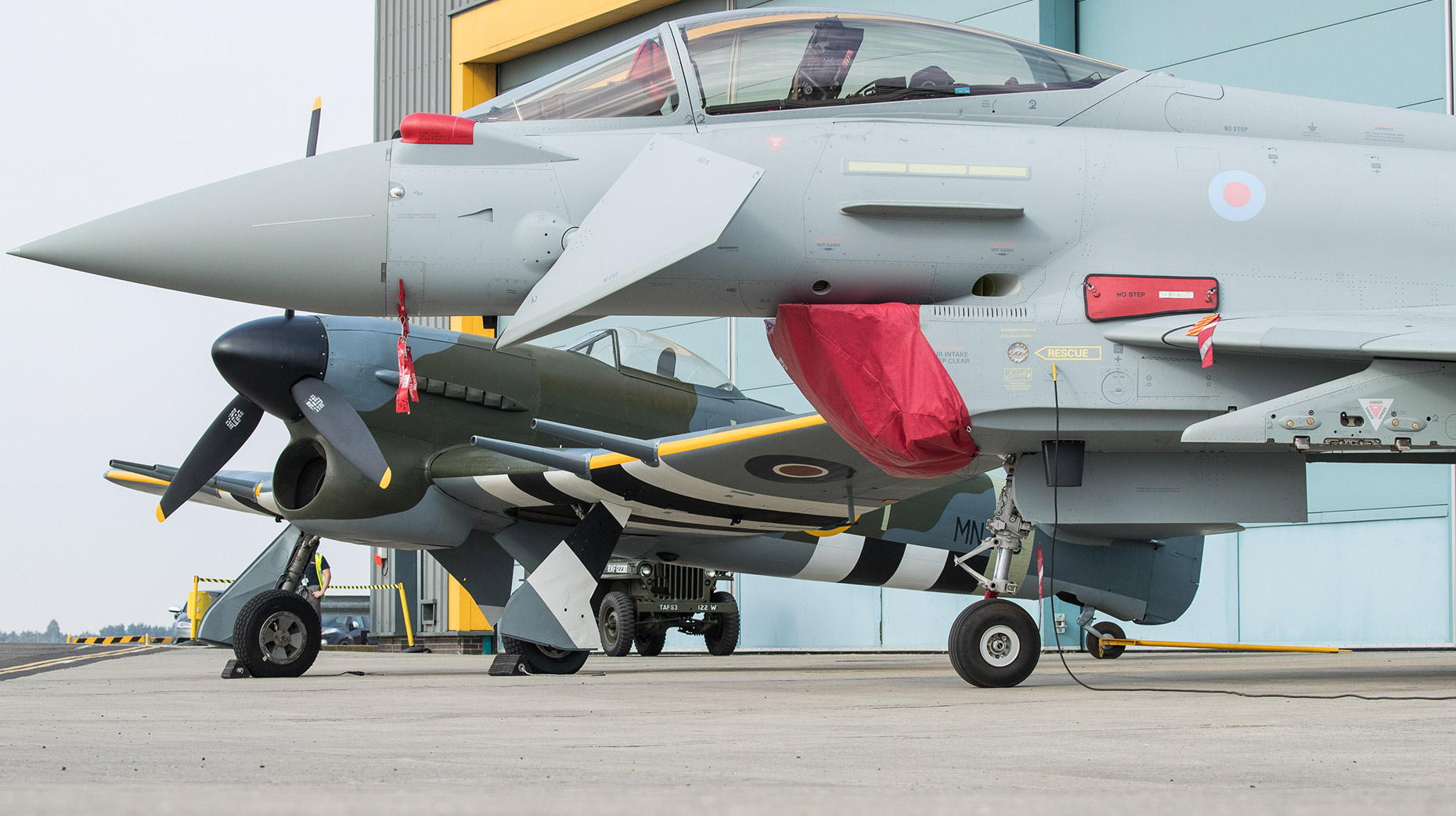 RAF Coningsby's Eurofighter Typhoons met the sole remaining example of an iconic World War Two aircraft, the Hawker Typhoon.
The historical aircraft, originally built in 1944, belongs to the Royal Air Force Museum.
It is usually on display at Hendon in North London, but for the last four years has been in Canada.
Following a BAE Systems initiative, the aircraft came to Coningsby on its way home to London as part of the commemorations of the 100th anniversary of the founding of the RAF.
Following the roll-out on Thursday, July 26, the aircraft was positioned next to its modern counterpart, the Eurofighter Typhoon.
Group Captain Mike Baulkwill, Station Commander RAF Coningsby said: "We are grateful to both the RAF Museum for lending this precious aircraft, and BAE Systems for helping to bring it about. Standing alongside a modern Tranche Three Typhoon, it is a potent example of the duties undertaken by the RAF since 1918, and a reminder that similar tasks are being carried out by RAF Typhoons in the Middle East today."
Alison Ballard, General Manager of BAE Systems at Coningsby said: "We are delighted to have the Hawker Typhoon here after a great team effort from across the station, BBMF, the RAF Museum and our BAE Systems Heritage team.
"After its long journey from Canada we have the two aircraft together, and reaction from everyone across the station has been great. We are glad it has been a part of our RAF 100 celebrations and we encourage the public to visit BBMF where they will be able to see the aircraft."
Mr Ian Thirsk, Head of Collections, RAF Museum added: "The RAF Museum is delighted to loan its Hawker Typhoon 1b MN235 to BAE Systems at RAF Coningsby.
"As the sole surviving example of its type, MN235 is a jewel in the crown of the Museum's aircraft collection and it seems entirely appropriate in this, the Centenary year of the Royal Air Force, to place the Typhoon on public display alongside the BBMF."
The aircraft will be on public display within the Battle of Britain Memorial Flight Hangar from the first week in August until the end of September.