October 31, 2018 4.49 pm
This story is over 38 months old
Behind bars: Lincolnshire criminals locked up in October
Nine members of an organised crime gang were jailed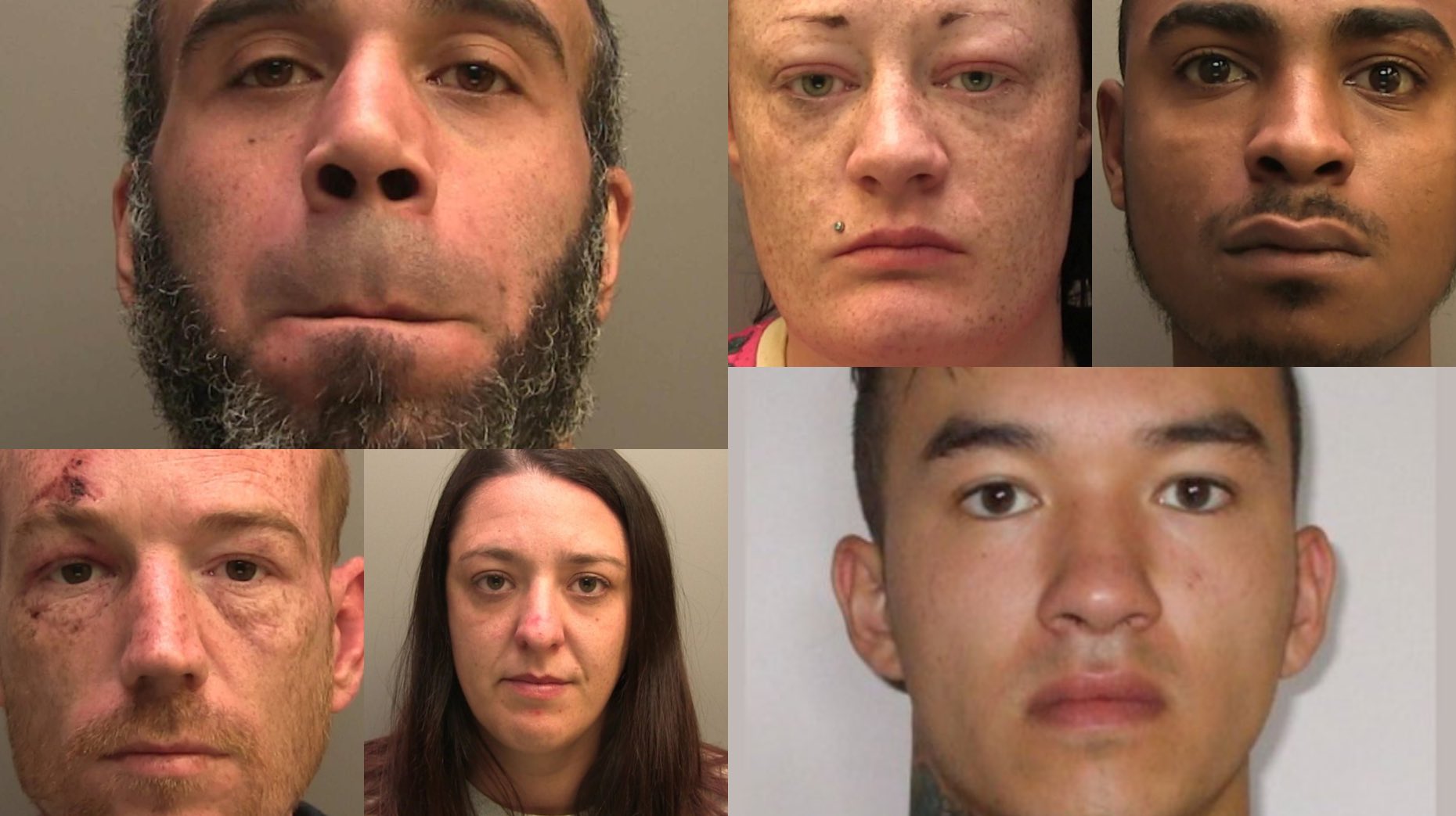 A drug gang sentenced to a total of almost 80 years, a woman who bit and spat at police and a rapist convicted of sex attacks on children were among those jailed in Lincolnshire in October.
Here's a summary of notable court reports from last month:
---
Drug gang with sham companies
Nine members of an organised crime gang which transported large quantities of drugs from the West Midlands into Lincolnshire have been given jail sentences totalling almost 80 years.
Lincoln Crown Court was told that couriers made repeated trips from Birmingham and Coventry bringing crack cocaine, heroin and cocaine to Boston and Grantham.
Investigations revealed that Jermaine Alcide, who headed up the gang with his step father Wade Walker, set up two sham companies in a bid to explain the money he was earning from drug dealing.
Detectives pieced together phone records and used the information together with evidence from automatic number plate recognition cameras and cell-site analysis. This provided detail of where a mobile phone was being used from to produce evidence which linked members of the gang together leading to their convictions.
Read the full story here.
---
Zachary Selby
Zachary Selby was jailed for three years after being convicted of sex attacks on children, carried out when he himself was a minor.
Selby, 23, of River Lane, Anwick, near Sleaford carried out his first attack when he was just 11-years-old when he raped a young girl.
Four years later he carried out a number of sex attacks on a six-year-old boy who he also raped.
He denied both rapes and sexual assaults, but was convicted of all charges after a jury trial and he was placed on the sex offenders' register for life.
Read the full story here.
---
Dreece Antonio Dayle
Three men appeared in court after police seized 148 wraps of heroin and crack-cocaine from a 16-year-old boy when they stopped to hire a car in Grantham.
The teenager had travelled to Grantham with three other men from the Wolverhampton area after pressure was put on him to pay off a £500 drugs debt.
The car was being driven by 64-year-old David Charles Jacobs, who was sentenced to two years imprisonment suspended for two years after the judge accepted he had been taken advantage of and given drugs in exchange for driving.
Rene Ross, 19, who was a passenger in the car, admitted allowing his mobile phone to be used by his friends after he went along for a drive. He was sentenced to three years in a young offenders institution.
Dreece Antonio Dayle, 22, who was also a passenger in the car, was found in possession of £1,120 in cash after police stopped the car in Princess Drive, Grantham, on November 2 last year.
He was sentenced to three years and three months imprisonment after he also admitted breaching a suspended sentence for dangerous driving on the M6. He was also banned from driving for four and half years.
The 16-year-old boy, who is now 17, was sentenced to an 18 months youth detention and training order.
Read the full story here.
---
Zakaria Mohammed
Birmingham man Zakaria Mohammed was jailed for 14 years after admitting running a drugs supply chain and trafficking two boys and a girl, to deal on his behalf.
It's the first time in UK legal history that child trafficking convictions have been secured under the Modern Slavery Act as part of a 'county lines' operation.
The case was brought forward following a joint investigation by Lincolnshire Police and West Midlands Police.
Read the full story here and watch the moment the child grooming dealer was caught by police here.
---
Rachel Arundale
Rachel Arundale, 30, of Coningsby Close, Gainsborough, was jailed for a year after biting and spitting at police when she was arrested earlier this year.
Arundale kicked and spat at officers and then, after being taken to hospital for a check-up following her arrest, she spat at a nurse and racially abused a police officer.
She admitted assault occasioning actual bodily harm, three charges of assaulting a police officer and a racially aggravated public order offence on April 23.
Read the full story here.
---
James Mashford
James Mashford, 38, of no fixed address, was jailed for six years after breaking into the home of a 73-year-old cancer sufferer, who has since passed away, and stealing his bank card.
Mashford, who had a string of previous convictions for house burglary starting when he was just 15, admitted burglary at the property in Norton Street, Grantham, on May 6 together with charges of fraud and theft.
He also admitted theft from a property in Cecil Street, Grantham, earlier the same morning and asked for a further offence of burglary at a property in Farndale Crescent, Grantham, to be taken into consideration.
Read the full story here.
---
Ethan Brown
Ethan Brown, 20, of Station Road, Waddington was jailed for 10 years and two months after being found guilty of posing as a teenage girl online to entice boys to send him sexual images and perform sex acts on themselves.
Brown, who was 16 at the time of the offences, used Facebook and other social media to target the boys, who were aged between eight and 17.
Working with the National Crime Agency, Lincolnshire Police identified 75 boys from across the UK over eight months.
A total of 25 prosecutions were brought against Brown, who was charged with Causing and Inciting Children to Child Sexual Exploitation and Possession of Indecent Images Of A Child.
Read the full story here.
---
Claire Johnston
Finance worker Claire Johnston, who funded a £130,000 spending spree using money she took from her employer, was jailed for 20 months.
Johnston, 34, of Bradley Road, Grantham, admitted fraud between September 9 2014 and February 22 2018 and she has since been diagnosed as suffering from a psychological condition known as compulsive buying disorder.
She went on luxury holidays and bought designer shoes as well as treating her friends to expensive presents, paying for her lavish lifestyle with money she took from her employer's bank account.
Read the full story here.
---
Stuart and Darren Parsley
A robber armed with an axe was jailed for seven and a half years after being overpowered by staff when he tried to hold up a Chinese takeaway in January.
Stuart Parsley, 47, of Francis Street, Lincoln, walked into Lucky takeaway on Burton Road and attacked staff with an axe, but Bee Wu Wong managed to parry the blow and fought him off and shouted for help.
Her husband Yashi Zheng ran downstairs to help, but Parsley's cousin Darren Parsley entered the premises as well.
Stuart Parsley admitted attempted robbery and possession of an offensive weapon and was jailed for seven and a half years. Darren Parsley, 47, of St Rumbold's Street in Lincoln, admitted affray and possession of an offensive weapon and was jailed for 18 months.
Read the full story here.
---
Marcus Weeks and Dalji Waldron
Two sons of a Bermudan Government minister have been jailed for over four years each after Lincoln Crown Court heard how they ran their own drug dealing operation targeting university students in the city.
Marcus Weeks and his younger brother Dalji Waldron, whose father Michael Weeks is the Minister of Social Development and Sports in the Bermudan Government, ran what was described as "a mobile shop" selling cocaine, ecstasy and cannabis.
Weeks, 28, and Waldron, 23, both of Clarina Street, Lincoln, admitted charges of conspiracy to supply cocaine, ecstasy and cannabis between August 17 2016 and September 22 2017. They also admitted production of cannabis on September 22 2017.
They were each jailed for four years and four months. Waldron was given a two month consecutive sentence for being in breach of a suspended jail sentence imposed for affray.
Read the full story here.
---
Lee Rousseau
Lee Rousseau, 48, of Turner Avenue in Lincoln, was jailed for four years after stealing a replica hand gun from the Museum of Lincolnshire Life.
Rousseau took the replica Luger pistol from a soldier mannequin in the World War One trenches display at the attraction off Burton Road. He ripped the arm from the mannequin and disappeared into the toilets where he removed the hand gun and walked off.
He admitted charges of theft, criminal damage and possession of an imitation firearm with intent to cause fear of violence as a result of the incident on March 14 this year. He also admitted three charges of possession of a knife after being stopped by police 10 days earlier.
Read the full story here.
---
Craig Williamson and Mark Creswell
Businessmen Craig Williamson and Mark Creswell were jailed for 18 months and a year respectively after carrying out a VAT fraud.
Williamson, 43, of Crowtrees Lane, Brighouse, West Yorkshire, admitted being knowingly concerned in the fraudulent evasion of £179,000 of VAT by submitting false VAT returns for Lincoln Car Sales between October 2008 and April 2014.
He also admitted fraudulent evasion of £13,700 of VAT by submitting false returns for Martin & Co, which was run by Mark Creswell, between June 2008 and July 2009.
Williamson also admitted fraudulently claiming £17,356 of tax credits over a 10 year period between 2005 and 2015 by failing to declare his true income.
Mark Alan Creswell, 52, of The Green, Ingham, admitted being knowingly concerned in the evasion of £148,000 of VAT by allowing the submission of false VAT returns between June 2008 and August 2014.
Creswell also admitted evading paying £16,581 of income tax between April 2009 and April 2014 by failing to declare his true income.
Read the full story here.
---
Paul James Mason
A homeless man who was caught with a kitchen knife after police searched him in a Grantham shopping centre was jailed for ten months.
Paul James Mason, 38, was stopped by officers after he was suspected of stealing a packet of high value pens from WH Smiths in the Issac Newton centre.
Mason, of no fixed address, pleaded guilty to possessing a bladed article and theft of the pens on June 15 this year.
Read the full story here.
---
Michael Nelson
Michael Nelson, 24, whose address was given as c/o Riseholme Road in Lincoln has been jailed for 10 months after using a bottle to carry out a street attack.
Nelson and another man were involved in a confrontation with a group of men on Lincoln High Street on the night of Friday, August 24, with Nelson initially appearing to act as a peacemaker.
He then produced a beer bottle from his pocket and struck his victim Sean Clifford in the face causing his cheek to swell up.
Nelson admitted charges of assault occasioning actual bodily harm and possession of an offensive weapon arising from the incident. He was also given a consecutive one month jail sentence for breach of an earlier suspended jail sentence.
Read the full story here.
---