October 30, 2018 8.36 am
This story is over 61 months old
Lincolnshire County Council cautiously welcomes budget
Extra funding welcomed, but longer term solutions needed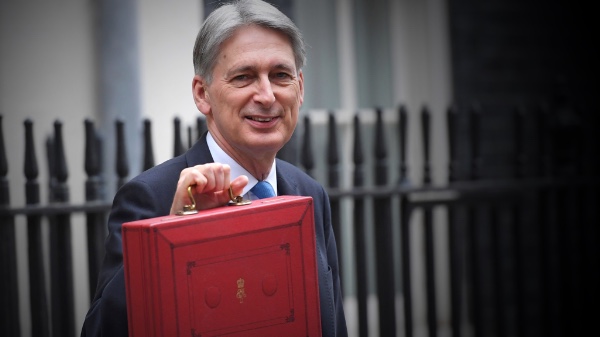 Martin Hill, the leader of Lincolnshire County Council, has welcomed extra money promised for adult social care and pothotle repairs by Chancellor Philip Hammond, but he's hoping for a longer term plan for increased funding.
ALSO READ: Budget: 18 things you need to know
---

This article first appeared in the budget special edition of the new Business Week newsletter by The Lincolnite and Lincolnshire Reporter. Sign up free to receive it in your inbox on Thursdays.
---
Cllr Martin Hill, leader of Lincolnshire County Council, said: "Perhaps the most welcome announcement is the extra £650m for adult care.
"The cost to the council in providing this service is enormous, and this additional money will hopefully help relieve some of the immense financial pressure we are under.
"However, we will continue to push the Government for a long-term funding plan, and await the publication of its green paper.
"The £420m for local authority roads is also good news, particularly in light of the damage done by the bad winter and long, hot summer.
"And we'll be lobbying the Government to make sure that Lincolnshire gets its fair share.
"Of course, as with any Budget, the devil is in the detail, and we look forward to receiving the specifics over the coming days and weeks.
"We'll be particularly interested to see whether the Government has taken any significant steps to introduce a fairer approach to local government funding.
"If councils in Lincolnshire received the average funding for council areas in England, the region would benefit from an extra £116million every year.
"That would make an enormous difference."
Cllr Colin Davie, executive member for economy and place, added: "There's a lot of good news in today's Budget for the local economy.
"The chancellor clearly recognises that businesses – and particularly High Street retailers – are under pressure, and the reduction in business rates for smaller retailers is welcome.
"By giving businesses this extra breathing room, I'm hopeful that we can avoid, or at least mitigate, the price rises that many firms tell us are on the cards, so this is good news for consumers too.
"However, business rates are also an important way of funding council services, and it's important this measure isn't paid for with further cuts to local government.
"I'm pleased to see £675m being made available to help our High Streets evolve, moving away from the traditional, retail-heavy model towards one that incorporates housing, leisure facilities and office space as well.
"The future of our High Streets is an issue that the council has looked at extensively, and we look forward to working with Government to rejuvenate town centres across Lincolnshire.
"Good connections are vital to both businesses, so I'm pleased to see increased investment in road maintenance, along with a commitment to developing new transport-related technology.
"We know that workers will remain in, or move to, an area if there is decent housing, so the extra money for the Housing Investment Fund and the adoption of Oliver Letwin's report on planning and housing will be helpful for businesses looking to attract and retain staff.
"The additional funding for adult care should also boost the local economy. The adult care sector is one of Lincolnshire's biggest employers, and this injection of funding should help businesses innovate and provide a better service.
"And as home to a significant portion of the RAF, the extra £1bn of defence spending could also lead to further investment in the county, bringing opportunities for local suppliers and making local communities, schools and businesses more viable.
"So all in all, there looks to be plenty of positives in today's Budget for Lincolnshire."
Marc Jones, Lincolnshire Police and Crime Commissioner, said: "The announcement on a review of police funding is very welcome news.It shows that Home Office Ministers have been listening to both my case for a review and the support from local MPs.
"I remain optimistic that solutions may be found to our particular funding challenges. The overall approach set out by the Chancellor will help deliver service improvements in a wide range of areas that will undoubtedly benefit Lincolnshire residents.
"My priority remains making our communities be, and feel, safer and I feel confident that today's announcements will help deliver that ambition."