December 30, 2018 4.44 pm
This story is over 59 months old
Rewind: The Lincolnite top 18 stories of 2018
Your biggest Lincoln stories in 2018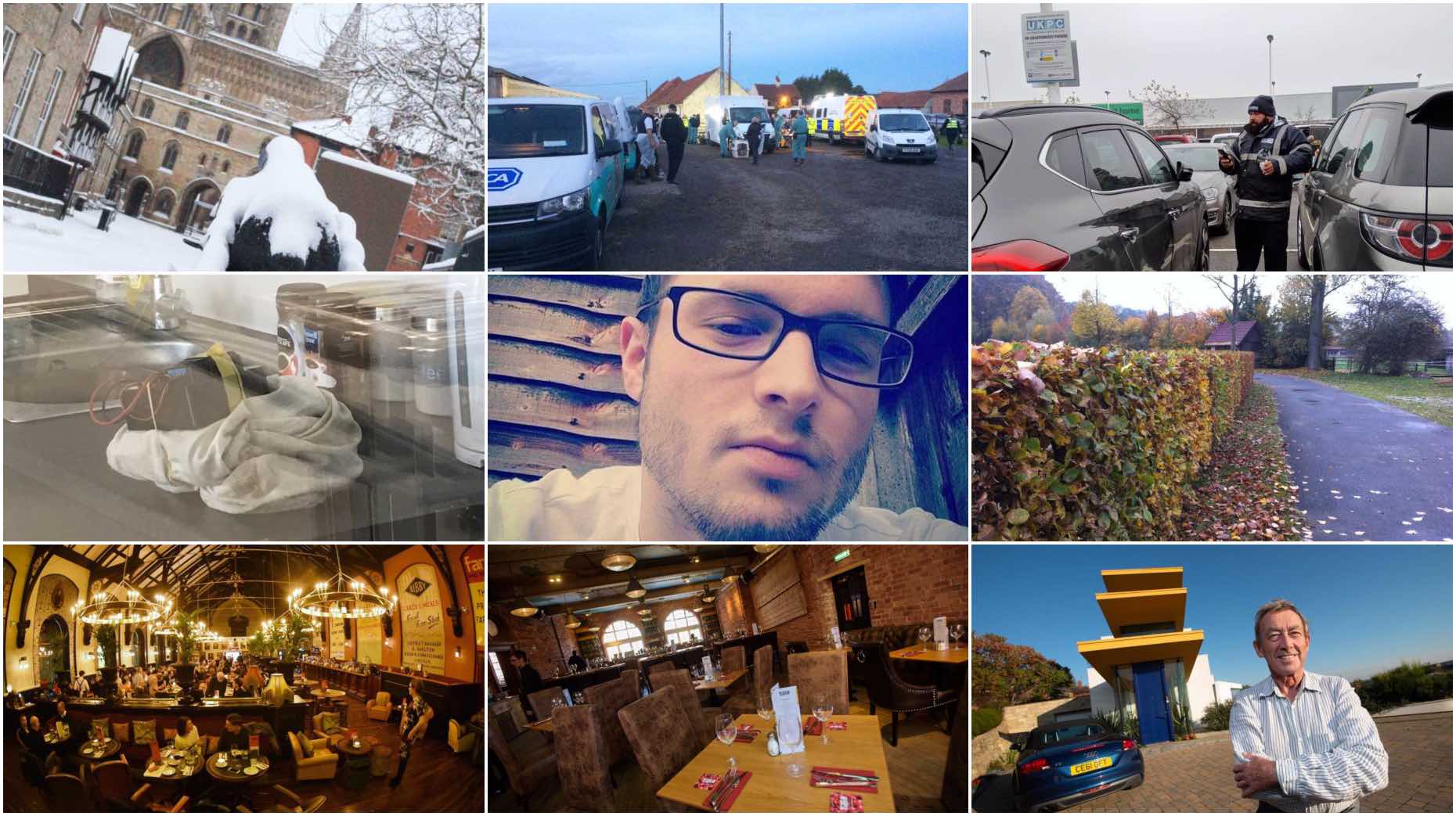 Whether it has been breaking news, major developments, events or enriching stories The Lincolnite has been on hand to keep you informed throughout 2018.
We have taken a look back at some of the biggest stories of the year as a reminder as to what 2018 has brought for Lincoln.
---
Beast from the East
It doesn't look like we'll be getting snow this holiday yet, but we certainly got it back in March.
The Lincolnite's live blog was the most read article on the website this year, keeping Yellowbellies up-to-date with helpful information including travel, school information and event cancellations, such as the Lincoln 10K.
---
Dog breeders raided by police
Little Rascals Pets in Brant Broughton near Lincoln was raided by police in November after concerns were raised for the welfare of the animals.
As a result of the operation, there were 94 dogs taken from the premises into the care of the RSPCA.
The breeders were given a winding-up order on October 22 to close down.
---
"Unfair" Tritton Road car park charges
The car park at Tritton Road retail park, which is operated by UKPC, came under fire from angry motorists for fining drivers for "leaving the area".
They started fining drivers £100 each if they saw them leaving the site.
Drivers have not been warned about the change of rules, except for a small yellow notice on their signs.
It reads: "If you leave this site whilst this vehicle remains in the car park you may be liable to receive a parking charge."
---
Lincoln bus station bomb scare
Lincoln went into lockdown after the bus station was evacuated, with some roads also closed due to the discovery of a suspicious package on an incoming bus on Tuesday, October 9.
Dozens of police officers, ambulance crews and the bomb disposal unit were called to the bus station after people reported a suspicious packages with "wires hanging from it".
Hundreds of people waited behind a police cordon while the bomb squad investigated the package, which turned out to be 'a genuine bit of lost shopping'.
When the first image of the 'shopping' was released, which turned out to be a water pump, it highlighted why the bus operators made the decision to report the item to police.
Although it proved frustrating for many people, it was reassuring to see the response of the emergency services and the city council in what could have been a worse situation.
---
Missing man found in river
The body of Michael Hull was recovered from the River Witham near Gaunt Street on Monday, January 22 after a two-day missing person's appeal.
An inquest was opened the following week into the death of Michael, who had been on a night out at Home nightclub in Lincoln with friends before walking home on his own.
Lincolnshire Police and underwater search teams had scoured the area after receiving a report he was seen on Gaunt Street in the early hours of the morning. He was sadly found by divers while the area was cordoned off.
---
Mystery hedge cutter
The mystery hedge cutter investigation caused over 32,000 people to flock to our website and social media pages in November, with the story even gaining national press.
Extra patrols were put in place after a bush cutter hedged their bets after striking a property on St Edwards Drive in Sudbrooke near Lincoln in the middle of the night twice in one week.
Holes were cut in the neatly trimmed greenery, sparking a police investigation.
---
Goodbye Widow Cullens Well, Hello Craft 2.0 & Cosy Club
2018 has seen a number of businesses bid farewell to Lincoln, such as popular pub Widow Cullen's Well, The Lincoln Imp pub and Meat Inc. Burger House & Bar (formerly Ribs 'n' Bibs).
After being on Steep Hill for the past 12 years it was the end of an era for Widow Cullen's Well after staff numbers were cut to the bone, with many Yellowbellies sad to see it go.
It hasn't all been doom and gloom though as the city has celebrated businesses arriving such as the returning Craft 2.0 and new venues Cosy Club, Jump Inc and Lakeland.
Cocktail bar and kitchen Craft made its official comeback in August, with The Lincolnite invited to the VIP relaunched for a first look tour of the venue.
Cosy Club opened in Cornhill in February in what used to be an old indoor market, with the transformation inside the Grade II listed building looking really impressive.
Looking ahead to the future it is also exciting for Lincoln with the news that popular cocktail bar chain The Botanist is coming to the Cornhill in early 2020.
Work will begin in the New Year to build a boutique cinema and rooftop restaurant, so there is plenty to look forward to.
---
Guy Martin in court
Motorcycle racer turned television celebrity Guy Martin is to face a jury trial accused of having a fake Irish driving licence.
He appeared before Lincoln Crown Court earlier this month where he entered not guilty pleas to two charges.
He denied possession of a document with intent to deceive between December 4, 2017 and May 15 2018 relating to 'a document so closely resembling an Irish driving licence as to be calculated to deceive.
He also denied that between March 1 and May 15 this year he made a false statement by claiming he was the holder of an Irish driving licence.
Judge Andrew Easteal granted Martin unconditional bail and adjourned the case for a two day trial to commence at Lincoln Crown Court in July 2019.
---
Iconic Strelitzia home
The Strelitzia house definitely stands out on the hillside, but the white, yellow and entirely unique building also stands proud.
The very modern looking house on Michaelgate is a product of just over 11 years of building works, although the owner David Lewis' told us during our tour he isn't finished yet.
Mother of two Charlotte Ann Harrison recreated the iconic house on The Sims after falling in love with its design.
---
Restaurant closes and blames news stories
The Tiago Lincoln Brazilian restaurant closed in February this year after receiving a very poor hygiene rating of 1/5 from City of Lincoln Council inspectors.
The venue blamed local media for publicising the inspectors' findings, and they closed shortly after.
The Lincolnite was the first publication to show off the venue in an exclusive tour in October 2016.
After information became public in late January 2018 we reported the story in the public interest.
Another restaurant was lost this year when Tiamo Pizza in The Forum in North Hykeham closed in October, just two months after its owner Fathi Zureiqi was jailed for tax fraud.
---
Damning CQC report for village nursing home
Eagle Nursing Home was closed after an inspection at the premises this summer identified "serious concerns".
Alarm bells by Lincolnshire County Council, which stated care at the home was "not adequate". This led to an unannounced inspection by CQC on June 6-7.
A report on The Lincolnite sparked a wave of complaints, including claims that a former resident was "dragged along the corridor from his bedroom and thrown into the lift".
A former member of staff also revealed more details of the alleged "endemic" bullying of staff and residents.
Understaffing, missed medication and poor hygiene were among the issues raised in CQC's published report into the home.
---
Clamping down on drugs
The Lincolnite posted a controversial video of users taking drugs in an alcove on Clasketgate and it sparked a debate on how to solve the city's drug problem.
After several follow-up stories highlighting different areas of the issue, the police began cracking down more on Lincoln's drug problem.
The City of Lincoln Council put in £61,000 set up an intervention team to tackle anti-social behaviour.
It also had an effect on local businesses, with the police and ambulance offering advice on what to do if you spot someone on spice.
---
Grand Tour filming in Lincoln
Amazon's Grand Tour Top Gear spin-off show featuring Jeremy Clarkson, Richard Hammond and James May filmed in Lincoln in October.
They filmed at Lincoln Cathedral for the last episode of the third season with the audience singing a hymn.
It was then to the Showground on the Saturday for the last part of filming for the final episode of series three of Amazon's Grand Tour to celebrate "the end of a piece of British motoring history".
---
Midwife in hair colour controversy
A midwife working at the hospitals in Lincoln and Grantham said she risks losing her job over the colour of her hair unless she is willing to change it.
Donna Crichton, who has over 30 years experience working in the NHS, had red hair when she was first employed by ULHT in February 2011.
She claimed this had never been an issue previously until it was flagged up this summer.
Hundreds of people have since rallied in support of her, while the Midwives' union is challenging ULHT over its uniform policy — but her appeal was rejected.
---
Lincoln graduate murdered in New Zealand
One of the saddest stories we had to write this year was that of Grace Millane, who went missing while on an around-the-world backpacking trip in New Zealand earlier this month.
As each development in the story became more tragic, it was tough to see father David Millane give an emotional press conference before a body was later discovered, which was confirmed to be that of Grace.
David later issued an emotional statement thanking the people of New Zealand for "their outpouring of love", adding that his daughter "will forever be a Kiwi".
Jesse Kempson, 26, who is understood was seen with her in the CityLife hotel, appeared in court charged with her murder.
Tributes poured in for Grace including from friend and University of Lincoln Hockey President 2018/19 Samantha Ramsey who said she "gave everyone around her strength and courage to chase their ambition".
---
RAF Scampton closure
The Ministry of Defence confirmed in July that RAF Scampton, home of the Red Arrows, will be sold off.
The base, which is currently home to 600 members of staff, will close by 2022 and talks are underway to enable the Red Arrows to move to another location.
MP for Lincoln Karen Lee delivered a petition, signed by over 3,700 people, to Ministry of Defence minister Tobais Ellwood last month.
She petitioned against the move and began a petition to keep the Red Arrows in the county. The RAF also celebrated its centenary year in 2018.
---
St Marks development
1,300 student flats will be built on Lincoln's St Marks in a move that will mark the start of a £150 million redevelopment of the area.
City of Lincoln Council previously dismissed the designs for the flats as "bland", but have now approved the proposal.
When completed, the major development will also include a number of new shops, hotel and a car park with up to 1,100 spaces.
The development proposed by Aberdeen Standard Investments has seen demolition begin on the vacant Homebase, Lidl and Topps Tiles units.
All the shops to the west of Debenhams will be demolished and replaced with new retail units, leisure space and other amenities. Space would also be made for cycle storage and management facilities.
Options discussed also include the possibility of a new cinema and waterfront restaurants and the scheme has the potential to generate up to 2,000 new jobs in the city.
---
Merging debate
The merging debate got a lot of people in Lincoln talking this year.
Lincoln driver Jason Andrews believe too many people staying in the left-hand land is causing issues as he posted a video in the Facebook group 'You're probably from Lincoln if…'.
Another video posted by Tim Alderman sparked a debate about queuing in the city centre – some of which could easily be halved.
Alongside the video, he asked: "Why oh why can't people understand the rule of the road and us both lanes then merge in turn at the end?"
---
Other notable stories in 2018
The Lincoln Eastern Bypass project was another of the hot topics this year. It was revealed in June that the project will cost £120 million instead of £99 million and will also be finished in May 2020 instead of December 2019.
A new multi-million pound bus station off Broadgate in Lincoln welcomed its first commuters on January 28.
In sport, Elliott Whitehouse was the hero as underdogs Lincoln City lifted the Checkatrade Trophy with a 1-0 victory over Shrewsbury in their first trip to Wembley in 133 years.
A drugs network which exploited children as young as 14 into dealing crack cocaine and heroin from "cuckooed" Lincoln drugs dens has been taken down in a landmark police investigation.
A woman from Lincoln who was repeatedly raped by her grandad for seven years and sold to hundreds of paedophiles has spoken out for the first time.
A man who has lived in Lincoln all of his life, and whose father and grandfather fought for the British Armed Forces, has been left 'confused and upset' after he was refused a passport and asked to prove his nationality.