Yummy! The Lincolnite's 2018 food adventures
We made it our mission to embrace the food in Lincoln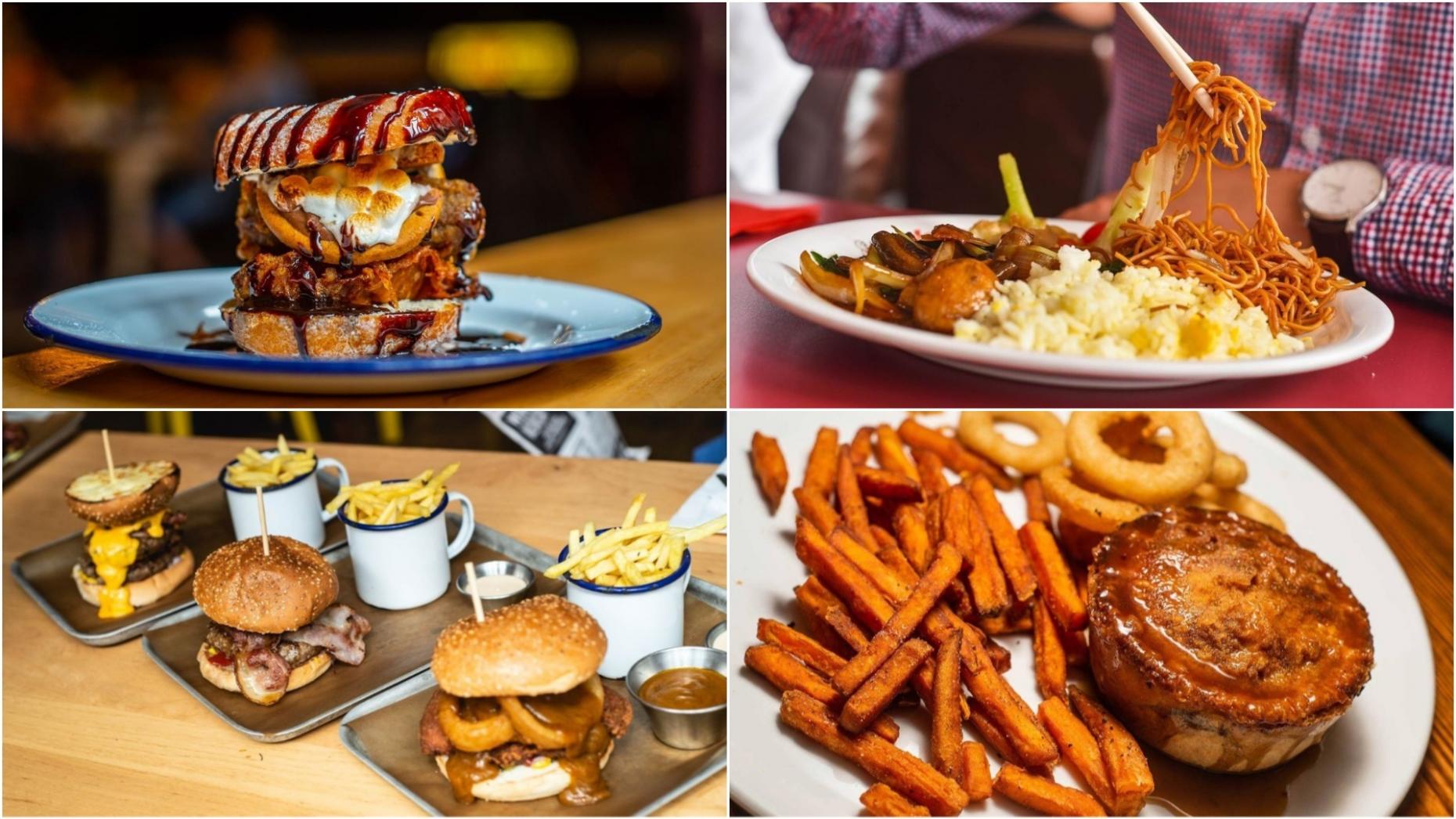 Just the mention of food makes mouths drool in The Lincolnite office.
We made it our mission to embrace the food in Lincoln, whilst even taking on a few challenges.
We take a look back at some of our food adventures in 2018:
---
Ice cream Extravaganza at Kaspa's Desserts
15 scoops of Italian ice-cream served on a bed of home-made Kaspa's waffles topped with syrup, sprinkles, nuts and wafers. A tasty treat for a family of four, but a serious challenge for a single eater.
The Ice Cream Extravaganza is available at Kaspa's Desserts on Clasketgate and costs £27.95.
---
Apocalypse Cow at Nosey Parker
The massive burger features a brioche bun, four beef patties, two slices of cheese, fried onions, four slices of bacon, BBQ pulled pork and iceberg lettuce. Served on the side with onion rings, coleslaw, seasoned fries and a pot of BBQ sauce.
It's one of several challenges available at Nosey Parker at Tritton Road and costs £10.29.
---
Seven Deadly Wings at Huckleberry's Bar & Grill
For this spicy challenge The Lincolnite had to pull in a little help from one of our readers – paramedic Steve Pratten.
The challenge consists of seven chicken wings coated in a spicy chilli sauce, bringing a heat level of around seven to 11 million scovilles.
Challengers have just seven minutes to tackle the fiery feast and must wait an additional five minutes before washing them down with milk or water.
The seven wings cost £7 and are avaliable from Huckleberry's Bar & Grill on Clasketgate.
---
Double XL Stacker at Lion & Snake
This colossal burger challenge consists of four beef burgers, two macaroni and cheese burgers, BBQ sauce, four rashers of bacon and two portions of cheese – with two jalapeño poppers on top, large fries and a large coleslaw.
If you want to take on the challenge yourself, it is available on Mondays at The Lion & Snake for £10.49 as part of their two-for-one burger deal.
According to the manager, the challenge has never before been completed. Could you be the first to defeat the meat?
---
Pancake challenge
We're not ones to let a food challenge crêpe up on us. Finally in our fifth food challenge, we've managed to get onto the scoreboard with a win for The Lincolnite.
Crivo's on the lower High Street created a food challenge especially for us, which they're now adding to the menu for everybody to try.
There are three challenges to try at £12 individually if you manage to complete them, or free if you can take on all three within 30 minutes.
There are the double sweet pancakes with dark and white matter, or the double savoury pancakes where you can combine a special pancake with a classic filling, or there are the quadruple sweet waffles with chocolate and fruit. We managed to complete the savoury challenge.
---
Morrisons' Builders Breakfast Butty
When Morrisons told us they have a new giant Builder's Breakfast bap, we thought that it wouldn't be that big — but boy were we wrong!
The seven inch monster bap has all of these inside for just £5 to eat in or take away: 2 rashers of back bacon, 2 hash browns, 2 pork sausages, baked beans, mushrooms, 1 fried egg, 1 grilled tomato – a whopping 1,740 calories.
---
Deep-fried Christmas dinner
'Oh My Cod' on Alexandra Road in Spalding is offering the ultimate deep-free Christmas dinner, complete with battered chicken, stuffing, pigs in blankets, sprouts and mince pies for £7.50
---
Learning to make the Big Mac
Love it or hate it, the Big Mac is one of the best selling burgers ever and many wonder how it's made. So we went to check it out, and make one (or five) ourselves.
---
Christmas Dinner Pasty
Three typically British dishes loved by many have been combined together as Morrisons launched its Three Course Christmas Dinner Pasty. The Lincolnite took it for a taste test.
The pasty, which is crimped and filled by hand and is made in Cornwall, is available from Morrisons Pie Shop counters from December 10 until Christmas priced at £2.50.
---
Feast your pies on this
The Dandy Lion pub in Lincoln continues to roar with some new food occu-pieing the menu and launching on Deliveroo. We checked out their range of delicious pies.
---
Local butchers Bomber banger
A local family butchers launched a Bomber banger to celebrate the centenary of the RAF. Odling Family Butchers is based on the High Street in Navenby and started business nearly 100 years ago in 1920.
---
Vegan bonanza at The Mailbox
The Mailbox in Lincoln has a new menu with plenty of vegan dishes as well as a new range of food for meat lovers and sweets enthusiasts.
The Lincolnite team went to the bar on Guildhall Street to try out the new menu.
---
Yorkshire pudding Wraps
Yorkshire pudding wraps are being served up in Lincoln for a quick taste of a Sunday roast classic.
The Street Food Roasts team parked up their trailer at City Square for the first time in August.
Husband and wife team James and Lisa Smith are taking their roasts on the road from their home in Cambridge to Lincoln every Thursday from 11am until 6pm.
---
Yo Yo's new and improved menu
A variety of cuisines including Indian, Italian, English and street food are among the 'mein' courses on the new and improved menu at Lincoln's Yo Yo in Beijing all you can eat restaurant this year.
---
Favourite ice cream parlours
When the weather was a bit warmer earlier in the year, The Lincolnite went out to try different ice creams in the city and we compiled a list of our favourite parlours.