January 29, 2019 4.19 pm
This story is over 42 months old
Bulldozers make way for Lincoln Everyman cinema
It is expected to open by Autumn 2019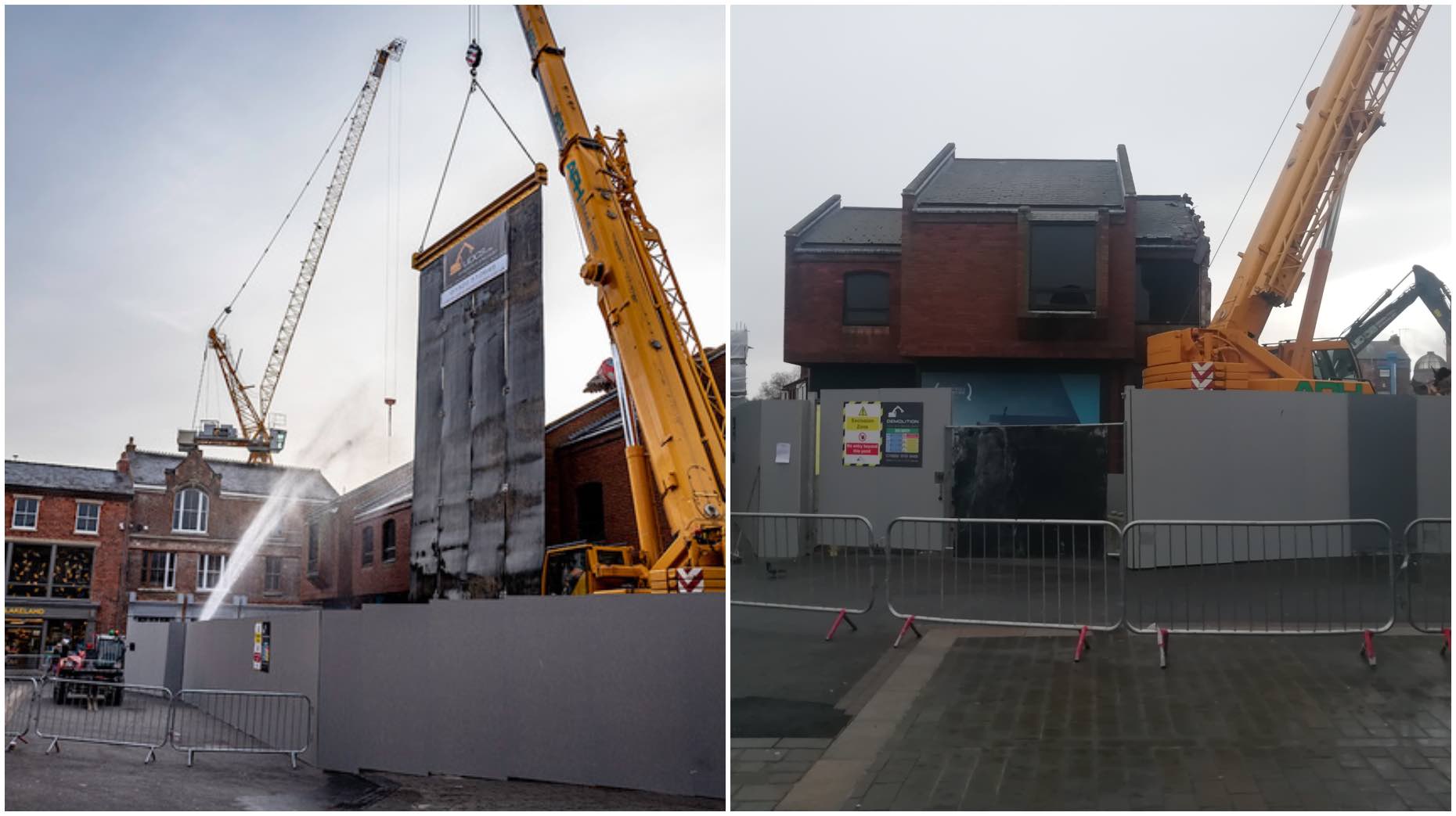 Demolition work is underway in preparation for the building of a new boutique cinema and rooftop restaurant in the Cornhill Quarter of Lincoln.
As previously reported, it will be the first Everyman cinema in the city, forming the next phase of Lincolnshire Co-op's £70 million regeneration of the area.
1-4 Cornhill Pavements and 7-8 Sincil Street, built in the 1980s, will be demolished. Businesses previously occupying the units have already vacated.
Protective screens supported by crane and water spray to lay the dust are features of the demolition, which were seen in the area on Tuesday (January 29).
Everyman cinema
The swanky cinema will offer seating, a private screening lounge available to hire and a bar selling wine and hand-rolled pizzas.
Shops, national restaurant chains and other leisure and financial services are expected to move into the new building, which is anticipated to open by Autumn 2019.
CEO of Everyman Cinema Crispin Lilly previously said: "We're looking forward to coming to Lincoln. It is such a vibrant city with an incredible heritage and we are proud to become a part of the Cornhill Quarter."
Cornhill regeneration
Women's clothing brand Seasalt recently announced it is heading to the Cornhill, with the new Lincoln store opening in March 2019 in the large unit next to Lakeland.
Seasalt will sit alongside recently signed 200 Degrees in phase two of the redevelopment, which is nearing completion.
Coffee chain 200 Degrees will open in March 2019 with its 8th cafe.
Phase two is delivering a 23,000 sq ft of retail space along Sincil Street, as well as a bright, attractive walkway through to the multi-storey car park.
Popular cocktail bar chain The Botanist, which is coming to the Cornhill in early 2020, will be over ground and first floors located in the third phase of the development, which sits opposite to the completed Corn Exchange building.
Between this building and the Corn Exchange will be Exchange Square, providing a new public space for the city, as well as outdoor seating for the Botanist.