February 26, 2019 2.02 pm
This story is over 56 months old
One-of-a-kind painting and dinner to make A46 Lancaster sculpture a reality
It will be taller than the Angel of the North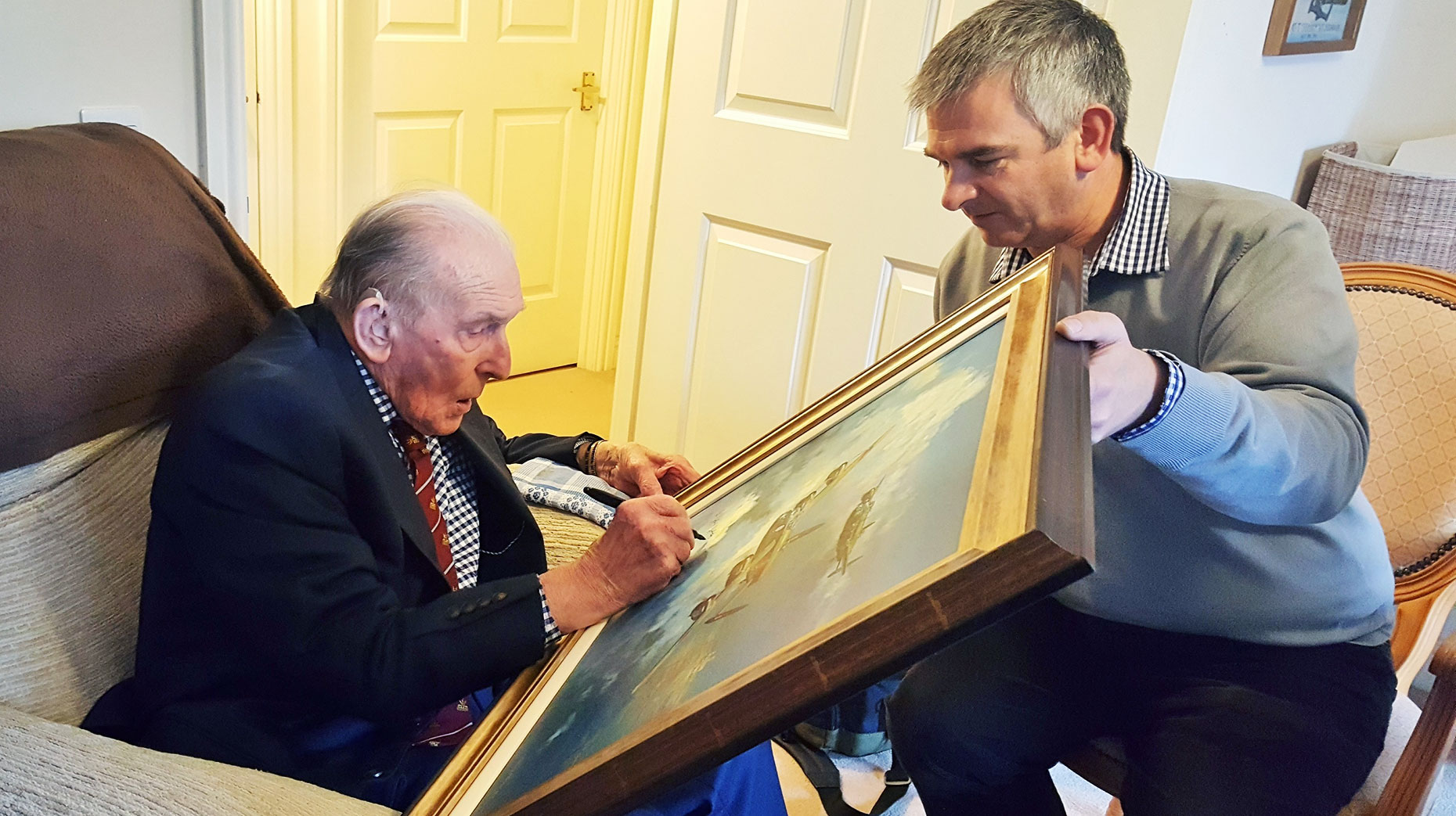 A fundraising dinner and auction with a painting signed by Dambuster George 'Johnny' Johnson will help towards £150,000 still required to build a Lancaster sculpture on the edge of Lincoln.
Hemswell Court in Lincolnshire is set to host the event to bring a life-size Lancaster Bomber landmark to life on the Lincolnshire Nottinghamshire border, marking the significant aviation history that the two counties shared during the Second World War.
Guests (both corporates and individuals alike) are invited to the dinner and auction on May 22, 2019.
Led by a group of passionate volunteers, registered charity the Bomber County Gateway Trust was created with the aim of making the sculpture a reality.
So far, the project has been made possible by corporate and public donations, but at least £150,000 is still needed to complete the landmark, dubbed 'On Freedom's Wings', in 2019.
Guests can expect fizz and canapes on arrival followed by a four-course dinner. The highlight of the night will be a live auction via online auctioneer, John Pye Auctions, with a collection of highly anticipated lots, including an original oil painting of BBMF and Canadian Lancasters on their 2014 tour by renowned artist Tim O'Brien.
The painting is also signed by legendary Dambuster George "Johnny" Johnson MBE, DFM.
Johnny, who is the last surviving flying member of the 617 squadron, will be guest of honour on the night, along with a host of other veterans from Lincolnshire and Nottinghamshire.
Fittingly, Hemswell Court was the location for much of the filming of the classic 1955 film, The Dam Busters.
The auction will also include an authentic flying jacket which commemorates The Dam Busters film, signed by Johnny Johnson, the chance to experience a flight in a Tornado F3 simulator and a wine tasting session for eight at Hemswell Court.
The design of 'On Freedom's Wings', which will be taller than the Angel of the North, is a life-size representation of an Avro Lancaster Bomber which was based at RAF Swinderby.
It will be erected on high ground just off the A46 at Norton Disney, visible to an estimated 34,000 motorists every day.
Measuring 26 metres long with a wingspan of 31 metres, the installation will be mounted on a frame more than 15 metres above ground level. It will appear to be in flight over the horizon, heading 'home' towards RAF Swinderby.
The foundations for the sculpture were poured in December.
Ken Sadler, trustee at the Bomber County Gateway Trust, said: "We are excited about the auction at Hemswell Court as we have some rare lots for sale, and it will be a fantastic evening.
"We are incredibly fortunate to have backing from legendary veterans including Johnny Johnson, who whole-heartedly support what we are trying to achieve. Businesses and individuals are invited to book a table and enjoy a wonderful evening with us
"To date, the excavation and concrete foundations have been completed and the steel framework will be erected in spring this year. To continue beyond that, we need funds to take us to the next stage which is constructing the steel body of the aircraft itself.
"The response we've received for this project has been overwhelmingly positive and I'm looking forward to moving another step closer to completing this landmark."
For sponsorship enquiries or to reserve a table at the event, please contact Rebecca Young via [email protected].
Donations are welcome via JustGiving here.
Cheques can be made payable to 'Bomber County Gateway Trust' and posted to: Bomber County Gateway Trust, Hill Holt Farm, Norton Disney, LN6 9JP