Behind bars: Lincolnshire criminals locked up in March
The longest sentence was for 18 and a half years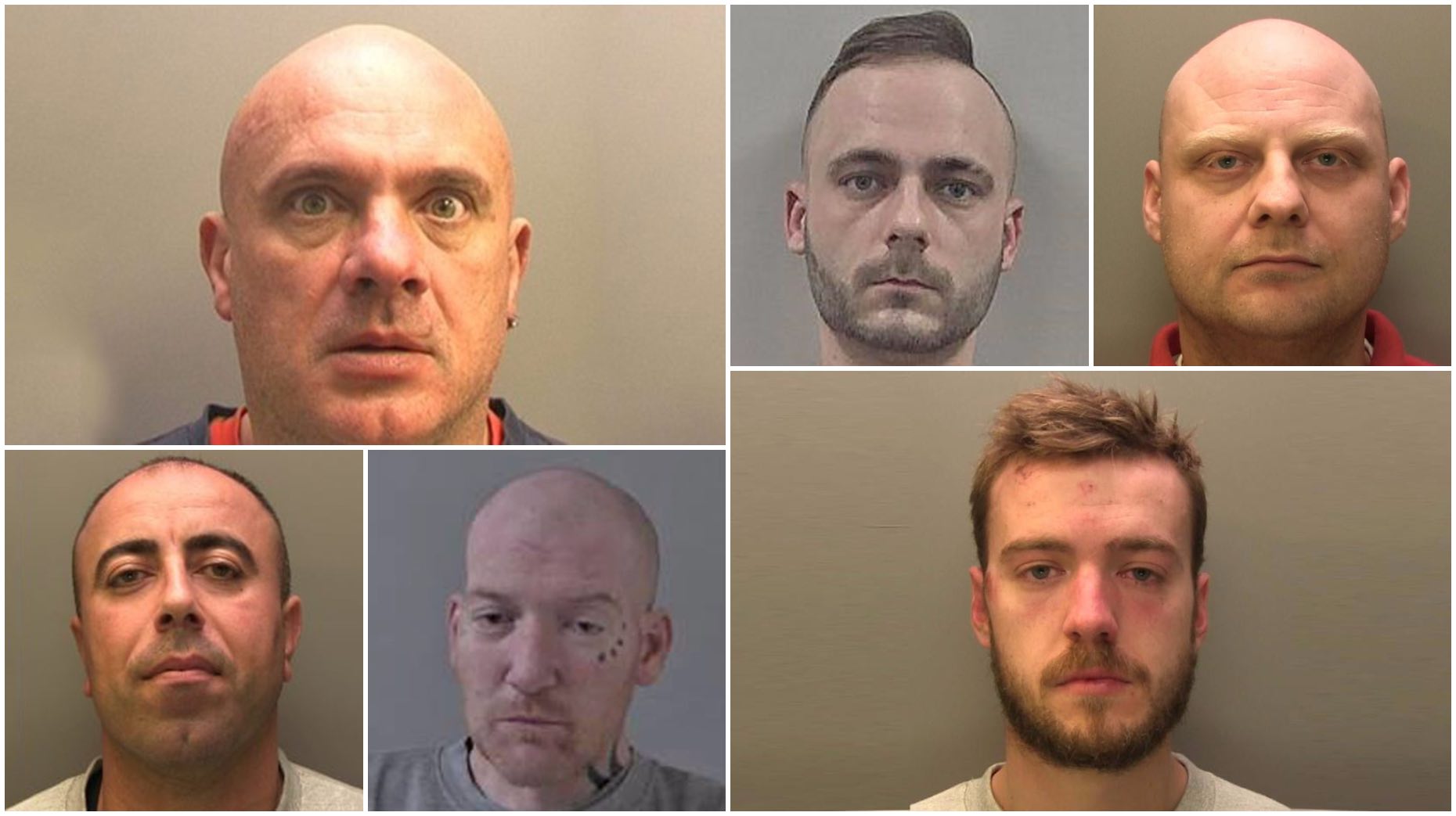 A man part of an organised crime group supplying drugs, a drunk-driver who killed two teenagers in a crash before Christmas and paedophiles were among those jailed across the county in March.
Here's a summary of notable court reports from last month:
---
Darren Peters
Darren Peters, 51, of Maize Farm, East Heckington, who was part of an organised crime group supplying drugs into the East Midlands was jailed for 18 and a half years.
East Midlands Special Operations Unit (EMSOU) carried out a year-long investigation. A dozen members of the gang who brought cocaine and heroin into Lincolnshire were previously jailed for a combined total of 142 years imprisonment in November 2018.
---
Matthew Jacobs
A drink-driver who killed two teenagers after getting behind the wheel of a company car at the end of a works Christmas night out was jailed for seven years.
Matthew Jacobs, 26, of Lindholme Road, Lincoln, crashed into the back of a Ford Mondeo estate car parked in a lay-by on his way home.
He admitted two charges of causing death by dangerous driving as a result of the collision on December 22, 2018. He also admitted driving with excess alcohol and failing to stop after a road accident.
---
John Armitage
John Armitage, 40, of Warren Close, Gainsborough, was jailed for five years and nine months when he travelled 140 miles to meet a 14-year-old schoolgirl only to find himself caught by a 'paedophile hunter'.
Armitage previously served a jail sentence for offences against two young girls. He was expecting to meet a girl called Ellie for sex after travelling by train from his home town of Gainsborough to Newcastle upon Tyne.
He arrived at Newcastle railway station to discover he was the victim of a sting. He was confronted and then arrested after police were called to the station.
---
Star Hamadameen Mama
A Lincoln barber shop owner who chased a man down on Lincoln High Street and stabbed him with scissors was jailed for eight years.
Star Hamadameen Mama, 38, from Lincoln was sentenced following an attack on Saturday, September 29 during Lincoln Pride Festival.
The victim, a man aged 28, suffered a 5cm deep wound to his left shoulder and close to his chest, a 7cm cut to his left forearm and a 1cm cut to his finger.
---
Michael Massey
Michael Massey, 31, of Melbury Walk in Scunthorpe was jailed for six years after being found guilty of child abduction and having sex with a child.
Massey was sentenced at Grimsby Crown Court for the offences which took place last summer.
---
Benjamin Colvin
Benjamin Colvin, 33, of Sutton Road, Trusthorpe near Mablethorpe was jailed for 12 months after attacking his partner in a rage when he lost a game of FIFA.
Colvin struck Lyndsey Walsh in a temper causing her to fall into a bird cage at their caravan home on the Lincolnshire coast. She suffered a cut head as a result of the incident in January.
---
Vasilijus Klimek
Vasilijus Klimek, 29, of Pennygate in Spalding was jailed for a year after he became involved in an argument while waiting to go into the Loaded nightclub.
He stamped on his victim's head and left him in intensive care after a fight broke out. The victim Kristaps Zarins, 31, punched Klimek but was then attacked and ended up lying unconscious on the ground after being struck by Dovydas Bagdonas.
Bagdonas, 31, of Grevel Close, Spalding, admitted assault occasioning actual bodily harm. He was given an eight month jail sentence suspended for 18 months and a 16 week night-time curfew.
---
Gavin Roberts
Gavin Roberts, 41, of Sandringham Road in Cleethorpes was jailed for three years after pleading guilty to a salon robbery where he threatened staff with a blade.
Roberts entered a hair salon on William Street on Friday, November 23. He then threatened a woman working there and demanded money. He used the blade to scare the woman into handing over cash.
---
Grimsby drug gang
Three men who ran a £7,000-a-day county lines drug dealing operation in Grimsby were jailed for a total of 21 years and two months.
The three men from the Liverpool area were arrested as a result of a raid carried out at an address in Willingham Street in Grimsby on Friday, May 18, 2018.
Joshua Hendry, 28, of Locinvar Street in Liverpool was jailed for 10 years. Wade Chambers, 23, of Porton Road in Liverpool was sentenced to six years and 10 months in prison. Jake Pilling, 27, of New Street in St Helens was jailed for four years and four months.
---
Richard Baker
A burglar who raided the home of an elderly man while his victim slept unaware was traced after leaving blood at the scene.
Richard Baker, 40, of St Giles Avenue, Sleaford entered the property on London Road in Sleaford in the early hours of the morning on January 8 after a log was thrown through a rear window. He was jailed for two years.
---
Norberts Mikitis
Norberts Mikitis, 21, of Hannam Boulevard, Spalding, was jailed for two years and four months after mugging an 80-year-old woman to pay for his next fix of crystal meth.
The woman was on her way to church when Mikitis attempted to snatch his victim's handbag as she walked along Church Street in Pinchbeck.
---
Jason Johnson
HMP Lincoln inmate Jason Johnson, 23, was jailed for 12 months after punching a prison officer and leaving him with a serious facial injury when he was ordered back to his cell.
The attack happened while he was serving a 50-week sentence for burglary. Johnson, currently being held at Peterborough Prison, admitted a charge of inflicting grievous bodily harm as a result of the incident on May 4, 2018.
---
Reece Taylor
Two men caught selling mamba in broad daylight in Lincoln city centre were thrown behind bars in March.
Reece Taylor and Ian Lawrie attracted attention when they were seen in St Swithin's Square with a group of men at lunchtime on February 15. When searched by police both of them had mamba on them with a street value of between £500 and £800.
Taylor, 20, of Beaumont Fee, Lincoln was jailed for 15 months. Lawrie, 29, who at the time was staying at the Nomad Centre on Monks Road, Lincoln, was jailed for eight months.
---
Sharon Johnson
Sharon Johnson, 47, of Station Street, Rippingale, near Bourne, was jailed for 15 months after defrauding her widowed mother-in-law out of thousands of pounds.
It was agreed that £56,000 due from a life insurance policy should be paid into Johnson's own account so that she could manage it for her mother-in-law.
She then went on to spend thousands of pounds of the money on herself. She went shopping, paid for hotel bills and gym membership as well as clearing her own debts using the cash. She has since repaid £15,000 of the money.
---
Shaun Thomas
Shaun Thomas, 45, of Romney Close in Lincoln was jailed for 15 months after he was found with a stash of forged bank notes when he was stopped for being drunk at the wheel.
Thomas was driving along Rookery Lane in Lincoln when he was asked to pull over by police. He had £200 worth of fake £20 notes in the car and a variety of drugs including amphetamine, cannabis, diazepam and zopiclone.
---
Johnathan Mallard
A drug addict who turned up daily at his ex's home threatening her and demanding cash was jailed after admitting a charge of harassment.
Mallard, 31, of no fixed address was given a six month jail sentence. It will run consecutively with a 24 week jail term he is already serving for unconnected offences of shoplifting and breach of a suspended jail sentence.
He was also given a five year restraining order banning him from contacting Ms Sarah Fagan and from visiting Gibbeson Street.
---