July 7, 2019 8.59 pm
This story is over 35 months old
Protesters hold 'funeral for the future' in Lincoln
There was a sombre mood as they carried names of Lincolnshire villages expected to be lost to flooding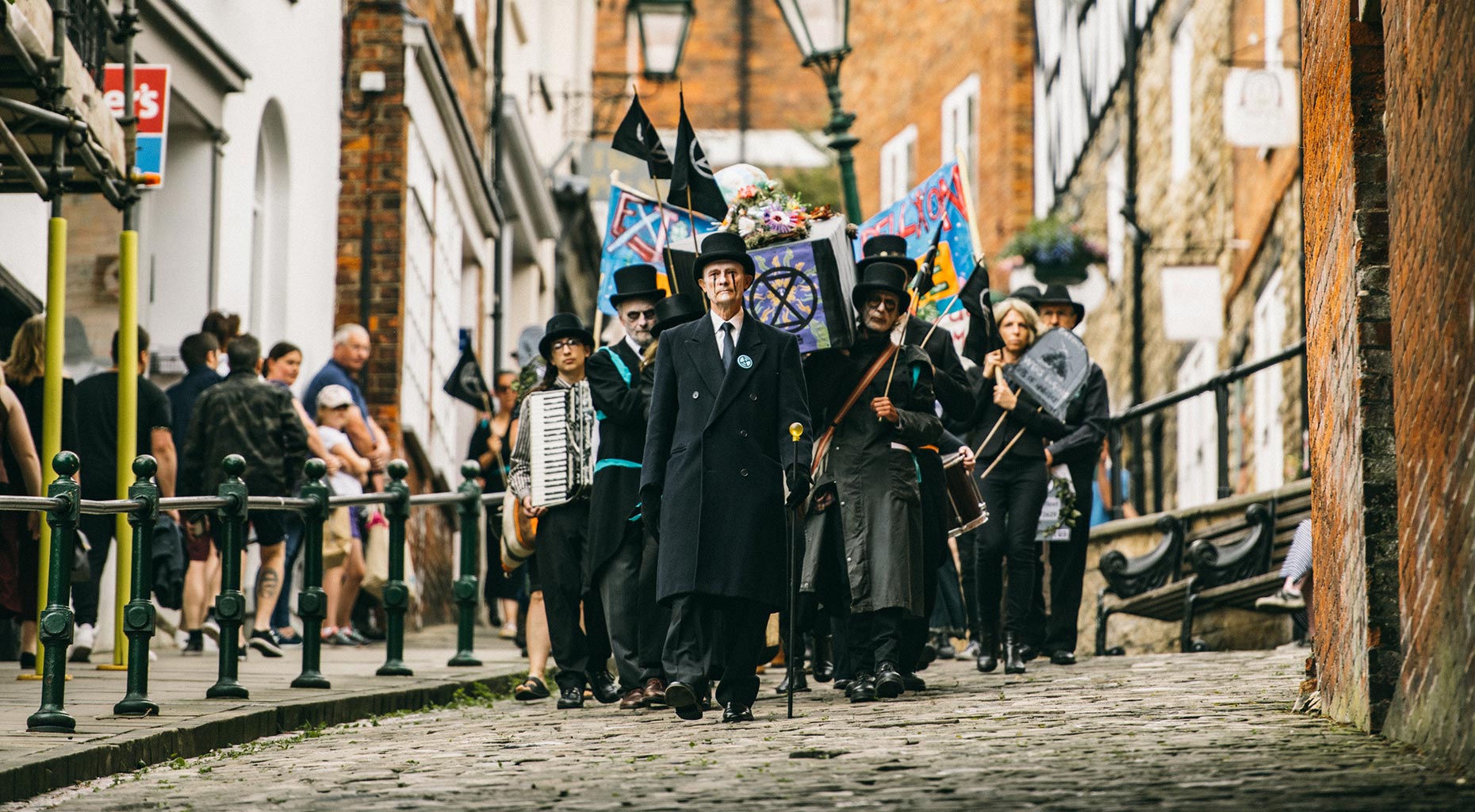 Climate protesters dressed in sombre clothing and skulls painted on their faces held a "funeral" for the future this weekend.
The mourners carried tombstones and a coffin covered in wreaths as part of the procession down from Castle Square to the High Street on July 6.
Unlike other noisy protests in the past, the protesters were silent as they held names of Lincolnshire villages predicted to be lost to flooding.
That was until they reached the railway crossing, where they rang a bell and listed the names of the villages as well as species which could go extinct because of the climate crisis.
Each of the tombstones were then erected on the grassed area beside the pavement and church by Extinction Rebellion Lincolnshire.
The group read out the following speech during the event:
"Dearly beloved Human Beings, we are gathered here today in the eyes of posterity to mourn for our lost future.
"We are Extinction Rebellion and we celebrate the fact that since our Easter Rebellion in London the whole country and the world at large is waking up to the dire threat of a climate emergency which threatens any possibility of a future for us, our children and our children's children, but we despair that politicians are still only paying lip service to the crisis when what we need is immediate action.
"And so we mourn for our lost future.
"Recently Lincolnshire County Council failed in its duty to safeguard the people of Lincolnshire by only putting a deadline of 2050 to their declaration of climate emergency, which makes a mockery of the word "emergency", since by that date much of the county could be under water. Nationally, Parliament has declared a climate emergency but only by 2050. This is a death sentence.
"And so we mourn for our lost future.
"Unless drastic action is taken now to reduce carbon emissions and greenhouse gases to zero by 2025 temperatures across the planet will increase by 2 to 3 degrees in our lifetime. This will mean that most of our low-lying county of Lincolnshire will be flooded as sea levels rise, putting 100,000 homes at risk, and decimating agriculture in our county which currently grows 40% of Britain's vegetables.
"And so we mourn the loss of Lincolnshire towns and villages and land that will be lost to sea-level rises. 
"Since 1985 500 species of local birds, mammals and insects have already become extinct. The rate of species extinctions is accelerating and so many more will die out unless global warming is stopped.
"And so we mourn the loss of our wildlife species.
"We are gathered here today in fear and desperation, searching for some hope that the catastrophe can be averted. Our hope is that ordinary people will come together and join us to demand that our leaders take immediate action to stop this 6th Mass Extinction on Earth.
"We will now remember the communities and species that will be lost to global warming."