August 5, 2019 12.48 pm
This story is over 51 months old
Health visitor demos and strikes planned over pay and standards
Demos will be held in Lincoln, Gainsborough and Louth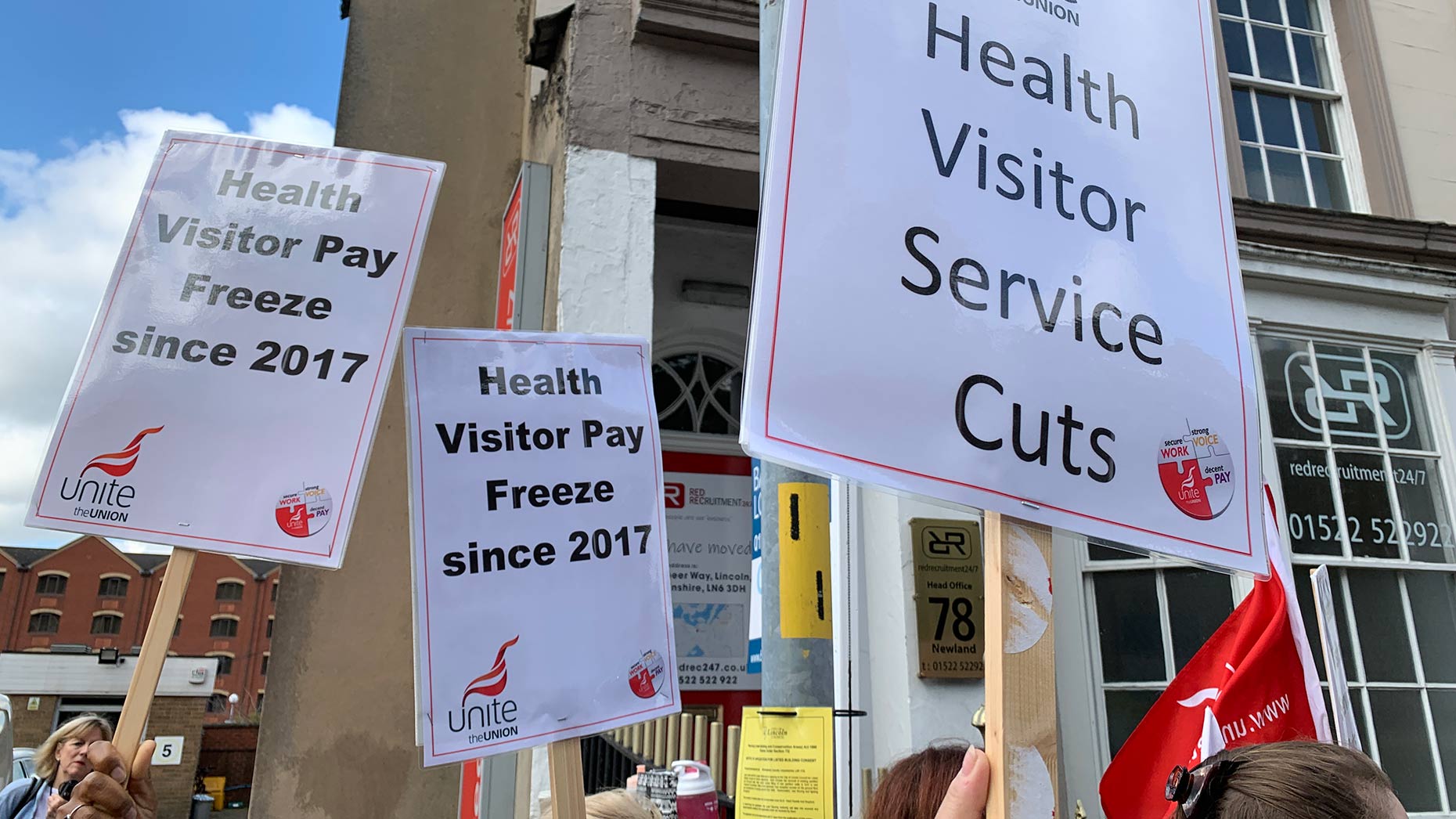 More strikes and rallies are planned across the county as Lincolnshire health visitors continue their campaign over pay and standards.
As previously reported, health visitors under the Unite union gathered outside Lincolnshire County Council offices last month to demand pay rises.
The county council previously said it had plans in place to cover absences should the strikes continue and invited Unite back to the table to resolve the dispute.
Union officials say the staff have not had a pay rise since they were transferred from the NHS to Lincolnshire County Council in 2017, and are losing more than £2,000 a year in real terms.
New strikes and rallies
Unite said that 58 health visitors will be holding demonstrations in Gainsborough (August 7), Lincoln (August 8) and Louth (August 9).
They will also hold two more 48 hour strikes later this month – on top of the nine days of strike action already taken.
The two new 48 hour strikes are on August, 15-16 and 19-20. The strikes will start at 12.01am.
The demonstrations will take place as follows:
Gainsborough – demonstration at 10am on Wednesday, August 7 at Marshalls Yard, Beaumont Street. It will be followed by a march through the town
Lincoln – demonstration at 10am at Lincolnshire County Council offices, Newland. This will be followed by a march through the city
Louth – protestors will meet at the Cattle Market car park and be followed by a march through the town.
There will also be a rally in Lincoln on Saturday, August 17 with protestors meeting in the Minster Yard at 11am. The march will start at 11.30am and go through the city centre before ending with speeches at High Bridge. 
Unite is also seriously concerned about what it calls the downgrading of the health visitors' professional status, resulting in fewer staff doing the specialist health visitor role.
Steve Syson, Unite regional officer, said: "Our members have had tremendous support in their local communities by a public that recognises the important work they do for families and children throughout Lincolnshire.
"However, they have been met by a brick wall in the form of a council that remains intransigent, despite three meetings under the auspices of the conciliation service, Acas. The attitude of the council is immoral as it is denying our members legitimate pay rises.
"The council has proffered 30 grade 10 jobs, which they have conjured out of nowhere, that may ensure this pay increase. But these contracts are shrouded in secrecy so we don't know what would be required from our members – it could mean a long-term erosion of employment condition. Also, these contracts are not enough to cover all of our 58 members.
"Unite remains open for constructive dialogue with the council 24/7 – but until pay parity is guaranteed for all health visitors employed by the county council our campaign for pay justice will continue."
Heather Sandy, Interim Director of Education at Lincolnshire County Council, previously said the authority "highly values the role of health visitors as part of our workforce" and called them "an essential part of children services".
"We have always been prepared to sit round the table with Unite and will continue to be available for further talks so we can resolve the issue as soon as possible," she said.