August 15, 2019 4.38 pm
This story is over 28 months old
Lincoln students celebrate A-Level results success
Well done everyone!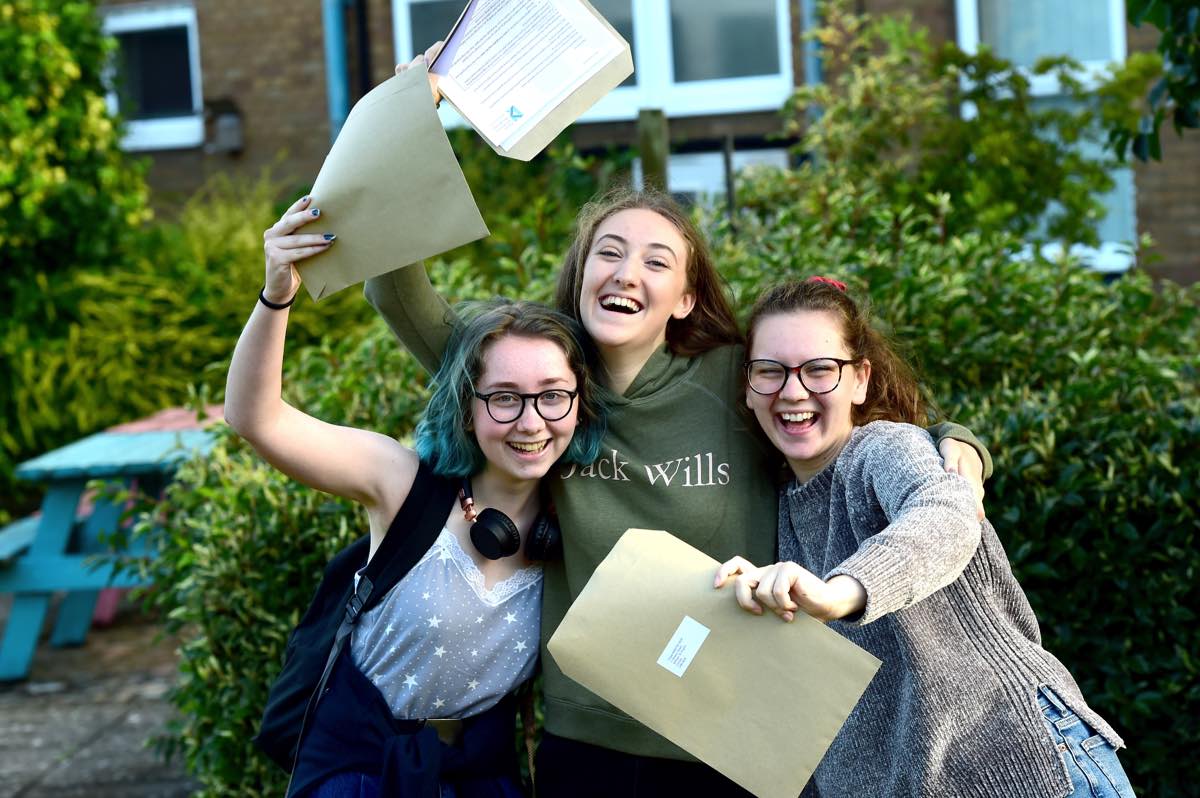 Students in and around Lincoln celebrated opening their A-Level results envelopes as they prepare to embark on the next chapter of their life journey.
Whether planning to go to university, taking a gap year or going straight into work, their grades could make all the difference.
The provisional pass rate for A-Level entries for schools in the county is 97.6% which shows that most students achieve this internationally recognised gold standard.
The proportion of entries that achieved A*-C grades has increased from 2018 and almost half of Lincolnshire's schools have improved their performance on this measure.
In 11 Lincolnshire schools the proportion of entries achieving A*-A is above the national figure. Nine schools have increased their percentage of entries achieving A* grades.
Heather Sandy, Interim Director of Education said: "Once again, Lincolnshire's students have performed strongly in these difficult examinations. The students have worked hard and deserve their success. I'm proud of their achievements and wish them the very best in their future plans."
Here's a roundup of results from Lincoln and surrounding areas.
Lincoln College
Lincoln College students achieved a 100% A-Level pass-rate across all courses with 75% of students achieving higher pass grades.
Mark Locking, Lincoln College Group Managing Director for Education and Training, said: "I'm really proud of the hard work, dedication and tenacity of our students, who now have a great platform to enter higher education, or to start their careers in work."
---
Lincoln Minster School
Nearly a quarter of A-Level pupils achieved A*-A grades in their recent exams at Lincoln Minster School.
Pupil Mia Gray will go to Oxford to study Human Sciences, Tilly Holmes and Connaire Moorcroft will both study Architecture at Nottingham and Newcastle respectively, and Rhiannon Ackland will study Natural Sciences at Cambridge.
Another student, Florence Hand, has achieved a place at the prestigious Royal Academy of Dramatic Art (RADA).
Louis Sadler achieved three B grades and an unconditional offer to study Law at Exeter and Ted Latus, who plans to have a gap year before joining the Royal Navy, achieved A, B and C grades.
---
The Priory Academy LSST
The Priory Academy LSST in Lincoln has seen an increase in the total number of A*-B and A*-C grades achieved by its students.
The majority of students have secured places at their chosen universities or destinations for next year, including five going on to study Veterinary Science, five to study Medicine and four going to Oxbridge.
Finlay Beresford achieved an A* and three A grades. He said he is "delighted and cannot wait" to go to the University of Oxford to study Philosophy, Politics and Economics.
---
Lincoln Christ Hospital School
Lincoln Christ's Hospital School Sixth Form have seen their best ever results for A Level and vocational courses in Year 13. It even surpassed last year's record breaking results.
In all, 99% of all courses undertaken achieved a pass grade, including 100% of vocational courses, with 63% of students achieving at least one of the higher grades A*-B.
The average grade gained also increased, with 17% more top grades seen.
Mark Edgar, retiring Director of Sixth Form, said: "It is such a pleasure in my last year at LCHS to see so many students doing exceptionally well. The increase in the higher grades is particularly pleasing."
---
The Priory Lincoln Academy
At The Priory Lincoln Academy 93% of students who applied to higher education have secured a place to study at degree level.
They include outgoing Head Boy Ben Smith who secured A grades in Mathematics and Sports and is now going to study Sports Management at Loughborough University.
Deputy Head Boy Jacob Cuff achieved an A* in Mathematics, B in Biology and Distinction* in Sport. He will continue his passion for Mathematics and Sports at the University of Lincoln.
Deputy Head Girl Kacie Green achieved A grades in English and History. She will be going to York University to study English Literature.
---
North Kesteven Academy
Students at North Kesteven Academy in North Hykeham celebrated their A-Level successes on results day on Thursday morning.
In Chemistry 100% of students achieved A* or A grades at A-Level. More than half of students taking Art A-Level achieved A* or A grades and nearly all studying English achieved grades A* to C.
Pupils who studied Drama at A-Level achieved a significant number of the highest grades. Those studying Product Design and Psychology A-Level also did exceptionally well this year. There were also significant successes in vocational subjects including Engineering and all Performing Arts subjects.
Deanna Love achieved Distinction*, Distinction*, Distinction in Performing Arts. She will be studying for a degree in Performing Arts at Addict Dance Academy in Leicester.
Jess Symonds achieved a Distinction in Performing Arts and grade C in A-Level Drama. She will be going on to complete an apprenticeship with the East Midlands Ambulance Service.
Nathan Clark achieved two grade A* in A-Level Maths and Biology and two grade As in A-Level History and Chemistry.
In her A-Levels Hannah Richardson achieved an A in Art, B in Drama and Psychology and A in EPQ (Extended Project Qualification). She will be going to Leeds School of Art.
---
Sir Robert Pattinson Academy
Almost two thirds of all A-Levels resulted in A* to C grades at Sir Robert Pattinson Academy sixth form – a 5% increase on last year.
The Academy also saw the school's pass rate improve on last year with over 97%, which is a 4% increase from 2018.
Nearly a third of all A-Levels taken at the school resulted in A* to B grades. Students also achieved outstanding results in vocational qualifications with top grades in CACHE health and social care, sports studies, media and extended project qualifications.
Among the students who excelled are:
James Tyson (Chemistry A, Mathematics A, Physics B, Extended Project A) is having a gap year before going to Sheffield to study Chemistry
Sophie Alexander (Psychology B, Religious Studies A, Sociology A) is going to Sheffield to study Sociology
Hannah Holland (Art A, Geography B, Media B) is going to Nottingham Trent to study Design, Film and TV
Lauren Robinson (English C, Children's Play Learning and Development D*, Health and Social Care A*) is going to Manchester to study Early Years and Childhood Studies
Josiah McNeil (Chemistry B, Mathematics B, Physics B, Extended Project B) is going to Sheffield to study Chemical Engineering
Benjamin Clarke (Politics C, Religious Studies B, Sociology C) is going to BG to study Theology, Philosophy and Ethics in Society
---
William Farr C of E School
Students at William Farr C of E School in Welton achieved the highest A-Level pass rate for the past five years.
Over 98% of the pupils passed their A-Levels, beating the previous best of 97% in 2015.  One in five of all the A-Levels entered at the school resulted in A* or A grades, with nearly half of all exams achieving A* to B grades. This also beats the results from four years ago.
The average grade for all 145 students was C+. The average score per entry was the second highest since the new scoring system was introduced.
Among the students who excelled are:
Isaac Wiggers – 5 A*s
Joseph Cheng – 4 A*s and a B
Kieran Lee – 2 A*s and an A
Dean Warburton – 2 A*s, 1 A and 1 B
Beth Train-Brown – 3 A*s and a B

Sarika Dhorajiwala – 2 A*s, an A and a B
---
Lincoln UTC
A-Level students and students, who have taken the specialist BTEC in engineering, at Lincoln UTC achieved 100% pass rates.
Approximately two thirds of the UTC students specialised in engineering, which is equivalent to three A-Levels. Results this year were the best ever with 95% achieving distinction grades.
Tom Rounsley from the A-Level Cohort achieved two A*, A and C in maths, physics, biology and chemistry. William Bero achieved a triple distinction star grade in his engineering.
---