September 2, 2019 9.44 am
This story is over 27 months old
Crews rush to house fire off Monks Road
Four fire crews were sent to the scene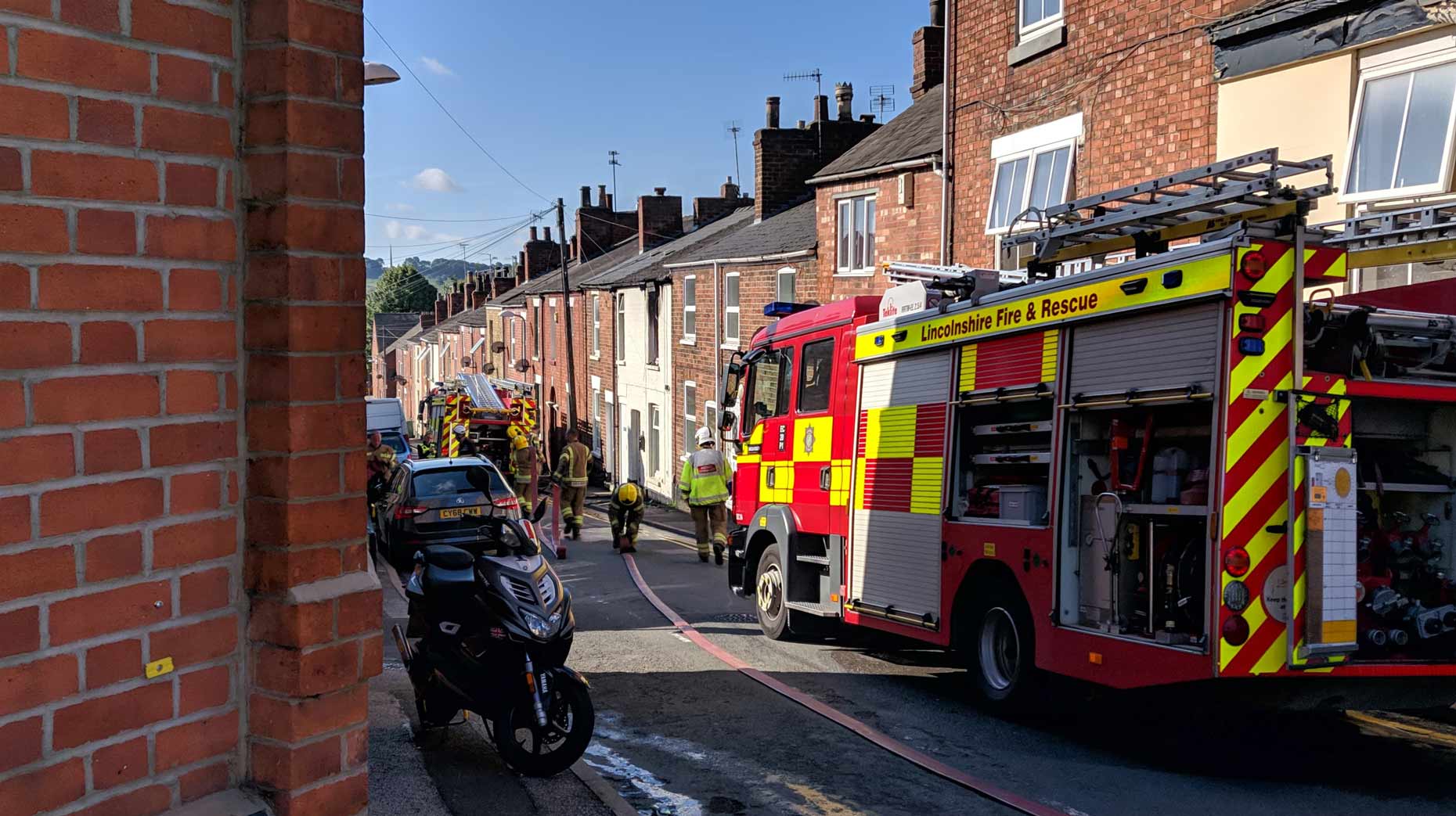 Emergency services were called to a house off Monks Road on Monday morning as people watched smoke billow from the property.
Lincolnshire Fire and Rescue sent two crews from Lincoln North and one each from Lincoln South and Saxilby to the fire on St Hugh Street off Monks Road.
The fire was reported to Lincolnshire Fire & Rescue at 9am on Monday, September 2.
The fire appeared to be under control by around 10am. A window could be seen completely blown out and charred around the edges.
A reporter at the scene said traffic is being diverted through Rosemary Lane and Monks Road is completely shut off.
Lincolnshire Police said: "We have closed the road. Diversions are in place but this is causing delays so please avoid the Monks Road area if possible,
"The fire was reported to us at just after 9am this morning. A scene guard is in place to allow an investigation to take place. Further details will be released later today."
A spokesperson for Lincolnshire Fire & Rescue confirmed at around 12.50pm that the fire had been extinguished and fire engines had left the scene.
They said: "There is now a joint investigation being completed by Lincolnshire Police and Lincolnshire Fire & Rescue as we look to explore the cause.
"It is anticipated that we will be on site for a significant period and advise people to avoid the area."
It is not yet known if anyone has been injured.
A next-door neighbour to the property on fire told a reporter from The Lincolnite that she was in bed with her daughter when she heard shouting.
Karen Wade said: "I heard shouting next door with one of the guys saying 'get out there's a fire!' so I went outside to see what was happening.
"The next thing I heard was a lot of things being smashed and then I saw a TV flying out of the top window into the street.
"I could also see thick black smoke when it started and said to myself that something like that 'couldn't be an accident.'
"Some of the fire services told me that the guy who lives there is still in the house and is refusing to come outside."
Harry Elston and Jack Glasson also said: "We were just a couple of streets down when he noticed thick black smoke coming from St Hugh Street.
"When we got here we could see the smoke billowing from the top window, but we couldn't see any flames at that time."
Keeran Hitchborne said he was woken up by the sound of fire engines on the street.
"We haven't been allowed anywhere near the house. I was asleep at the time but the sound of sirens woke me up."
A resident on the street told reporters he was in the area when he noticed smoke in the air.
He said he saw thick smoke coming from the top bedroom window, but couldn't see any flames.
This is a developing story. Refresh for updates.