September 5, 2019 4.06 pm
This story is over 50 months old
Owner slams "vile and cruel act" after cat left at risk of losing eyesight
The owners are even considering moving away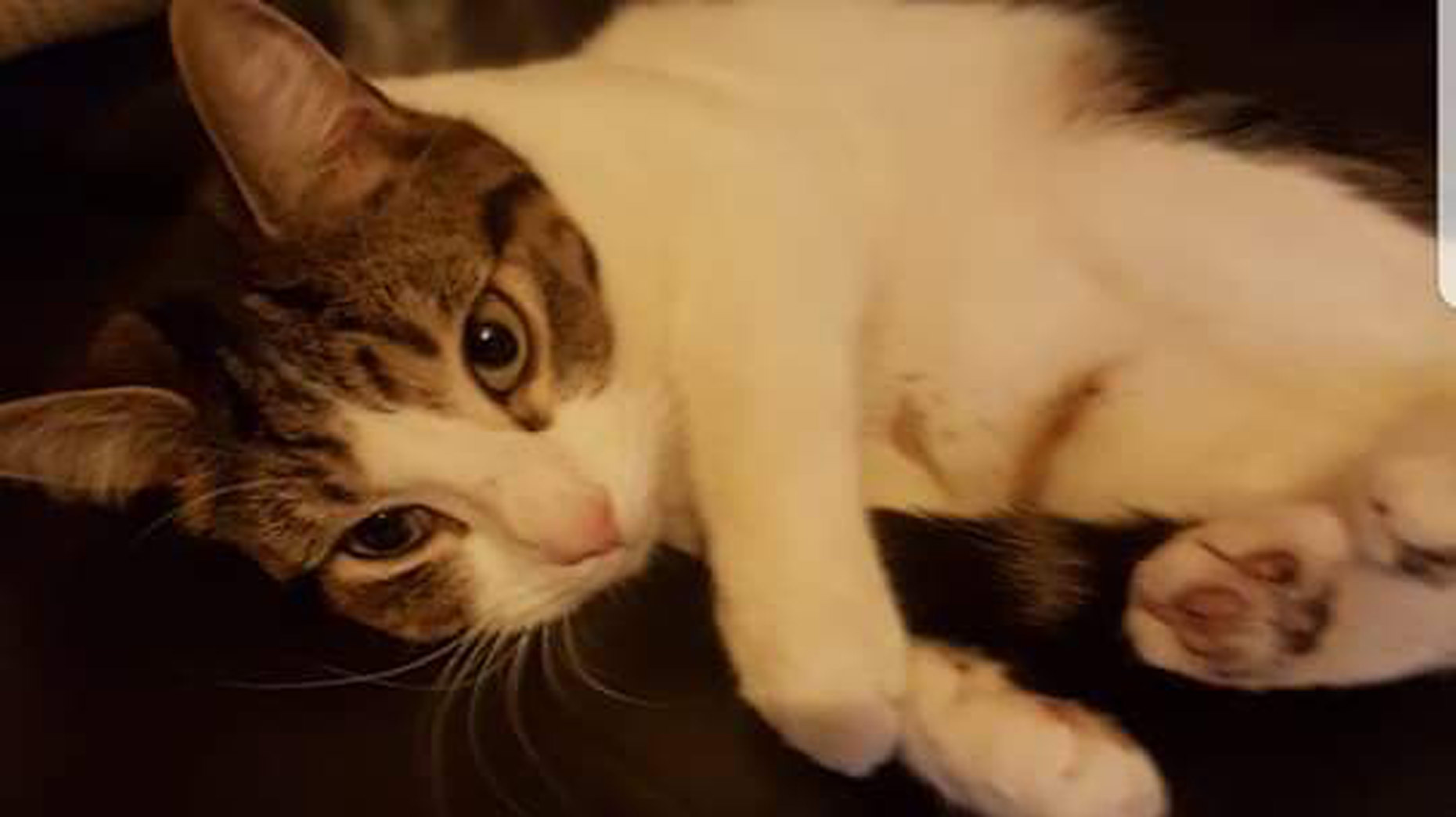 A pet owner near Gainsborough is distraught after a "vile and cruel act" left his cat with a blood covered face and at risk of losing its eyesight.
As previously reported, a two-year-old tabby called Toby was rushed to Gordon Lochrie Veterinary Surgery in Morton, Gainsborough after dragging himself home with a bullet in his head, although it is not yet known what caused it. It is believed the incident happened near Westminster Close in Morton.
Toby is owned by Mick Edwards, his wife and daughter, who may even consider moving away from the area after this barbaric incident, which was reported to the police and the RSPCA.
The family own three cats – Toby, Daisy and Jasmine – and they knew something was up when Toby's food hadn't been touched all day by Tuesday evening.
Warning – distressing images below
Mick told Lincolnshire Reporter: "We went outside calling him and to look for him and we had a sleepless night on Tuesday.
"On Wednesday there was a frantic ring at the doorbell from the neighbour who had seen the cat, who had dragged himself back home. I put Toby straight in the car and took him to the vets.
"It was an absolute horror and my partner was breaking down in tears. Toby's face was in a mess and we initially thought he'd been run over and he was crying.
"We couldn't believe it. Who would shoot our family member in such a barbaric way? The x-ray showed a ballbearing like bullet/pellet. Why has someone even got a gun? This is not the done thing here.
Mick said where they live in Morton is normally such a quiet and nice area, so "this is not right".
He added: "We may even move from the area next year as it is not somewhere I want to be if this can happen. It is uncalled for and it's put us off big time from what is a nice area."
Name and shame
Amanda Lochrie, co-owner at Gordon Lochrie Veterinary Surgery in Morton, previously said she wants whoever is responsible for injuring Toby named and shamed.
She told Lincolnshire Reporter: "We think from the injuries it looks as if someone shot the cat from close quarters from above. It was a malicious attack done with intent. It's absolutely sickening.
"A black ball-like bullet was pulled out from just behind the cat's ear. It's gone in with such force it nearly pushed the cat's eye out and we don't know yet if the cat is going to lose its sight."
Fundraising for Toby
Mick initially set up a fundraising page on Just Giving to get a little help and has been surprised at the generous outcome, which currently stands at over £550.
He said it will help pay for the initial treatment and care and for additional stuff they need for Toby.
Anything left over will go towards any future treatment or operations needed – click here to make a donation.
Mick added that Toby was drugged up and sleeping on Thursday afternoon and that, although he is giving them snuggles and is slowly on the mend, "he's not out the woods yet". They won't know until the swelling goes down what will happen next.
A spokesperson for Lincolnshire Police previously said: "We received a call at 12.32pm on September 4 reporting that a cat had been shot on Westminster Close, Morton. It is believed that this happened on September 3. Anyone with information should call 101 quoting incident 195 of September 4."
An RSPCA spokesperson said: "We are very concerned to hear about this incident, and ask anyone with information that might help us investigate, to contact our cruelty line on 0300 1234 999.
"Sadly, we do see cases where pet cats are shot and suffer catastrophic injuries, some having to have a leg amputated or even some not making it and dying as a result of their injury. Every year the RSPCA receives almost 1,000 calls to investigate cases and help hundreds of animals that are the defenceless victims of air gun attacks.
The RSPCA added that penalties faced if caught deliberately using an air gun to injure an animal can be up to six months in prison and/or an unlimited fine if found guilty under the Animal Welfare Act.