October 2, 2019 3.31 pm
This story is over 32 months old
Devastated Lincolnshire villagers return to flood-hit homes
"I just kept mopping but I just could not keep up with it."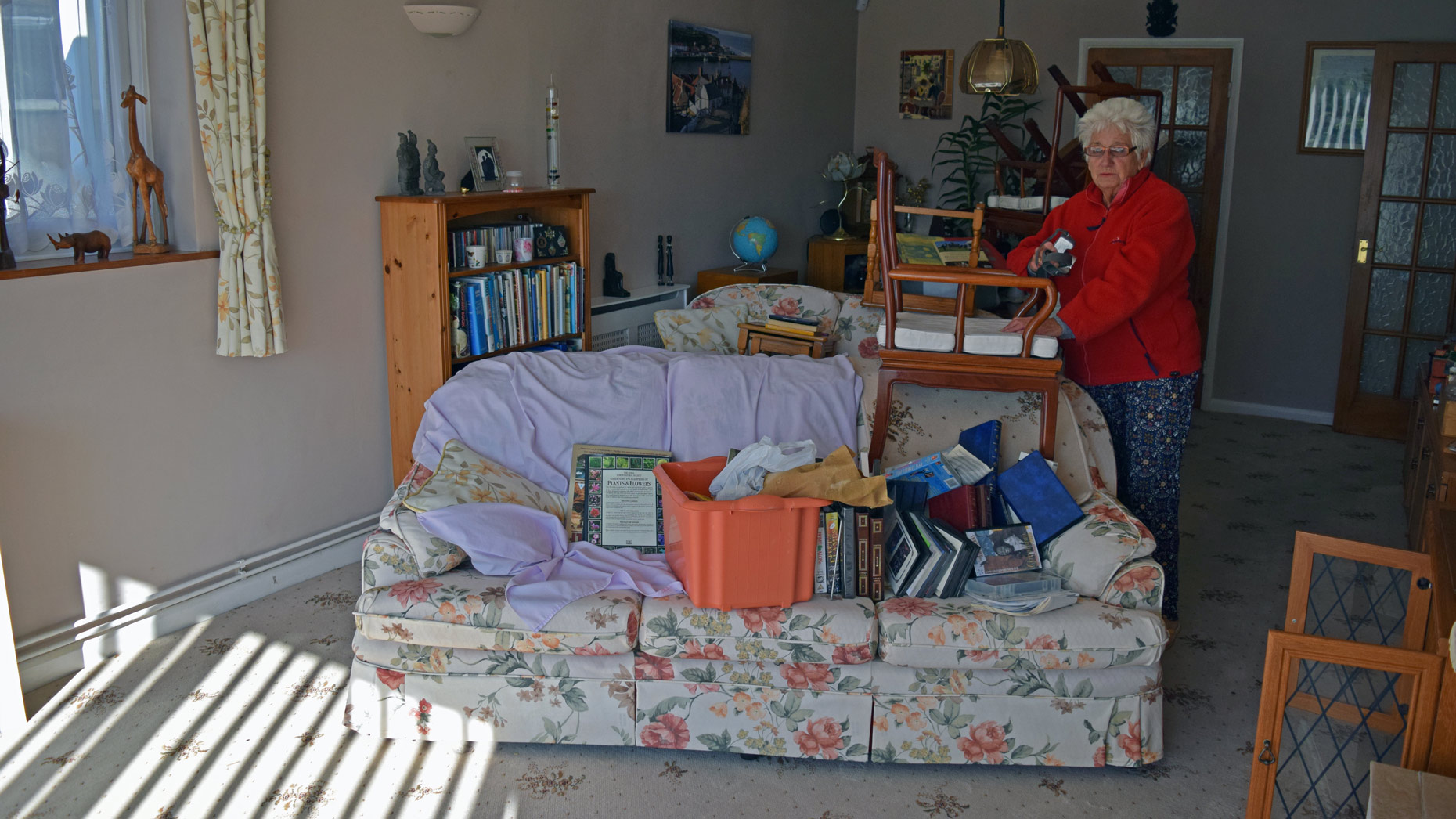 People living in Ruskington made desperate attempts to save their valuables when floodwater surrounded their bungalows and started to seep inside.
As previously reported, firefighters rushed to Westcliffe Road on Tuesday, October 1, where the beck behind a row of bungalows had breached.
The whole county has been on flood alert for the last week but this quiet street has felt the brunt of the heavy and persistent rains.
Things were beginning to return to normal on Wednesday, October 2, but sandbags were everywhere, large puddles were still in the gardens and precious belongings have been ruined.
Jean, 79, and Roy Allen, 77, spent the night at their son's house in Sudbrooke but visited their bungalow on Wednesday to start cleaning up.
"I was trying really hard to keep the water out," Jean told Lincolnshire Reporter. "I just kept mopping but I just could not keep up with it.
"Roy eventually told me that it was pointless. We started lifting anything we could off of the floor but so much has been ruined.
"It is devastating to see. We have seen the garden flood before but it has never got inside in the bungalow before."
She added that the floodwater got up to about eight inches.
Just a few bungalows down, Norman Hipkiss and Linda Bunn, who are both in their 60s, told a similar story of devastation.
Norman said: "It was around lunchtime when I got a phone call from Linda, she said 'the water is starting to come inside the bungalow.'
"The water got up to about nine to ten inches and has ruined a lot of our things.
"We don't know what happened but it was like the floodwater rose from the ground. The entire bungalow has been ruined.
"The flood has been devastating really, we were desperately trying to get our furniture and any valuables we had off of the floor."
Many on the street wanted to praise the work of the fire crews who used manpower and pumps to save their homes.
There have been warnings in place from the Environment Agency in Boston and Gainsborough and police have asked people to avoid Westcliffe Road in Ruskington, Station Road in Potterhanworth and the A153, where the Billinghay Skirth was spilling into the carriageway.
Yesterday, while the high tides passed by without incident in Boston, a local school evacuated its students due to a flood warning. It appears, however, the call to evacuate was fake.
Station Road in Potterhanworth has been closed underneath the railway bridge for days, but despite the warnings, a few have been caught out while attempting to cross the deep water.
Current Lincolnshire flood alerts
FLOOD WARNINGS – FLOODING IS EXPECTED, IMMEDIATE ACTION REQUIRED
River Trent at Beckingham Marsh, Gainsborough
FLOOD ALERTS – FLOODING IS POSSIBLE, BE PREPARED
River Trent from Cromwell Weir to Gainsborough
Rase and Upper Ancholme
Lincoln Watercourse
Witham in North Kesteven
Minor Watercourses in North Kesteven
Lower River Witham
East and West Fens
Areas near the tidal River Witham, the Haven, and the Wash frontage
Minor Watercourses of South Forty Foot Drain
East and West Glens