October 21, 2019 12.53 pm
This story is over 49 months old
New Lincoln to London Azuma service departs
More accessible direct trains between Lincoln and London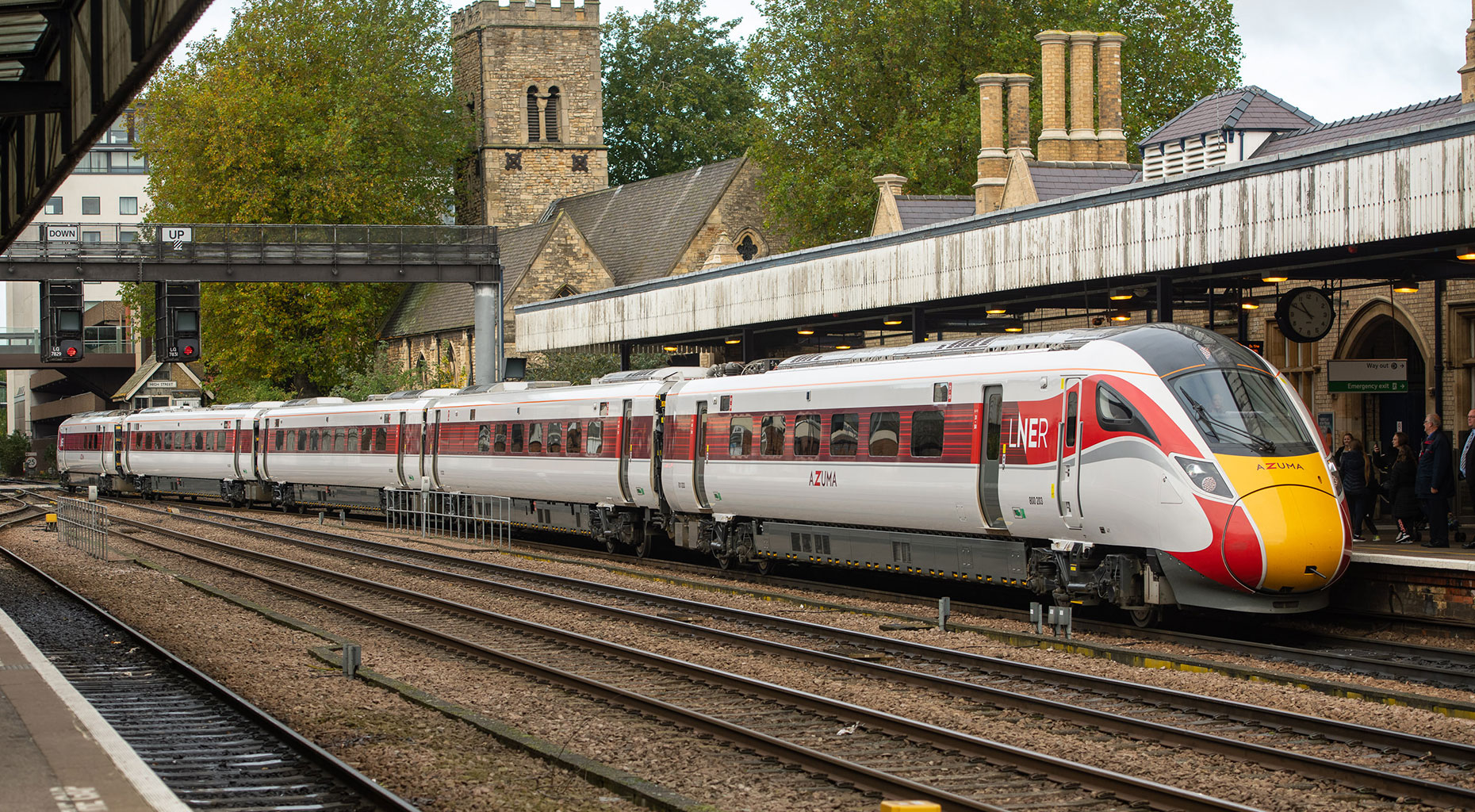 The inaugural LNER Azuma service left Lincoln on Monday morning after the launch of a new service between the city and London King's Cross.
The first service left Lincoln at 11.18am on October 21 after a special event at Lincoln station. During a welcome speech Suzanne Donnelly, Commercial Director at LNER, said it "firmly puts Lincoln on the LNER map".
The service will be a significant boost from one to six return services a day by the end of the year.
The average journey time between London and Lincoln will be 1 hour and 55 minutes – click here for more information and ticket price options.
New Azuma fleet
The Azuma fleet will provide a two-hourly Monday to Friday service departing London at 10.06am, 12.06pm, 2.06pm and 4.06pm. Southbound services will depart Lincoln at 11.18am, 1.23pm, 3.26pm and 5.14pm.
In addition, the current 7.30am Lincoln to London, and return service from London at 7.06pm, will be replaced by an Azuma train later in the year.
A sixth service will be introduced as part of the December timetable change from December 15. London Kings Cross to Lincoln departing at 8.06am and the return journey leaving at 8.25pm.
Additional weekend services will be introduced in December. The Saturday serviced will begin a week earlier on Saturday, December 7, to coincide with the Lincoln Christmas Market. From the December timetable change there will be five services in each direction on Sundays.
The Azuma trains offers onboard Wifi, plug sockets at every seat and more legroom in Standard Class. There is also extra space for bags, ergonomically designed seats and a range of refreshments served at seat or from the Cafe Bar.
The trains will run using power from the overheard electric wires between London and Newark North Gate. The bi-mode Azuma trains will then operate under diesel power for the short stretch between Newark and Lincoln.
The existing fleet will be fully replaced by June 2020.
LNER is also introducing a new Lincoln Business Package ticket. The offer, which has been developed in partnership with City of Lincoln Council, includes overnight parking and a £5 on boosts food voucher within the price of the ticket. It is the first of its kind on the LNER route.
It's a "game changer"
Councillor Colin Davie, Executive Councillor for Economy and Place at Lincolnshire County Council, told The Lincolnite: "We are incredibly proud of the entire team effort that has made this possible and extremely grateful to LNER for fulfilling the commitment that was made some time ago.
"I think that this service is going to open up Lincolnshire in a way that most people can not even imagined yet. We're going to see a complete change in the tourist demographic, we're going to see a lot more weekend visitors from London and the south, and a lot more international visitors are going to come and find Lincoln and then Lincolnshire and realise what an amazing place that we live in.
"It's a great place to live in, work in, and invest in and we think this is a game changer, and that this will be the beginning of a fantastic new chapter in the history of Lincoln and Lincolnshire."
Councillor Martin Hill, Leader of Lincolnshire County Council, described it as a "massive boom for the city".
Mike Timson, who has been in his post as Chief Executive at Visit Lincoln for four weeks, said: "It's going to bring tourists in and out and it makes it more accessible for anyone in the country now to come to visit Lincoln.
"It makes it more accessible, it's going bring people and jobs in and a lot of investment into the city as well. We're very excited about it at Visit Lincoln and so are all the local businesses as well.
"The transport has been a massive investment into the city over the last 10 years with the bypass, the bridge, the trains, and it's only going to get better and better."
See the rest of our gallery below: