Christmas wish granted as Lincoln girl stands with new legs for the first time
It's a dream come true!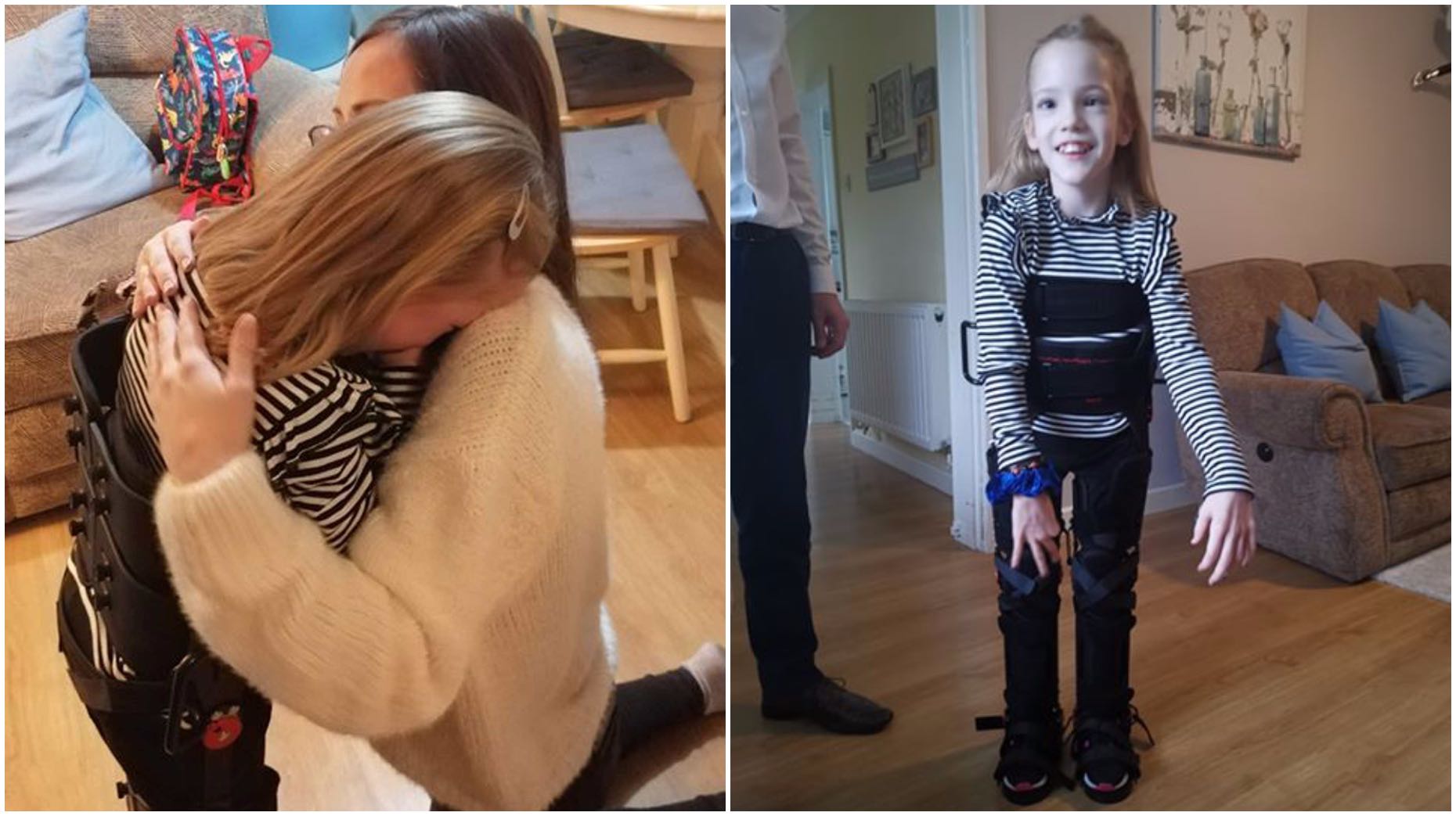 A 10-year-old girl from Lincoln has seen her Christmas wish come true. She stood up for the first time on her own thanks to a life-changing brace, funded by the generosity of others.
As previously reported, Tarli Staines suffers from Cerebral Palsy, focal epilepsy and autism and currently needs full-time care. The initial target of £1,600 was raised on a GoFundMe page within 72 hours to get the young girl an iKAN hkafo brace, and the donations continue to pour in to hopefully allow the family to fund extra equipment.
James Edgar from Quantum Healthcare Products, who Tarli's mother Leoni said has been "amazing", came out to their house on Tuesday for an assessment and to fit the brace.
No adjustments were needed and it was a perfect fit, so Tarli can keep the brace, which will be paid for as soon as the funds clear.
Leoni was filled with emotion when she told The Lincolnite that her daughter "cried her heart out" when she was stood up for the first time ever unaided and for a photo with her brothers on Tuesday.
It was an emotional and happy day for Tarli, her parents and her brothers, Ethan and Harvey.
Leoni said: "Tarli just kept saying to me that she's so happy. She's so overwhelmed and also determined. I've never seen anyone cry as much as she did from pure happiness.
"It is so overwhelming, I have still not processed it now, I am so happy and so grateful for all the support everyone has given us and how generous people have been. It is the most extraordinary story from Saturday morning until Tuesday, the dream has come true, and I can't put it into words.
"Even down to the little things that we've sat picturing like when it's Christmas, if it snows she'll be able to build her first snowman, there's going to be so many firsts. We are even talking about going bowling at the weekend, the possibilities are endless.
"All the little things we take for granted will all be brand new firsts for her. As she gets older and her interests and passions change, there is nothing that can hold her back now."
With the new brace, Tarli was able to walk assisted with the handles on the side. She walked through to the kitchen and washed the pots, and she managed to stand unaided for three to four minutes. To make sure she doesn't fall, her parents need to stay at arms length at all times and assist her.
Tarli has nicknamed her new legs 'Robert robolegs' due to a television programme she watches called Justin's House.
Leoni added: "The end goal is that she'll be able to walk around the house wearing the brace and without our help within a few years."
Leonie's sister-in-law Clare Staines set up a GoFundMe page to raise £1,600 for the brace, which will help strengthen her muscles and avoid needing further operations.
After advice from GoFundMe the target has now changed to £3,500, with £2,610 being raised at the time of writing. If the new target is hit this will help to fund private physio, a dance sports chair and other equipment.
Leonie added that she and Tarli's father Luke Staines both wanted to say a big 'thank you' to everyone who has supported them.