April 29, 2020 5.06 pm
This story is over 20 months old
Lincolnshire shows its appreciation ahead of Captain Tom's 100th birthday
Celebrating the achievements of a truly remarkable man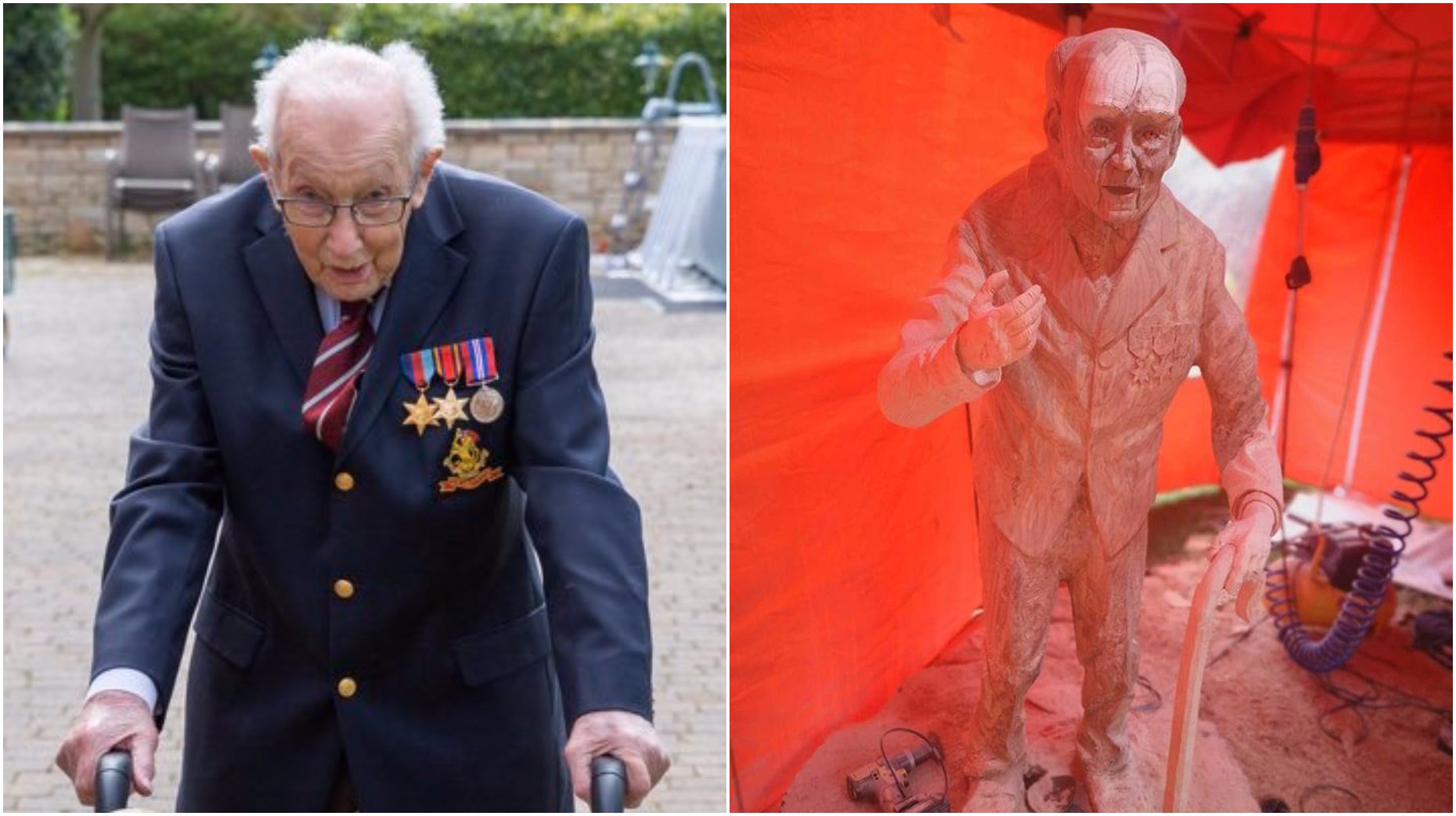 A special flypast, life-size chainsaw carving and a commemorative sculpture are just some of the ways Lincolnshire is honouring the 100th birthday of Captain Tom Moore, who went viral raising millions of pounds for the NHS.
The war veteran, who turns 100 on Thursday, April 30, raised over £29 million for the NHS during the coronavirus lockdown by walking laps of his Bedfordshire garden.
His story inspired the nation and a school attended by his grandson Benjie Ingram-Moore was inundated with more than 125,000 birthday cards from people across the globe.
People in Lincolnshire have also been doing their bit to celebrate Tom's achievements and to mark his upcoming milestone.
A message from Tom was posted on his Twitter page on Wednesday afternoon, saying: "It is quite extraordinary that I am turning 100. It is even more extraordinary that I am doing so with this many well-wishers and I am in awe at the response my walking has had.
"To everyone who has donated, sent birthday cards and messages, sincerely thank you. Please stay home, stay safe. Tomorrow Will Be A Good Day".
Life-size chainsaw carving
Simon Bogg, owner of Xtreme Chainsaw near Louth, is renowned for creating large scale, off the wall, technical chainsaw carvings, including of Guy Martin on his bike and silverback gorillas.
Due to lockdown he is unable to go to people's houses or source all his materials, so he is isolating at home and wanted to use his time to do something positive to honour a "remarkable man".
Simon, 46, is currently working on the 5'5″ sculpture, which he aims to have finished ready for Thursday.
The sculpture will be raffled off to raise money to donate to Tom's Just Giving page. Xtreme Chainsaw has so far raised £4,100.
Raffle tickets are being sold at £2 each and can be bought via the firm's PayPal account. The raffle will be drawn on VE Day – May 8 and tickets can be purchased up until 12pm on that day. The winner will win the carving.
Simon told The Lincolnite: "Tom is remarkable, to do what he did for us all during World War II and step up to the plate again raising money. He's always smiling and a credit to the country."
RAF flypast
RAF Coningsby confirmed that the RAF Battle of Britain Memorial Flight will be carrying out a flypast to celebrate Tom's birthday with one Spitfire and one Hurricane on Thursday.
People have been advised to stay indoors and not venture out to watch the event.
An RAF spokesman said: "Weather permitting, aircraft from the RAF Battle of Britain Memorial Flight will complete a flypast to celebrate Captain Tom's birthday and mark his amazing fundraising achievement.
"The Great British public is encouraged to follow Captain Tom's disciplined example and not gather to watch the flypast but continue following PHE guidelines on social distancing."
Commemorative sculpture
Staff at Hildreds Shopping Centre in Skegness have made a commemorative sculpture to mare VE75 and Tom's 100th birthday. People are being invited to make poppies to send to the shopping centre that can be included in the display.
Some people are also taking on challenges to ensure the fundraising total keeps rising, including friends Mark Mcleod and Kev Brown, who are pledging to complete 100 miles in Tom's honour.