June 18, 2020 10.33 am
This story is over 18 months old
Calls for Lincoln SU chief exec to resign after BAME plagiarism fiasco
Lincoln SU message was almost 60% plagiarised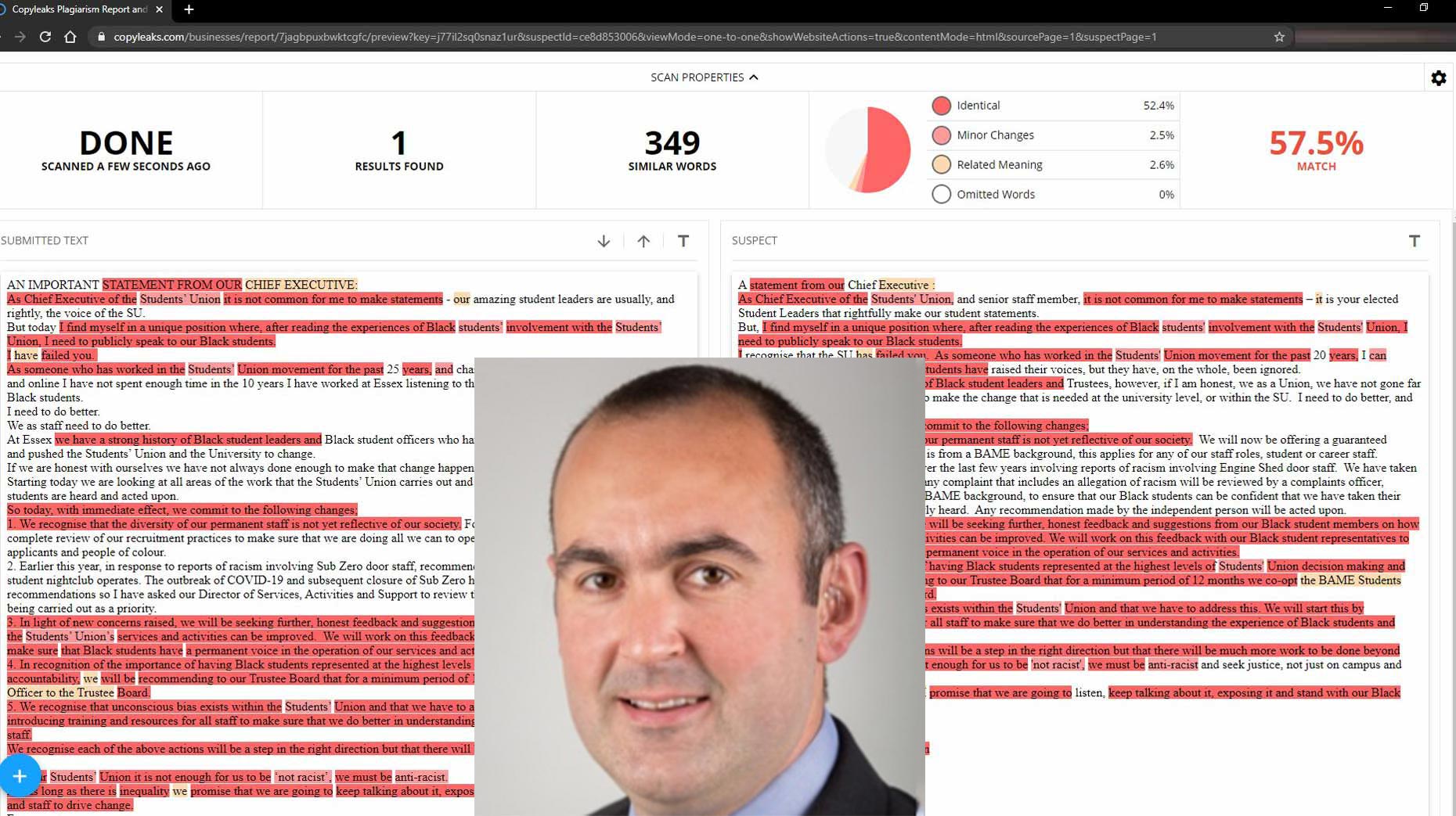 The University of Lincoln Students' Union has been slammed for plagiarism, "jumping on the bandwagon in a poor manner," and not truly supporting the Black Lives Matter message — and some people are even calling for the SU chief exec to resign over the fiasco.
James Brooks, Chief Executive of Lincoln Students' Union for almost eight years, posted a statement on the SU's Twitter page on June 16, saying it had failed black students and not done enough to support them.
However, the statement received a huge backlash, and not just because it was largely plagiarised from an earlier message from the University of Essex Students' Union.
Several students believed this undermined the message. Aidan McLoughlin said on Facebook: "If the SU can't even be bothered to write its own statement on BLM and black representation within the university, how can it expect the student population to trust it to actually implement its said changes?"
Josh Browne felt very hurt, saying: "Disappointed doesn't even begin to describe it. You have indeed failed every BAME member of the university to not even write out a statement of your own.
"This is appalling and in very bad taste. As a student of the uni, I am so hurt by this."
Georgia Petts, VP Education at Lincoln SU, tried to justify it in the 'Overheard at University of Lincoln' Facebook group, saying "the principles are the same because ultimately we have to make big changes to make sure our words turn into actions," but this annoyed people further.
Sophia Simpson said: "It is appalling that you are trying to justify your actions. Even if it's true that the universities have similar goals, there is no hiding that you have copied majority of the statement made by Essex SU. The SU have committed plagiarism and attempting to justify the statment is simply shameful!"
Specific points within the statement were also heavily criticised and ridiculed, including for its pledge of a "guaranteed preliminary interview to anyone who is from a BAME background and applies for any of the staff roles, student or career staff."
The SU is asking students to vote on whether it should lobby the university to stand with the BLM movement, but several now appear to have lost their faith in the union.
A University of Lincoln spokesperson said: "The Students' Union is an independent organisation and communicates with its own members. The university had no knowledge of the recent statement.
"As a university, our determination is to address the challenges that we and all universities face to tackle discrimination, inequality and injustices and to support our black and minority students. As ever, we will work with our Students' Union to achieve this."
Black Lives Matter Lincoln protest
Lincoln's second Black Lives Matter protest looks set to be even bigger than the first, with almost 800 people expected to attend.
Leonard Chatonzwa, one of the organisers of the recent and upcoming Black Lives Matter protests in Lincoln, was very angry with the SU's statement.
He said: "The SU response shows exactly why we must carry on speaking out and is a prime example of the problem!
"You'd think with a matter as a sensitive as this they'd be more thoughtful, not essentially jump on a bandwagon in such a poor manner! This is why we are standing up and speaking up this Saturday."