June 15, 2020 4.53 pm
This story is over 18 months old
Comedian disses thug who threw eggs at Cleethorpes BLM protest
He praised BLM crowd for a "peaceful, socially distanced protest"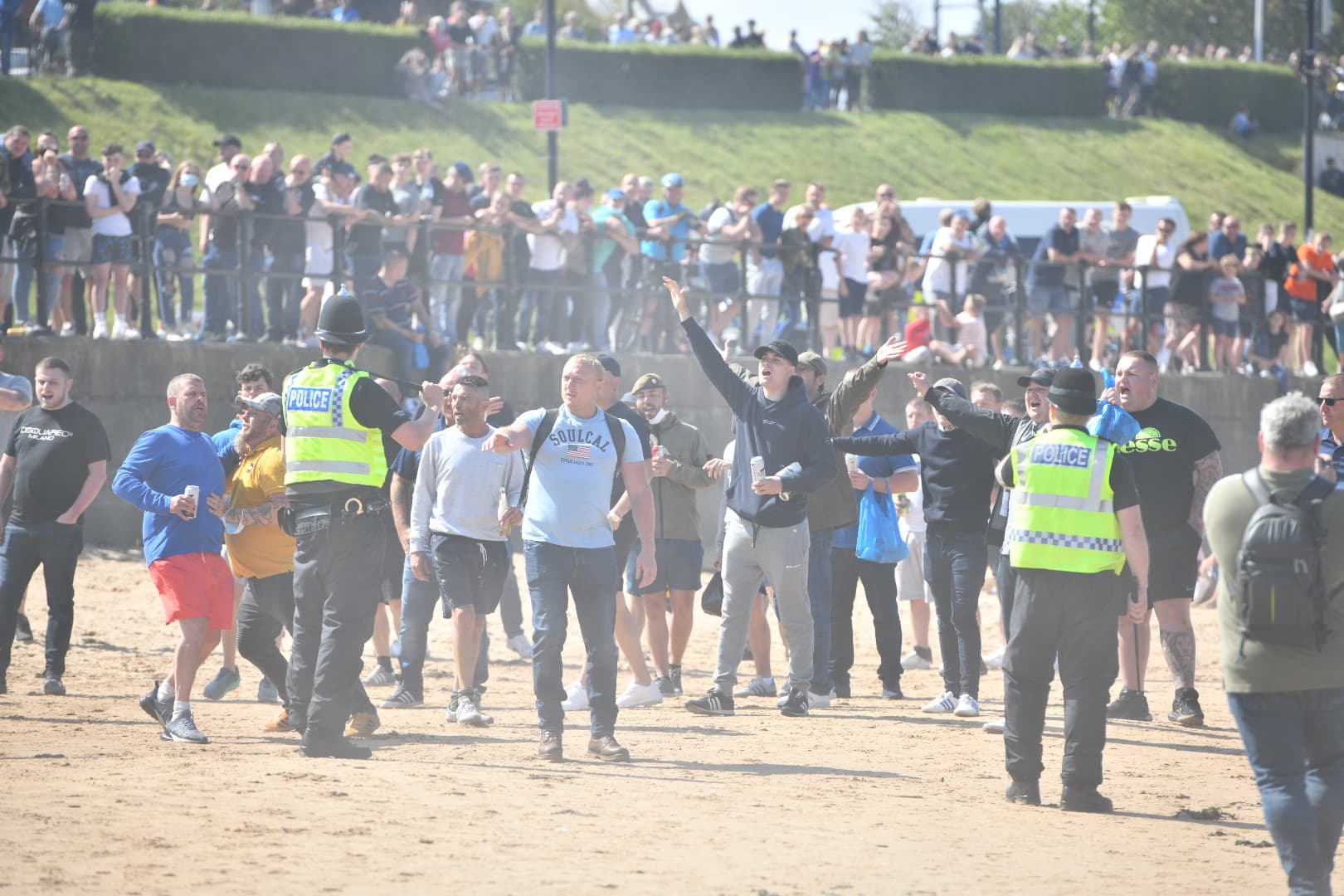 A Grimsby comedian has slammed the thuggish behaviour of some of the "blokes running towards the peaceful Black Lives Matter protest in Cleethorpes" on Saturday — including one of them throwing eggs at people.
Hundreds gathered for the peaceful protest on June 13 as Black Lives Matter Lincolnshire tried to highlight the problem of racism locally.
However, opposing smaller groups tried to cause trouble and police even had to pepper-spray them to break them up and get them to back off.
Comedian Lloyd Griffith, who has appeared on television shows including Soccer AM and 8 Out of 10 Cats, praised the organisers for the "peaceful, socially distanced protest", but hit out at the individuals causing trouble.
He said he saw a Grimsby Town FC fan throwing eggs at the people walking by whilst shouting 'you know f**k all about England".
Managed to get a photo of him just before he dived down below the bushes when I called his name (not the camera man). This isn't about defending statues. The war memorial was never in danger. This is about people still being racist is 2020. pic.twitter.com/YII3HvjZ7h

— Lloyd Griffith (@LloydGriffith) June 13, 2020
He added: "Him and countless others that were there will go on to support Grimsby Town when we're allowed back in stadiums.
"A club that has players from many different ethnic backgrounds, creeds, colours. Shouting 'black and white army'. The irony."
Humberside Police said the protest was largely peaceful, but a small group of people not protesting decided to use it as an opportunity to behave "inappropriately, threatening and assaulting officers". Two people were arrested on suspicion of assaulting a police officer.
In a series of tweets, Griffiths continued to criticise the behaviour he witnessed, saying: "If you were a football fan protesting at the anti-racism march, you should know that the footballers playing for that club you love think you're a f**king moron."
Grimsby Town Football Club issued a statement on Monday, June 15 saying it will take action.
The club said: "Grimsby Town Football Club condemns such behaviour unreservedly. We cannot control who wears such shirts and what they say, but we can and we do make it clear to them that they are not welcome at Blundell Park and appropriate action will be taken against them at the stadium."
Meanwhile, other people tried to stir up trouble in Lincolnshire when a photo emerged of a Winston Churchill statue lying on the ground with a face mask on outside a bar in Skegness — but it was not what it seemed.
Churchills Wine & Sports Bar clarified in a Facebook post that it related to a re-vamp of the decking happening at the pub.