June 22, 2020 3.58 pm
This story is over 41 months old
Hundreds sign petition for SU chief to resign over plagiarised message
The statements have caused a lot of controversy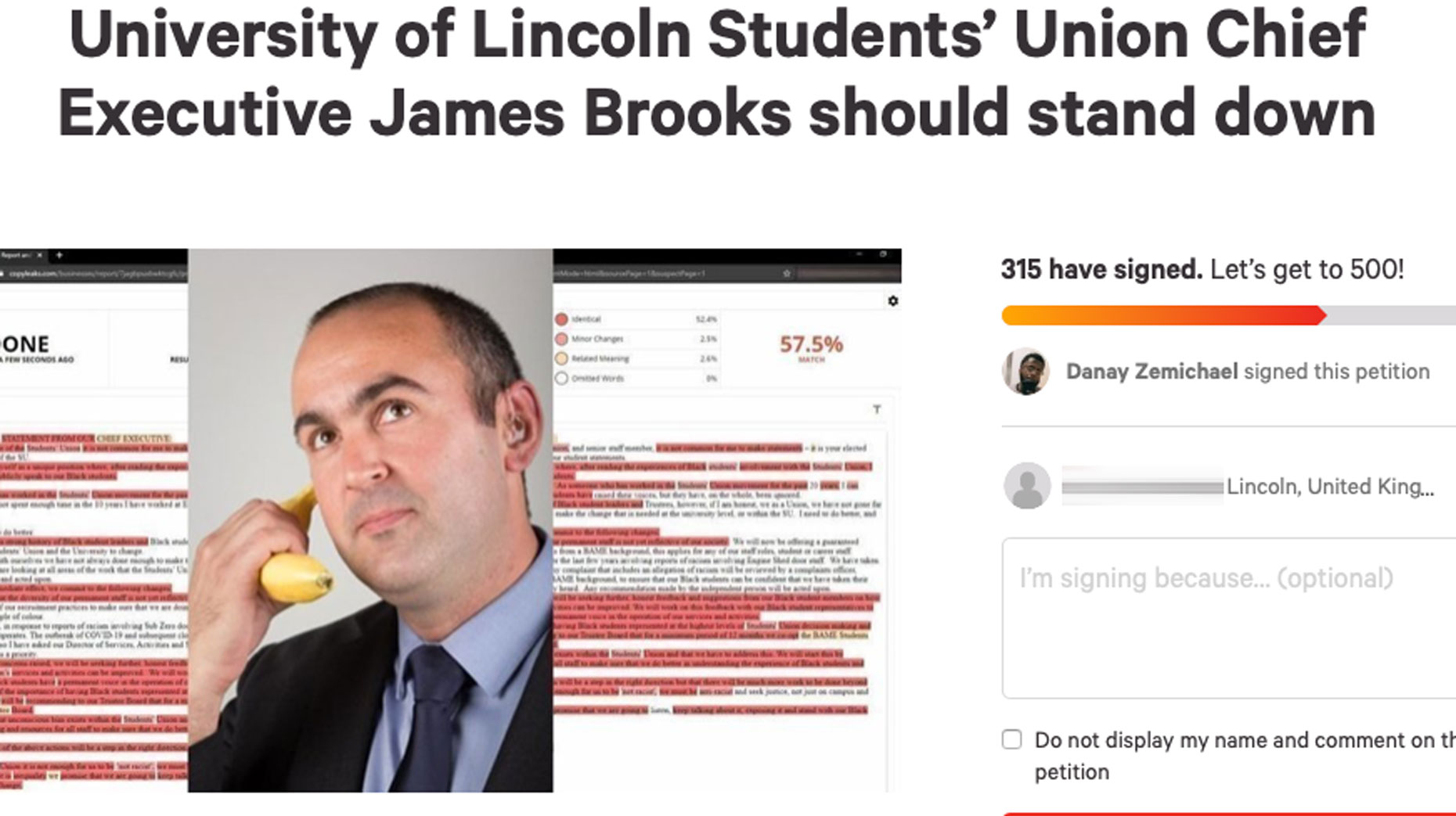 Over 300 people have signed a petition calling for the chief executive of the University of Lincoln Students' Union to stand down over his controversial and plagiarised statement to black students.
Pressure continues to mount on chief executive James Brooks, who earns over £100k a year according to The Charity Commission, who said in his original statement that the SU had failed black students and not done enough to support them.
The statement posted last week by the SU CEO of eight years, copied almost 60% of an earlier one from the University of Essex's Students' Union, and received significant backlash online.
The SU was slammed by many for plagiarism, "jumping on the bandwagon in a poor manner", and not truly supporting the Black Lives Matter message.
Brooks has since apologised over the statement, which caused hurt and was deemed "insincere and disingenuous," but still vowed to carry out the commitments he had promised.
The fiasco has prompted further calls for the chief executive's resignation. Black student Danay Zemichael started a Change.org petition, which by the time of publication has been signed by 315 people.
When asked for a statement on this development, the SU declined to comment.
On the petition page, Danay said: "This is unacceptable and undermines the message set out in the [original] statement.
"It gives off an uncomfortable feeling that embarrasses students to be a part of the university, as well as suggesting that James Brooks himself does not care enough about the issue to put the time into writing his own statement, which is disrespectful and offensive.
"The BLM movement is of huge concern to not only students of the University of Lincoln, but to the general public on a much larger scale too.
"It is worrying that the chief executive of such an important organisation within the university can show so little care and therefore he should resign immediately and allow someone more in touch with modern issues to take the role."
A copy of the SU's original statement, which has since been removed, can be seen below. A Facebook version of this same statement, with hundreds of negative comments, has also been deleted.
The original statement was posted during the same week as the second Black Lives Matter protest in Lincoln, which around 500 people attended on Saturday, June 20.