July 7, 2020 4.41 pm
This story is over 17 months old
Second Cleethorpes Black Lives Matter protest to see heavy policing
A march across Cleethorpes beach for Black Lives Matter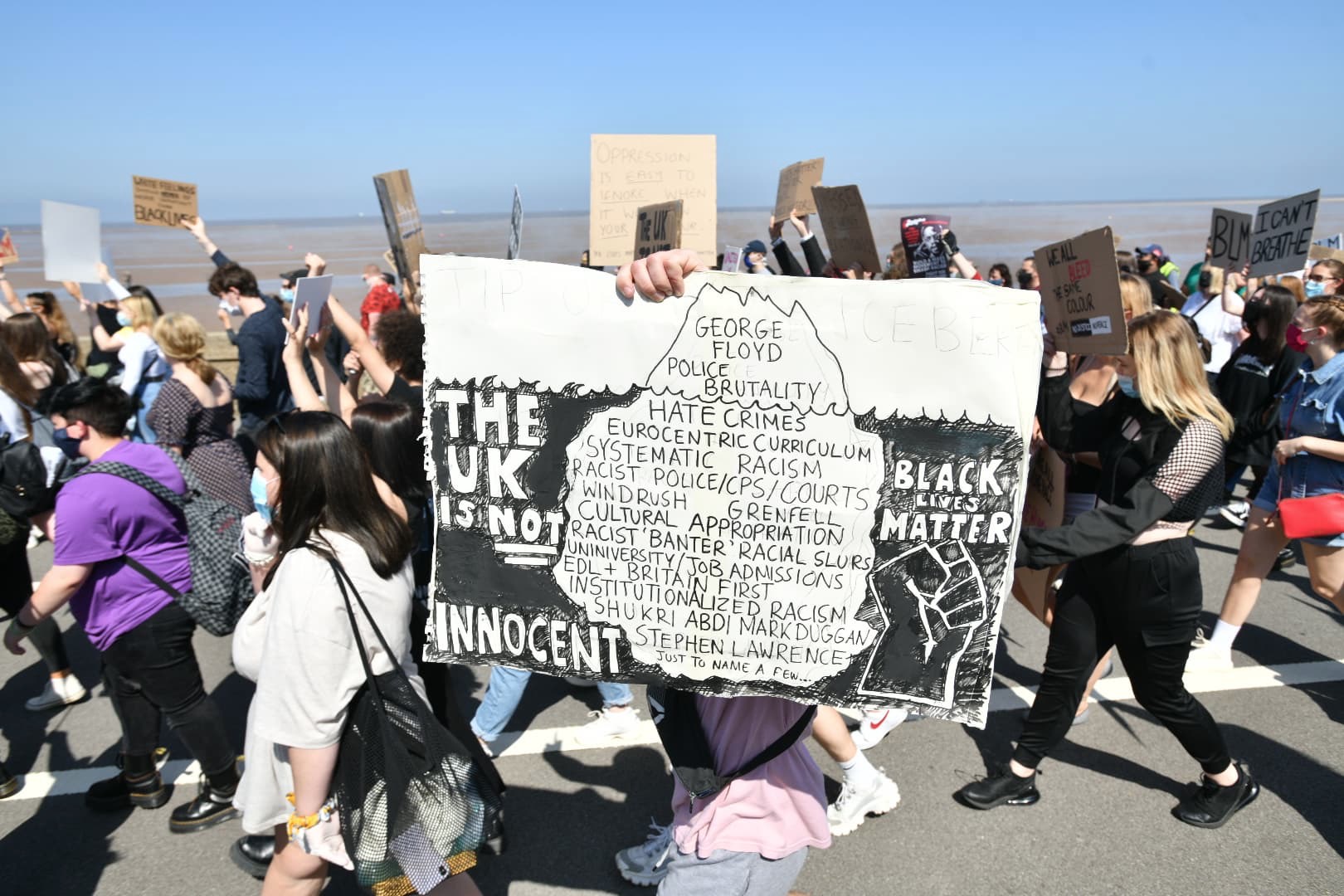 Police said they will intervene to prevent any troublemakers attempting to disturb the second Black Lives Matter protest in Cleethorpes this weekend.
Hundreds gathered for the first march in the coastal town on June 13. However, the protest did not pass without trouble as police officers had to keep away an opposing smaller group chanting "all lives matter" and even had to pepper-spray them to get them to back off.
Black Lives Matter North East Lincolnshire, which has since changed its name to Hope Not Hate North East Lincolnshire, recently had a meeting with police before finalising plans for its second protest at 3pm on Sunday, July 12.
The starting point for the march has now been agreed as Lakeside Car Park opposite Taco Bell and McDonald's. The group will march to Brighton slipway, but they will instead go to the right-hand side of the beach this time to avoid any trouble.
Over 30 people have confirmed their attendance to the event, but the group is hoping to get similar numbers to that of the first protest.
The motivation for organising a second protest was the group's disappointment at the responses its protesters received from local MPs.
Group founder Brian Milne told Lincolnshire Reporter: "Preparations are going well. We are staying away from the political side of things now and not having political speakers this time, and instead focusing on people's own experiences.
"People feel their voices haven't been listened to, including one man who has come forward who said he was racially abused in Cleethorpes last weekend. This is still a problem.
"We have changed our group name so it raises awareness of all racism and not just black lives matter."
Guest speakers are still being finalised and former Lincoln City and Grimsby Town footballer Nathan Arnold has been invited to attend to share his experiences.
Police were called into action at the first protest, including having to keep away an opposing smaller group and even pepper-spraying them to get them to back off.
Grimsby Town FC condemned the behaviour of "certain individuals wearing the club's shirts and chanting songs associated with the club", while comedian Lloyd Griffith slammed a thug who threw eggs at the BLM protest.
Humberside Police's Chief Superintendent Darren Downs said they "will not tolerate anyone who uses these events as an opportunity to act violently or commit crime".
He said: "We have been working closely with the organisers of all protests taking place across the Humberside force area, to make sure it's a safe environment for everyone. I want to thank them for their constructive approach.
"We recognise the rights of people to express their feelings and I echo the National Police Chief's Council (NPCC) comment 'We know people want to make their voices heard. The right to lawful protest is a key part of any democracy, which UK police uphold and facilitate.'
"At this current time coronavirus remains a deadly disease and there are still restrictions in place to prevent its spread, and we ask that people work with officers at this challenging time to protect public health.
"We continue to work with our communities to engage, explain and encourage them to keep them safe and would remind people to observe social distancing to prevent any risk to themselves or others.
"There will be a policing presence during the protest in Cleethorpes at the weekend to ensure a safe and peaceful environment for everyone attending.
"I am confident having engaged with the event organisers that people attending the events in our areas will protest peacefully, making their voices heard and feelings shown and our officers will support them.
"Clearly we will not tolerate anyone who uses these events as an opportunity to act violently or commit crime and if we receive reports of people behaving in this manner we will respond, taking action where necessary to protect the public and protect the right to peaceful protest."